Editor's Note: This report is part of a project on gun rights and regulations in America produced by the Carnegie-Knight News21 program.
While the National Instant Criminal Background Check System remains the only square inch of compromise between the nation's divided gun camps, the costly federal program is failing to keep guns away from the dangerously mentally ill.
The White House describes the background check system, also known as NICS, as its "most important tool" for stopping gun crime. But more than a decade of data from the FBI and public health research reveal broad failings of the system, which has cost at least $650 million to maintain, a News21 investigation found.
Several problems plague the NICS program, experts say: Records are incomplete and the federal government has no ability to force states to report on those who should not be able to purchase guns. The law that created the NICS program also relied on an outdated definition that applies only to those who are deemed mentally ill by a court.
As a result, every one of the country's mass shooters since January 2009 could have slipped through NICS, according to a study released last month by the gun control organization Everytown for Gun Safety.
Some experts also question the underlying concept behind the system, noting that many mentally ill people are no more prone to violence than their neighbors.
'A needle in a haystack'
"The ability of mental health professionals to pick out who's going to be violent, it's not much better than a coin toss. It's a needle in a haystack," said Jeffrey Swanson, a medical sociologist from Duke University.
The NICS system was mandated by the Brady Handgun Violence Prevention Act of 1993 and launched by the FBI in 1998. Federally licensed gun dealers are required to conduct a background check, either online or by phone, before each firearms sale. Within about 30 seconds, the system searches for prior criminal convictions and, in 38 states, a history of severe mental illness as judged by a court.
Thirty states have now passed laws mandating mental health reporting to NICS.
In addition to the FBI's annual budget for NICS, the Department of Justice has also handed out $56 million in state grants over the last five years to improve mental health reporting. And federal government officials continue to push for more records. In 2015, the government will hand out $58 million in NICS mental health grants -- its largest-ever pool of funding.
News 21's 'GUN WARS: The Struggle Over Rights and Regulation in America'
Nearly all sides of the gun debate have devoted resources to strengthening the background check system, confronting technology gaps, coordination failures and privacy concerns.
Yet no organization has been able to address the larger concern that NICS is poorly designed to identify those in society most likely to be violent.
Holes in records
States are not required under federal law to submit mental health records to NICS. There are no consequences, financial or otherwise, if states choose not to participate, resulting in a national system that is riddled with information gaps.
As a result, millions of people who have been forced into hospitals for mental health issues are left out. Only about 30 percent of the 4.4 million estimated U.S. mental health records from the last two decades can be found in NICS, according to research compiled in 2012.
The Department of Justice has some bargaining power: Officials have threatened to take away federal grants from states that don't participate in NICS. But the government has not yet acted on the warning.
While the federal government stays out of state battles on NICS, an unlikely pairing of lobbying groups has filled the role – the National Shooting Sports Foundation and Everytown for Gun Safety.
Eighteen states have passed new laws on NICS since 2011. Jake McGuidan, the NSSF's director of government relations and state affairs, claimed victories in about a dozen of the 15 states where the organization hired lobbyists in the last year.
States struggle
Still, some states continue to struggle to submit records, citing difficulties with interagency coordination, technology and privacy laws.
Massachusetts has received $2,323,737 and collected just one record;
Idaho has received $4,359,500 and collected 4,002 records;
Wisconsin has received $3,481,372 and collected 16,616 records.
Ten states have submitted fewer than 100 records to NICS, including Rhode Island and Montana.
Beyond the patchwork participation, many experts say the Brady bill incorrectly focused on the mentally ill rather than on behavior that could signal a propensity for violence.
Studies have found a slight correlation between mental illness and violence, though psychiatrists like Linda Stalters say the core issue is about the lack of treatment, not access to guns.
"The people who are generally going to be using guns are not the people who have a psychiatric diagnosis. We just hear about those," Stalters said. "There are tens of thousands of people each year who have committed murders that don't have schizophrenia."
In Rhode Island, a task force of state officials and advocates spent a year reviewing hundreds of gun crimes and found just one case in which the perpetrator's name would have been entered into NICS. In that instance, the person had received the gun from someone else, not from a store.
"All the research shows that only a very small percentage of people who may be experiencing some degree of mental illness become violent," said Craig Stenning, director of the Rhode Island Department of Behavioral Health. He added that the group was concerned the policies would prevent individuals from seeking treatment. "Obviously we want people to seek treatment."
A related problem is that the names of people who are kept in the database is based on a decades-old definition of "mentally defective," which relies on court decisions rather than doctors' orders. That means that, under federal law, individuals with histories of violent psychotic episodes can legally buy guns as long as they never set foot in a courtroom as a result.
For example, David Cornell Bennett Jr. –- a 22-year-old who killed his ex-girlfriend and her three children in Parsons, Kansas, in 2013 –- was sent to a state psychiatric hospital one month before the shooting. He had posted a threatening message on Facebook that had been flagged to local police.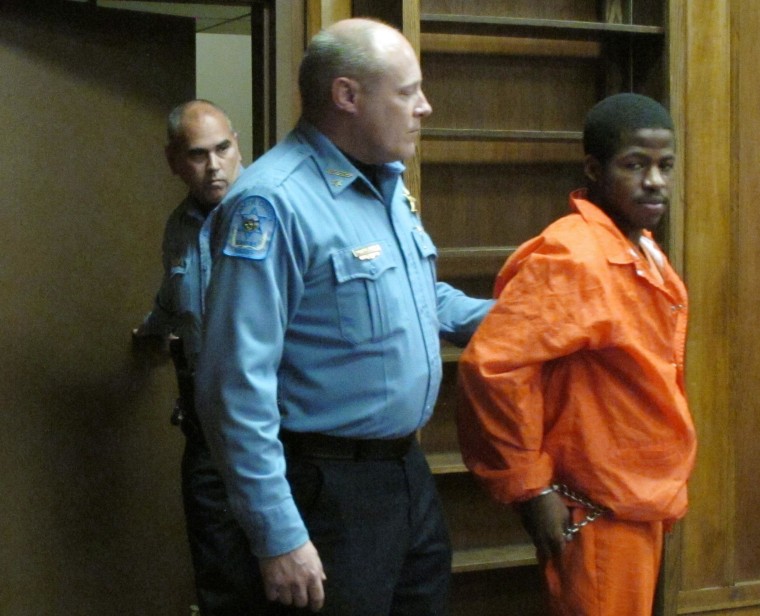 But because Kansas law requires someone to be involuntarily committed – not just sent for short-term evaluation – Bennett would not have been barred from buying a gun. It's still unknown how he obtained his weapon.
In the Everytown study questioning the effectiveness of NICS in stopping mass killers, the organization found that in 12 out of the 110 incidents studied the shooters had demonstrated some evidence of mental illness. But there was no evidence that any of them had been mentally adjudicated or involuntarily committed for treatment, so the system would have allowed their gun purchases to proceed.
Other solutions
Dr. Michael Norko, head of forensics at the Connecticut Department of Mental Health and Addiction Services, said he believes the best approach to preventing firearms-related deaths is giving police the authority to temporarily confiscate weapons in dangerous situations.
Norko is leading a study on guns that have been seized by police in Connecticut, one of just two states that allow the practice. Most of the 800 cases he's studied involve "regular folks" whose relatives or friends call the police because the person is "sitting there with a gun in their lap and an empty bottle of Jack Daniels," Norko said.
In most states, though, the boundaries of a police officer's authority aren't clear. An officer would need to make an exceptionally strong case that a person poses a threat to public safety before removing a gun from his or her home, nearly always requiring permission from a court, said Jim Specht, a spokesman for the National Law Enforcement Partnership to Prevent Gun Violence.
Related
2014 Elections May Reveal If Newtown Shifted Gun Control Debate
Police Are Big Recipients of Pentagon's Surplus Gear and Weapons
Death Takes No Holiday: Tracking Gun Violence Over One Long January Weekend
Some states have attempted to identify dangerous individuals before they harm others. California and New York have recently passed controversial legislation that requires doctors and other healthcare professionals to report people who present credible threats to themselves or police.
New Jersey is considering mandating mental health screenings for anyone looking to purchase a firearm, while states like Nevada have turned to similar types of screenings in schools to identify people with potentially dangerous mental illnesses.
Follow NBC News Investigations on Twitter and Facebook.
But Daniel Webster, director of the Johns Hopkins Center for Gun Policy and Research, says the focus on mental illness is myopic. He says that if other experts in his field were asked to choose one type of law they'd like to see in America, it would likely be universal background checks.
He said the current system is not built around the individuals who are most likely to commit violence – those with a history of violence, such as individuals with misdemeanor counts of assault and domestic abuse.
"(NICS) does identify a high-risk group, but it's pretty small high-risk group," he said. "I think there are much bigger fish to fry."
Editor's note: This article was edited for length. You can read the complete piece and the rest of the series at News 21's website.