A Hamas "abduction manual" with detailed instructions on how to take civilians hostage, bind them by their wrists and ankles, collect their identification papers and "kill the problematic" was released by the Israeli Defense Forces on Monday along with grisly new bodycam footage that shows Hamas fighters gunning down civilians.  
The kidnapping directives — imprinted with a watermark that reads "al-Quds brigade" and labeled "Top secret" in Arabic — also include instructions on how to livestream kidnappings, a tactic that was used by some Hamas hostage takers during the Oct. 7 attack. The surprise assault, which killed over 1,000 civilians, was the bloodiest terrorist attack on Israeli soil in the country's 76-year history.
The release of the materials appears to be part of an effort by Israeli officials to counter claims by Hamas that hostages were seized by Palestinian civilians who entered Israel during the attack, not its fighters. The documents also suggest that hostage-taking was a core goal of Hamas' strike and that the group planned to document it in both photos and videos.
Follow live coverage from NBC News here.
IDF officials said the documents were recovered from the bodies of Hamas members who attacked kibbutzim near the Gaza border on Oct. 7.
It is unclear whether the "abduction manual" documents were related to an attack on a specific village or broad guidance for Hamas attackers.
Israeli officials also released Hamas bodycam footage of terrorists shooting civilians. The footage includes a video taken by the bodycam of a Hamas gunman as he shoots at two civilians, who appear to be a man and woman, as they try to drive past in their car. A second clip shows the same man running up to the car and saying, "He is not alive. I checked him just now," he said. "I checked them well. Let's go, let's go."
A third clip, which was previously released by an Israeli first responder organization, shows the dashcam footage from the civilian car as it is being fired upon by the Hamas members.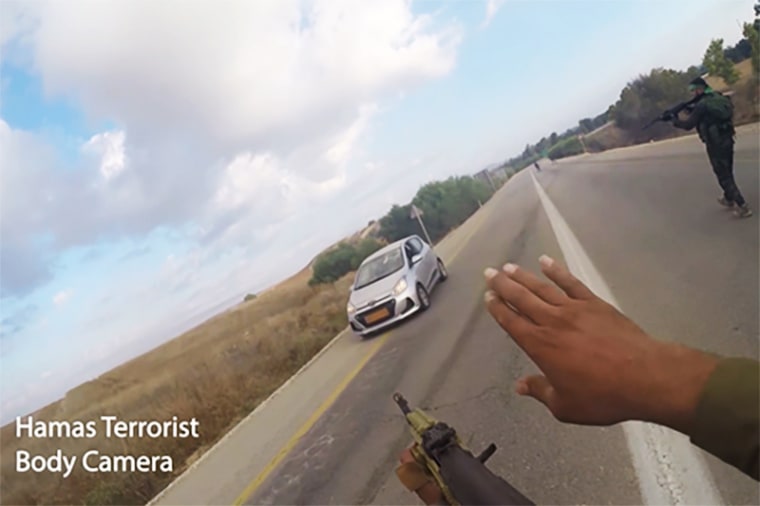 Hamas has put out multiple statements denying they targeted civilians on Oct. 7, and have characterized the more than 200 hostages they took to Gaza as their "guests." At the time of publication, a total of four hostages had been released.
The hostage-taking "manual" and the footage give a fuller picture of Hamas' plan to take multiple hostages and kill any captive who they felt posed a threat. The document instructs the attackers to ration their food and suggests they were potentially planning to keep hostages in an enclosed location for a long period of time. 
The newly released materials add to the picture painted by other Hamas documents obtained by NBC News that show a plan to attack Kfar Sa'ad kibbutz. That plan included instructions to sweep two schools as well as a youth center. The attack was carried out on a Saturday and school was not in session.
Those documents included maps with blue circles around Kfar Sa'ad and three other villages that also border Gaza: Alumim, Nahal Oz and Kraf Aza, where dozens of Israeli civilians, including babies and children, were murdered or kidnapped and taken back to Gaza. 
An Israeli government official said the IDF was analyzing "a family" of documents recovered from the bodies of attackers that showed a systematic targeting of civilians, flying in the face of Hamas public statements.
"They are constantly lying all the time," an IDF source told NBC News.
The "abduction manual" is organized into eight sections and appears to prepare Hamas fighters to hold hostages inside Israel, perhaps for days. The first section of the document is labeled "Gathering" and includes instructions on how to take hostages.  
The second section is titled "Isolation and control within the area and around it." It appears to instruct attackers how to maintain control of hostages, fend off anyone trying to help them and prevent captives from escaping. The first directive in this section is: "Kill anyone that may pose a threat or cause distraction or disturbance."
Other tactics include creating "chaos" with firearms and grenades, and subduing hostages with sedatives. The third section of the manual is labeled "Safety/Security" and includes the directive to "take ID," "separate and isolate (women and babies/men,)" and "kill the problematic and those who pose a threat."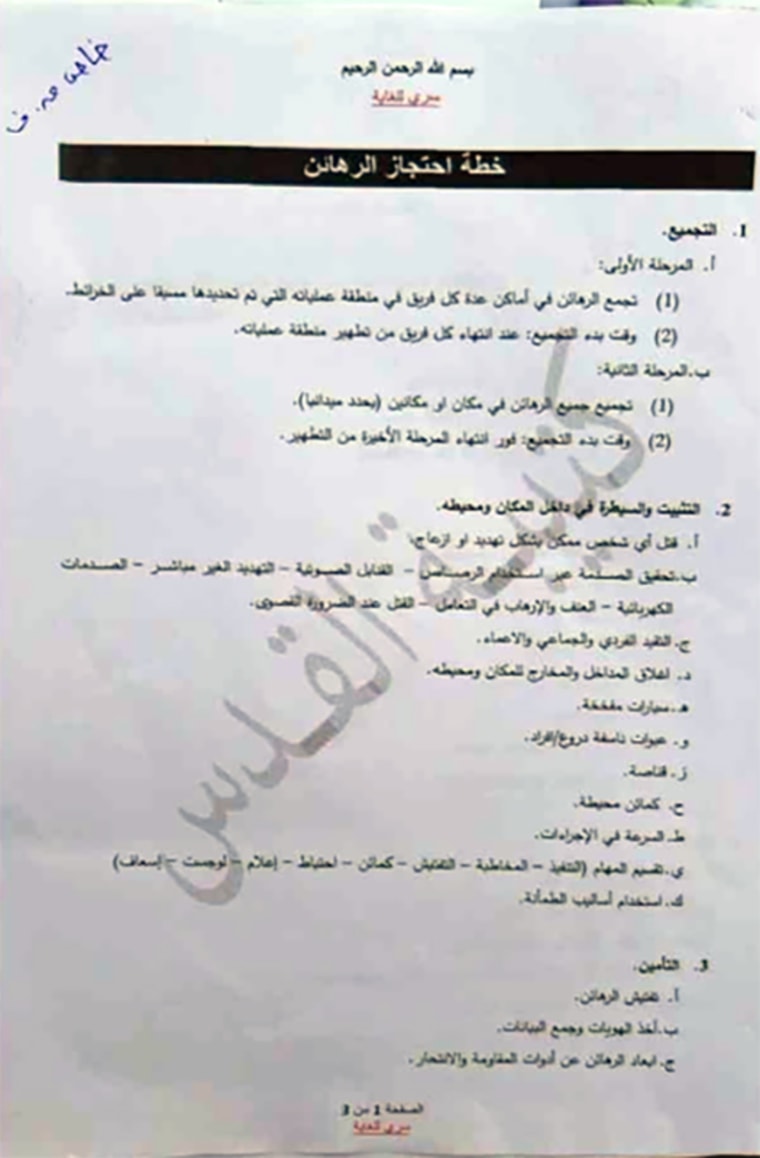 Eyewitnesses accounts and interviews with family members of the abducted show that Hamas kidnappers followed their orders. Some of the attackers on Oct. 7 livestreamed the abduction of hostages from Kibbutz Nahal Oz. 
NBC News interviewed Maayan Zin, the mother of two girls abducted with their father; his girlfriend, 50-year-old Dikla Eliaz; and Eliaz's 17-year-old son. 
Zin obtained the livestream video of the abduction, in which the kidnappers hold Eliaz's driver's license to the camera. Zin said Eliaz's son was then used by Hamas to lure other neighbors out of their homes.
The fourth section of the manual, "Supplies," suggests the Hamas appeared to be preparing for a lengthy siege: "Collect as much food and drinks as possible," and "Do not use your own supplies to feed the hostages, except in emergency situations."
The fifth section is titled "Camouflage and Hiding" and gives directives to conceal the mission of the kidnappers. "Do not declare the number of kidnappers and their weapons. ... Do not declare your connection with the outside world. … Do not state the number of wounded and dead (of the enemy.)"
The sixth section, "Communication," instructs Hamas members to "Secure the video/audio live broadcast between groups and orders in the field."  
The seventh section is called "Live Broadcast." It directs Hamas members to "not waste the camera battery and storage, but use them as much as possible." The eighth and final section anticipates communication with Israelis and is called "Negotiations." 
"Do not engage in negotiations in the field if possible," the manual states. "Only the most senior in the field will communicate with the enemy and they must remain in contact with their commanders throughout the incident… If communication is interrupted, try to discuss and convey what we came for."