Tracey Helton's descent into the world of opiates began at 17, when she had her wisdom teeth pulled and was prescribed Vicodin.
Not long after, she began shooting heroin. Then came a fateful move to San Francisco, periods of homelessness, a featured role in an HBO documentary about heroin addicts and an overdose that nearly killed her.
Today, the mother of three is 15 years clean and an advocate for expanded health care options for drug abusers, especially access to the opiate overdose antidote naloxone. She has good reason: Helton says it saved her life during her darkest days of drug addiction.
"Naloxone should be in every first-aid kit," Helton said. "And people are dying because they are unaware or don't have access to it."
With abuse of heroin and a range of pharmaceutical opiates – including Demerol, fentanyl, oxycodone, Percocet and morphine – at near-crisis levels, the crusade to expand the availability of naloxone has taken on a new urgency. Helton is at the forefront of a movement to push it to the front lines of addiction – everywhere from dark alleyways of the big city to the suburban medicine cabinet -- where she and many public health experts say it does the most good.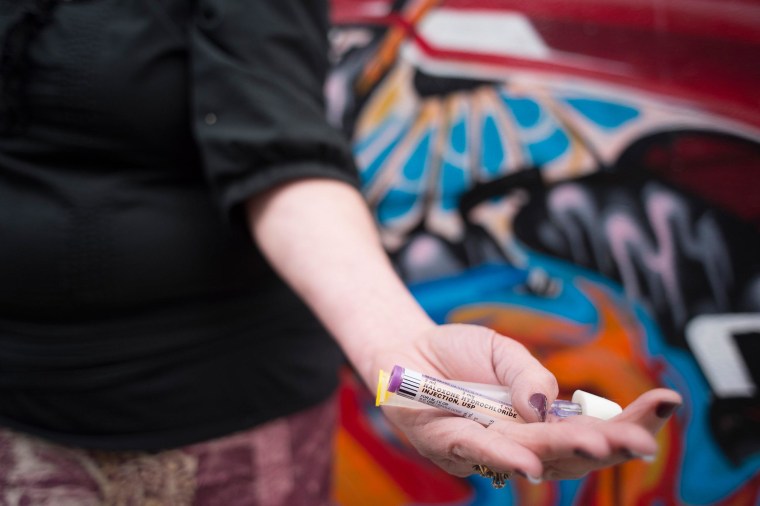 Naloxone, also known by its trade name Narcan, works within minutes to reverse the effects of an overdose by adhering to brain cell receptors and blocking out opiates. That almost instantly reverses the high and sends an addict into an abrupt and often painful withdrawal.
But it is critical that the drug, which costs between $10 and $50 per dose and can be delivered via nasal spray or injected, be administered quickly, meaning that the time it takes for emergency personnel to respond can be fatal. That is why advocates support allowing family and even fellow drug users to administer it.
"You keep a fire extinguisher in the kitchen but you don't always use it,' said Caleb Banta-Green, a professor at the University of Washington's School of Public Health. "Why would you not use naloxone? It's another fire extinguisher."
The conflagration that Banta Green and other public health experts are targeting is the nationwide explosion in addiction to opiates -- both prescription painkillers and heroin, a cheaper and more readily available alternative when the prescription drugs become unaffordable or unobtainable. As the recent fatal heroin overdoses of actor Philip Seymour Hoffman and "Glee" star Cory Monteith demonstrate, it is a problem that shows no respect for class or zip code, afflicting the poor and wealthy, teens and the elderly, city dwellers and residents of suburban and rural communities alike.
There were 13,652 deaths in 2010 from so-called opioid analgesics – or prescription drugs -- more than triple the number in 1999, according to National Institute on Drug Abuse. There were 2,789 fatal heroin overdoses in 2010, as what was once almost exclusively an inner city problem spread to all kinds of communities, including small towns and the suburbs.
Hoffman's death propels legislation
The death of Hoffman from a heroin overdose on Feb. 2 also has given impetus to the push for expanded use of naloxone, though experts say it is unlikely it would have saved the Academy Award winning actor, who died alone in his apartment.
Within days of Hoffman's death, a bill was introduced in the New York Legislature that would allow trained civilians to dispense naloxone to someone at risk of an overdose or to a friend or family member of that person, provided it was authorized by a doctor.
If approved, New York would join at least 17 states — including California, Illinois, Kentucky, North Carolina and Vermont — as well as the District of Columbia that have adopted "naloxone access" laws to make it easier for family, friends and associates of a user to get and dispense the drug, according to the Network for Public Health Law, which provides legal assistance and other resources to public health practitioners, policy-makers and advocates.
Fourteen states also have adopted "Good Samaritan" laws that afford criminal and civil protection for those who prescribe or administer the drug, an effort to ease fears of arrest or civil liability that experts say could lead to users abandoning someone in the throes of an overdose.
But not all of the more than 60 naloxone programs spread across 21 states have been eager to put the drug in the hands of the addicts and their family members and friends.
Maine Governor Paul R. LePage, for instance, warned last year against a broad mandate to prescribe or administer naloxone without medical oversight in vetoing a bill to expand its availability.
LePage wrote the legislation would "make it easier for those with substance abuse problems to push themselves to the edge, or beyond" and provide "a false sense of security that abusers are somehow safe from overdose if they have a prescription nearby."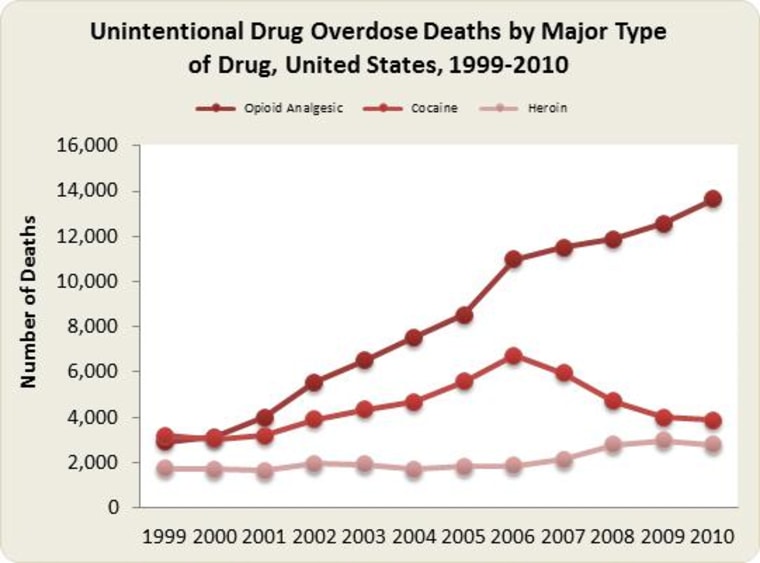 The move to make naloxone more broadly available represents a shift in strategy from the early days after it was introduced in 1996, when the training and education focus was on health care professionals. Between 1996 and 2010, more than 53,000 health-care workers – mostly first responders and public health practitioners -- were trained to administer it. According to The Centers for Disease Control report in 2012, the drug was used to reverse 10,171 overdoses during that period.
The experience in San Francisco, which began distributing naloxone in 1996, when Helton was nearing the end of her rope, dramatizes how the drug can be a game changer.
While Helton was watching friends die from overdoses or AIDS, serving about a dozen stints in jail and appearing in a grim HBO documentary on strung out addicts titled, "Black Tar Heroin: The Dark End of the Street," San Francisco was recording about 120 deaths a year from fatal heroin overdoses -- despite aggressive and sustained efforts by public health officials to reverse that tide.
Then, beginning about 2002, that rate began to plummet, first falling to around several dozen fatalities per year before settling in recent years into the single digits.
Phillip Coffin, director of Health Substance Use Research for the San Francisco Department of Public Health, said the broader availability of naloxone played a critical role in the downturn.
"We tied together efforts to provide easy access to drug treatment with wide availability of the reversal agent, naloxone," he said. "In San Francisco, it wasn't an either-or proposition."
The picture in some other cities that initiated naloxone programs in the early 2000s --including Chicago, New York and Philadelphia – is more complicated. After initially registering declines in heroin-related deaths, those cities have seen those gains reversed, in part because a new wave of prescription opiate users have turned to heroin.
"In cities that were hit hard by the heroin epidemic, nonprofits, in some cases in conjunction with health departments, recognized the problem and took steps to address it, including the provision of naloxone, said Corey Davis, deputy director for The Network for Public Health Law. "Now that the opioid epidemic has exploded beyond heroin users, states are taking notice and working to expand naloxone access as well. The epidemic is widespread, and calls for a large-scale response."
To that end, five states have expanded access to emergency medical technicians since Jan. 1, 2013, and police officers in at least five states now carry naloxone as well.
While getting Naloxone in the hands of first responders helps, some say even broader strategy is needed that includes decriminalization of drug offense.
"We need to back away from the heavy-handed law enforcement approach and understand we have a better opportunity to reduce the harm from drug abuse by applying health-care solutions to the problem," San Francisco District Attorney George Gascon said, noting that in the last three decades, illegal drugs have become far stronger and more readily available, even as their cost has nosedived. "Globally, we need to move it away from the emergency room to a health-care prevention model."
Engaging and empowering the at risk
Dr. Alexander Walley, an internist and addiction medicine specialist at Boston Medical Center, said the medical and public health community also needs to adjust its thinking about how it deals with the heroin and broader opiate epidemic.
"It's important to be creative and think about where you are going to find high-risk people and engage and empower them," Walley said noting particular dangers for those coming off of rehabilitation or detox due to lower drug tolerance.
Helton, the former heroin addict, said changing perceptions and overcoming the stigma of drug addiction is equally important.
As a result of her blog titled "Traceyh415: Stories of parenting, insanity and addiction," she said she hears daily from people all over the world who are hooked an opiates or have family members struggling with opiate addiction, including athletes, stockbrokers to grandparents, soccer moms, stock brokers, web developers, war veterans and celebrities.
"People think of the (problem) as the skinny shaking junkie, Helton said. "They need to think of it as a medical crisis that can happen to anyone coming in contact with opiate based medication."