BURIEN, Wash. -- The additional $40,000 that Kennedy Catholic High School shelled out for a brand new artificial turf athletic field was worth it for the peace of mind it will bring for parents and players, school officials say.
The school was three days away from installing crumb rubber in a new $2.4 million artificial turf field – with pellets made from shredded car and truck tires used as cushion among the artificial blades of grass – when Principal Mike Prato and other school officials saw an NBC Nightly News report on Oct. 8 about concerns about potential long-term health effects from playing on such fields.
"My reaction was, 'We can't put this on our field,'" Prato said this week. "We felt like if we're going to do it, we're going to do it right. It's going to be safe for generations to come."
Instead the school went with the more-expensive alternative -- a field that uses "Nike Grind" – or recycled sneakers -– for cushioning instead of tires. The new field was blessed on Monday morning by Father Bryan Dolejsi from the Archdiocese of Seattle. Players from the Kennedy Lancers football team began making snow angels – minus the snow – several hours later as they took the field for their first practice.
"Oh, it's beautiful," football coach Bob Bourgette said of the new field, which replaced a boggy grass field that got so soggy in the winter that the school has never hosted a home game in its 48 years of existence. "You can't believe what we've been on. This … used to be a swamp. It was always good in the month of August and then from that moment on it was mud."
The school's change of heart came after an NBC News investigation featuring University of Washington soccer coach Amy Griffin, who has compiled a list of 38 American soccer players -- 34 of them goalies -– who have been diagnosed with cancer, most commonly blood cancers like lymphoma and leukemia.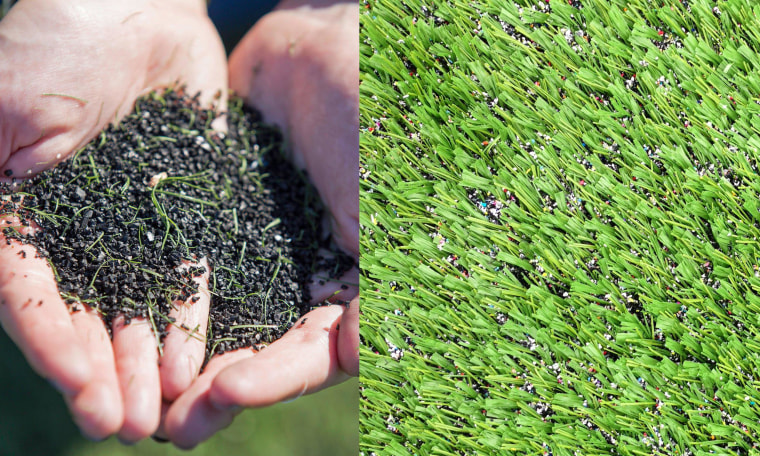 No research has linked cancer to artificial turf, and Griffin acknowledges that her list is not a scientific data set. But it's enough to make her ask whether crumb rubber artificial turf, a product used in most of the 11,000 synthetic turf sports fields in use in the U.S., is safe for the athletes and kids who play on it.
The Synthetic Turf Council, the trade group that represents manufacturers of artificial crumb rubber fields, says that while there are known carcinogens present in most tires, evidence collected so far by scientists and state and federal agencies proves that the crumb rubber fields are safe.
"We've got 14 studies on our website that says we can find no negative health effects," said Dr. Davis Lee, a Turf Council board member. While those studies aren't "absolutely conclusive," he added, "There's certainly a preponderance of evidence to this point that says, in fact, it is safe."
Both the U.S. Environmental Protection Agency and the Consumer Product Safety Commission have conducted "limited" studies that found no increased health risks.
But some pediatricians, scientists and advocacy groups believe more research is needed on the crumb rubber fields.
Jenn Sprague, whose son, Tony, plays linebacker and on special teams for the Lancers, said she agrees that more studies should be done.
Related
How Safe Is the Artificial Turf Your Child Plays On?
Turf Wars: Voters to Decide on Artificial Fields in San Francisco, New Jersey
Congressman Cites NBC Report in Calling for Study of Synthetic Turf
"People are starting to really ask … do we really want our kids, whether they're little toddlers on playgrounds, or even older kids, playing on these fields?" she said.
She also said she was relieved that her son wouldn't be practicing on a crumb rubber field, even though he may still play away games on them.
Nike's website does not detail the chemicals used in the shoe rubber that becomes Nike Grind, but Greg Rossiter, a company spokesman, said in a statement that the company excludes substances that are deemed hazardous for consumer goods.
"Nike Grind used in artificial turf infill is made from recycled Nike manufacturing waste, all of which meets Nike's Restricted Substances List (RSL) standards," he said. "Our RSL is based on the most stringent worldwide chemicals legislation for consumer products and on substances that Nike has voluntarily decided to restrict from our products. In addition, the finished Nike Grind material is routinely tested against safety standards by an independent laboratory before use in the production of synthetic turf fields."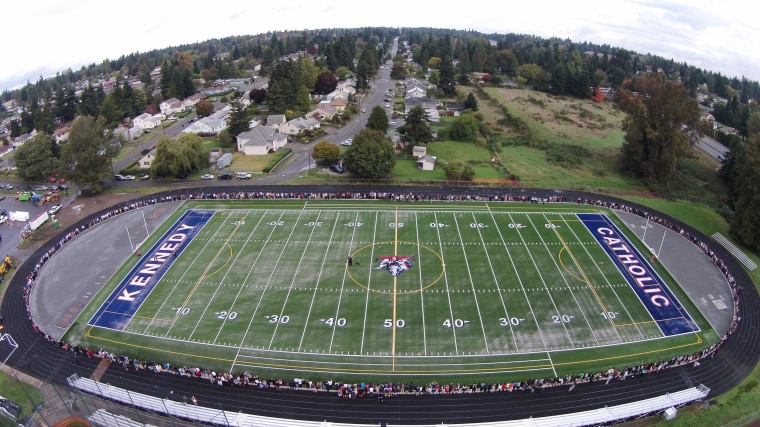 Bourgette, the Kennedy football coach for 43 years, said the decision to use shoe rubber instead of tires was "difficult to navigate because, you know, we're not experts on that." But he said after school staff researched the matter -– including products that use natural alternatives like cork or coconut husks -- they were persuaded that the shoe-rubber cushion was the best solution.
Follow NBC News Investigations on Twitter and Facebook.
"The bottom line is, when it comes down to it, you put your head on the pillow, what is best for your student athletes?" he said.
Vinnie Sposari, a Kennedy booster who helped raise money for the new football field and other sports program improvements, said he was frustrated when the NBC News report raised questions about the crumb rubber turf just three days before the school's new field was to be installed, given how much hard work went into raising the money in the first place. But he said he's proud that school officials made the call.
"Everything from pulling weeds to painting buildings, to moving stuff in, it was all done by a lot of volunteers, so there wasn't any extra dollars out there for this school to go and … make that decision," he said. "But they made it, and it was the right one."