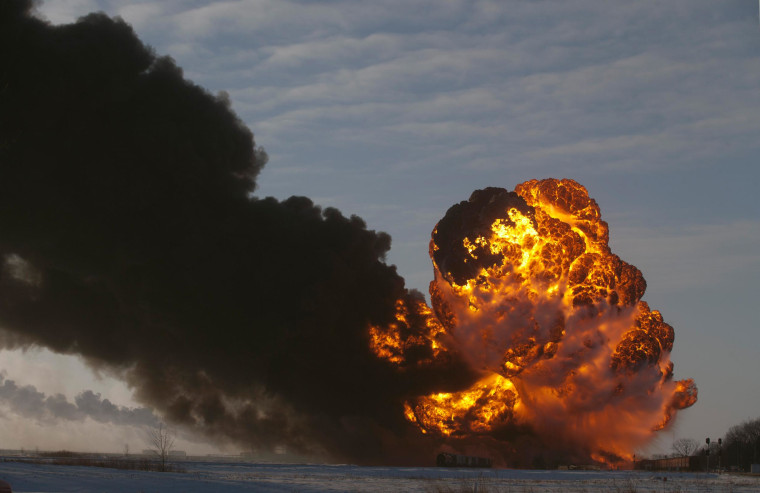 Top officials from the railroad and oil industries agreed Wednesday to consider voluntary new safety steps for oil trains carrying crude from the Bakken region of North Dakota – possibly including additional speed restrictions – in the wake of recent fiery crashes.
U.S. Transportation Secretary Anthony Foxx said the promise came at a meeting between federal regulators and top executives of North America's largest railroads, a representative of smaller railroads and an official of the American Petroleum Institute to discuss safety concerns.
Fox said regulators at the meeting in Washington called "on the industry to take voluntary steps in the short term to help us ensure that this material is moving around the country as safely as possible."
"The nation's railroads share the administration's sense of urgency and will collectively work to identify additional ways to make an already safe system even safer, Edward R. Hamberger, CEO of the Association of American Railroads, said in a statement after the meeting.
The rail industry pledged to look at a number of options over the next 30 days, including whether trains hauling crude should be subject to stricter routing and speed protocols required for trains hauling highly hazardous materials like explosive gases, Foxx said. It also would examine if further speed restrictions should be imposed in populated areas, he said.
The oil and rail industries also pledged to consider further improvements in the tank cars used to haul the crude, Foxx said. In the wake of the recent accidents, there have been widespread calls for improvements to the DOT-111 tank cars, the workhorse of the rail industry, which have for 20 years been found prone to rupture in derailments.
"As we said to Secretary Foxx, the best way to improve rail safety is to address the root cause of rail accidents, which means greater efforts must be made to keep trains from going off the tracks," said API President and CEO Jack Gerard. "Industry has led the way in developing better rail tank cars, and we once again encouraged PHMSA to update its regulations to match strengthened industry standards."