When a Florida shock jock threatened to "deep fat fry" a Quran earlier this year, Gen. John Allen, the commander of U.S. and NATO troops in Afghanistan, and CIA Director David Petraeus both reached out to Tampa socialite Jill Kelley to help tamp down what they saw as a potential threat to the safety of U.S. troops, according to emails released by the city of Tampa.
In the emails, Kelley -- indicating she was acting at the behest of the high level U.S. government officials -- asked Tampa Mayor Bob Buckhorn to intervene and get the radio disc jockey to stand down.
"I have Petraeus & Allen both emailing me about getting this dealt with," Kelley wrote to Buckhorn in a March 7 email. The day before, Kelley mentioned similar requests to Buckhorn from both Allen and Vice Adm. Robert Harward, deputy commander of the U.S. Central Command in Tampa. "I just got off the phone with Gen. Allen & Adm Harward," she wrote. "I'm going to need your assistance, vice versa with the potential crises we'll be dealing with."
The emails offer a new glimpse at Kelley's relations with top  U.S. military officials -- as well as Petraeus, who had by then left the military to take the helm at the CIA -- shortly before she went to an FBI agent to complain about anonymous harassing emails she was receiving. The resulting FBI probe into what was initially viewed as a potential case of "cyber-stalking" led to Petraeus' resignation as CIA director and triggered a separate investigation by the Pentagon inspector general into what has been described as "potentially inappropriate" email correspondence between Allen and Kelley.
Numerous government and law enforcement officials have told NBC News that the FBI investigation revealed that Petraeus' biographer, Paula Broadwell, had sent the threatening emails and that agents subsequently uncovered evidence that she had an extramarital affair with Petraeus.
Newer emails to Buckhorn also show Kelley's anxiety as the scandal broke last week and the media descended on her home.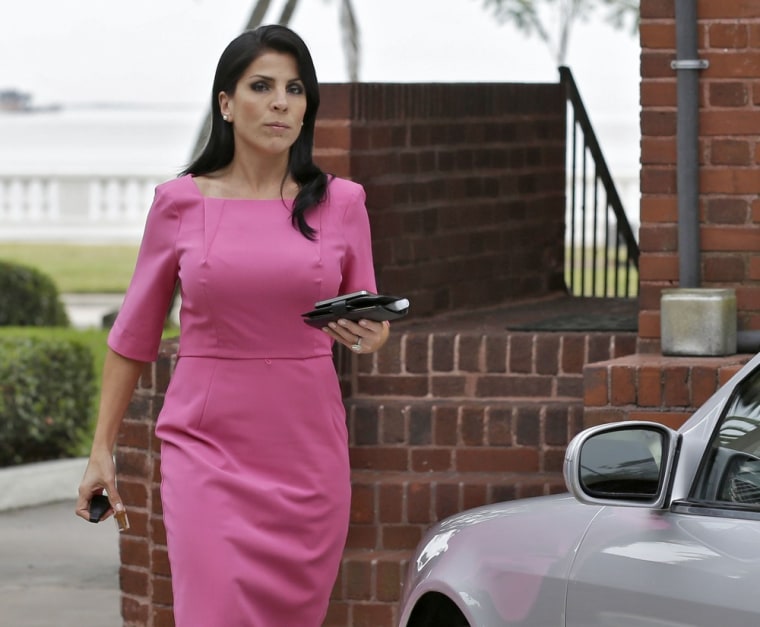 "Can you help out with obstruction by the paparazzi, since they're blocking our driveway, and continue to trespass on my property," she wrote Buckhorn on Tuesday. "My kids are scared and need their 'home' back."
In other emails to Buckhorn, Kelley referred to numerous social events with generals from Central Command – and referred repeatedly to Petraeus and others. One also described a post-election visit to the White House, just before the scandal broke.
"ps I'll be in DC this weekend with Petraeus, but let's set up a double date when I return!" she wrote to Buckhorn on Oct. 9, 2011. The next day, she added, "I'll be sure to send the Director your regards --should be another fabulous weekend in DC."
On Nov. 24, 2011, she wrote: "We just got back from spending the weekend with the Petraeus (it was Dave's 59th Birthday) and he said to send you his best! :) "
On Jan. 13 of this year, she wrote to an aide to Buckhorn: "I'm up in DC having dinner tonight with Gen. Petraeus and Gen. John Allen (he replaced Petraeus as the Commander in Afghanistan.)"
The email correspondence included an effusive account of a dinner with the king of Jordan, Abdullah II bin Al-Hussein. "The King and his sister (the Princess) are awesome people!" Kelley wrote to the mayor on May 16, 2011.
Kelley also sent a formal invitation to a party in her honor at the U.S. Central Command  on April 19 -- forwarded by Centcom's chief of protocol.
 "Vice Admiral Robert S. Harward, Deputy Commander, United States Central Command request the pleasure of your company at a ceremony in honor of Mrs. Jill Kelley," the invitation reads in part.
 A military source said the party honoring Kelley was to formally give her the title of "Honorary Ambassador to the Coalition" -- a certificate given to private citizens who are "friends" of the base. Kelley used the title in her later email correspondence: "Today, I will be hosting a group of VIPs visiting from Afghanistan Pakistan Nepal, here by the authority of the State Department," she wrote Buckhorn on May 14. "As the Ambassador to the Coalition, I will taking them to Centcom with the great assistance of Gen. Mattis & Adm Harward." (Marine Gen. James Mattis is the commander of U.S. Central Command at MacDill Air Force Base.)
Broadwell, Kelley both were repeat White House visitors, official says
Kelley's access to the military elite continued right up to this month. On Nov. 8 — just a day before Petraeus resigned as CIA director -- she emailed Buckhorn: "I was at the WH with my friends in the Administration this weekend—the stress was surreal! But glad POTUS has been re-elected!"
Kelley's emails referring to the comments about burning the Quran by the Tampa shock jock, known as "Bubba the Love Sponge Clem," reflected a genuine concern among U.S. military officials that they would endanger U.S. troops, a U.S. military official told NBC News. At the time, there were riots and deaths in Afghanistan over the burning of Qurans by U.S. soldiers.
 "It was absolutely a concern," Lt. Col. T.G. Taylor, CentCom spokesman, said in an interview. Taylor said he personally called the disc jockey and told him, "Look Bubba, somebody's going to get hurt if you do this." He was "completely reasonable and said he understood," Taylor added.
Buckhorn, the Tampa mayor, told Kelley when she emailed about the issue that the city's police chief was handling the matter, but added: "This Bubba the Love Sponge is a complete moron." 
For his part, the disc jockey told the Tampa Bay Times that he abandoned his plans to "deep fat fry" a copy of the Quran, the Muslim holy book, at the request of local law enforcement and credited Kelley's role: "Probably she did get Intel to have me stop it, and that's the problem itself," he said. 
More from Open Channel:
Follow Open Channel from NBCNews.com on Twitter and Facebook