Ross and Meg Rushing were entertaining a friend at their brand-new home in Lubbock, Texas, on Aug. 24, 2012, when a clap of thunder appeared to set off their burglar alarm.
Unable to turn it off, Ross Rushing and his friend, Brennen Teel, went to the garage to get a ladder so they could disable the system.
"That's when the explosion happened," Rushing recalled. "Honestly, I thought I was dead immediately."
Rushing was able to climb out from under the buckled garage door, but couldn't locate Teel in the thick black smoke that was now pouring from the home.
Firefighters later found his body at the rear of the garage. Investigators believe he opened the drop-down attic staircase, not realizing the attic was ablaze. Oxygen rushed in, causing a back-draft explosion that killed the 31-year-old Teel, a resident of Heath, Texas, they said.
What eats away at Teel's family is not just the seeming randomness of his death. It is the fire marshal's determination that the fire that triggered the explosion started when a bolt of lightning sent electricity coursing into the home, burning tiny holes in the yellow corrugated stainless steel pipes supplying natural gas to appliances and heaters in the rest of the house. And it is the fact that, as they later learned, some fire experts have been warning for years that the piping poses a hazard when lightning strikes nearby.
"I would not wish this on anybody … anybody," said Teel's father, Ken, who with his wife, Becky, is suing the manufacturer of the pipe. "It's been a nightmare."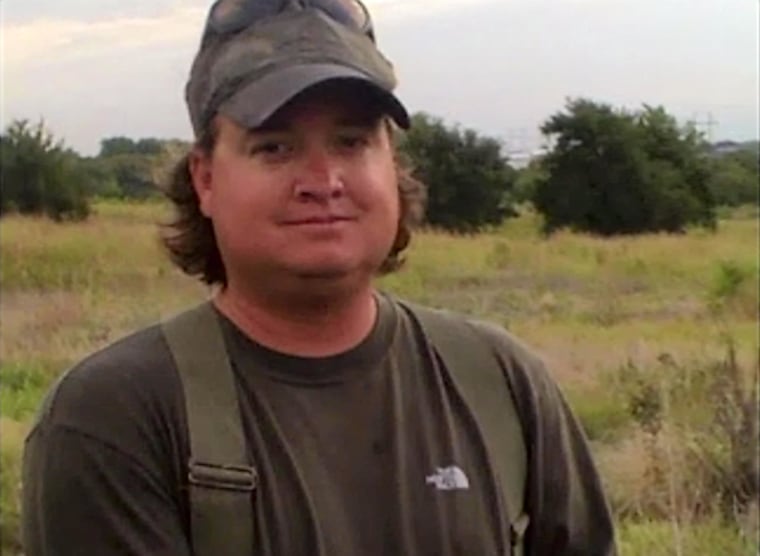 Teel's death highlights an ongoing debate over the safety of the piping – known as corrugated stainless steel tubing, or CSST – which has been installed in as many as 10 million U.S. homes since the 1990s, according to some manufacturers' estimates. Its use is approved in building codes around the nation, though no longer in Lubbock, where the city issued a moratorium on its use in the wake of Teel's death.
At least six U.S. companies manufacture CSST and it's approved by the National Fire Protection Association, which writes the model building codes for gas piping, if it is installed correctly. Since 2006, NFPA codes have said that means the piping needs to be connected or "bonded" to the electrical grounding system in a house – a measure that provides a "reasonable level of safety," according to the NFPA.
But critics say that the walls of CSST -- popular because its bendability makes it easier to install than the black iron pipe previously used as gas lines – are thinner than those of its predecessor and inherently prone to puncturing.
Among them is Nelson, the Lubbock fire marshal who investigated the fire at the Rushings' home. He found that lightning struck the metal cap on the chimney, descended into the attic, then "arced" -- or jumped – to the pipe, where it punched a number of tiny holes in the thin wall. That let gas escape and ignite, creating small "flame jets" that quickly spread to the rest of the attic, he said.
"This needs to end with Brennen Teel," he said. "This needs to be the last fire death that's created because of a bad product."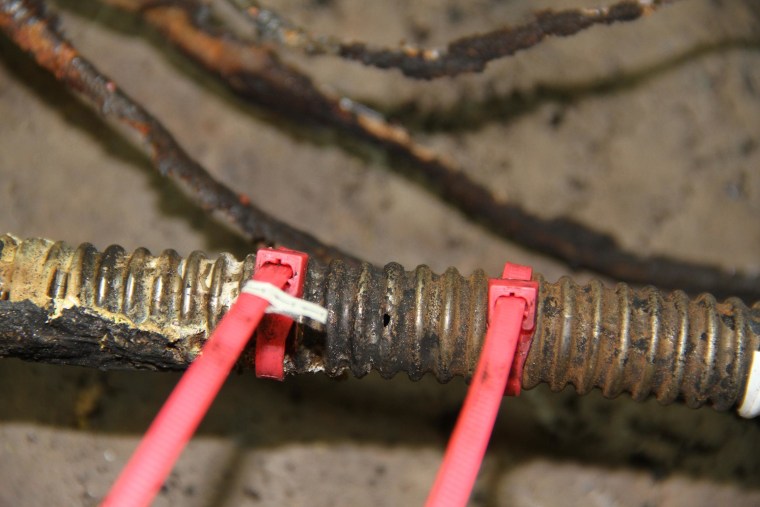 Titeflex, the company that manufactured the pipe used in the Rushings' home, denied its product was at fault.
"I think the facts over the course of time are going to surface and it's going prove that our product is not necessarily the culprit in this case", said Dave Oehlers, vice president and general manager of Titeflex's Gastite Division.
Oehlers, who repeatedly praised the product's safety record over its 22 years history, said the company's own experts believe wiring draped across the CSST contributed to the fire. It should have been separated from the CSST by some distance, he said.
Lawyers for the company had previously told NBC News that its experts believed the fire and explosion were caused by lightning damage to the home's electrical wiring, which then ignited foam insulation in the attic.
In a statement provided to NBC News earlier, the company's lawyer, William A. Brewer III, said, "We believe the claims advanced against our client are without merit."
"It is important for Texas homeowners to remember that safety officials, builders and independent researchers have all found flexible gas piping to be safe and effective when it is properly installed," it said. "In fact, no national regulatory body or fire safety agency has determined that it is unsafe to utilize CSST. We have complete faith in this product."
Lightning ignites 22,600 fires a year in the U.S., and kills nine non-firefighters on average, according to statistics compiled by the NFPA. That figure includes approximately 4,290 home fires, which cause a majority of the associated losses.
Fire officials in some states say the tighter regulations requiring CSST to be grounded and bonded have substantially reduced the number of lightning-caused home fires.
But some experts question whether that alone sufficiently reduces the fire hazard. And they note many older homes built before states began tightening building codes governing CSST have likely not been retrofitted to reflect the new recommendation.
The safety of CSST has been at the center of previous court battles, and both sides in the debate have experts willing to argue their side.
Mark Goodson, an adviser to the Texas fire marshal's office who has been hired as an expert by the Teels and other plaintiffs, says that bonding and grounding alone don't erase the danger posed by the pipes.
Recent research by the CSST industry found that while bonding and grounding reduces the threat from a "nearby strike … a direct lightning strike may carry enough charge to cause damage (to the pipe)."
"Lastly, it doesn't change the unsafe characteristic of the product, which is the thin wall," said Goodson, who says he has investigated hundreds of CSST fires on behalf of homeowners and insurance companies.
An independent expert interviewed by NBC News said he too has examined several lightning-caused CSST fires in homes that weren't hit directly -- and one in a home that had an expensive lightning protection system installed.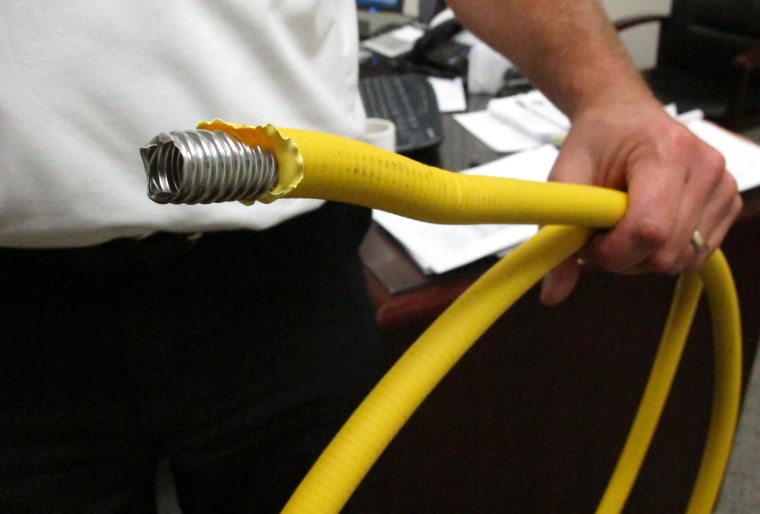 "I just want to know the solution to finding the problem, because the problem is out there," said Mitch Guthrie, an engineer and member of the NFPA's Lightning Protection Committee, who has not testified for or against the manufacturers in various lawsuits filed over CSST.
But Michael Stringfellow, an engineer who has testified for CSST makers, said critics are looking for a scapegoat for lightning fires, asserting that many more fires result from damaged electrical wiring than CSST leaks and that holes subsequently found in the pipes don't necessarily indicate that the pipe burned first.
"Even if you got rid of every inch of CSST in the country, those lightning fires are not going to go away," he said. "Everyone's pointing at CSST as being the only villain in town and to me it's the minor villain. … There are a lot of bigger problems."
Also touting the product's safety is Bob Torbin, an executive with Omegaflex, a major CSST maker that's not involved in the Lubbock case. He travels the country telling fire officials that CSST is as safe as anything in your home -- as long as it's bonded and grounded – but that nothing will stand up to a directly lightning strike.
"There's nothing in your house that's lightning-proof," Torbin, who declined an interview request from NBC News, recently told a group of Dallas firefighters.
Other fire experts say that more data is needed to determine if the new standards are sufficient.
Texas Fire Marshal Chris Connealy said he encourages homeowners in his state to ensure that any CSST in their homes is bonded and grounded, but that doesn't mean he endorses the product.
"This is an issue that's evolving … and so we don't take a position on CSST, whether for or against it," he said.
Asked if he would sleep well at night with the product in his attic, Connealy responded, "Well, I would certainly have it bonded and grounded, that's for sure."
Meanwhile, the National Fire Protection Association's CSST committee is expected to re-examine the issue this summer. In 2010, the NFPA warned manufacturers that it could prohibit CSST in future construction if manufacturers couldn't show that bonding and grounding substantially reduces the risk of lightning fires.