The man arrested Monday for killing two women on New York's Long Island 20 years ago may also be linked to a third unsolved murder, officials said Tuesday.
John Bittrolff, 48, has been charged with killing two women and dumping their bodies in Manorville, N.Y. in 1993 and 1994 after enhanced DNA techniques allegedly linked him to the murders. Once he was in custody and drank from a cup, officials say they pulled more DNA from the cup and matched it to the crime scene.
Bittrolff was arraigned in Islip, N.Y. Tuesday morning and pleaded not guilty to the murders of Rita Tangredi, 31, and Colleen McNamee, whose nude bodies were found beaten and strangled in the woods. Prosecutors said Tangredi was a known prostitute and McNamee was also believed to have worked as a prostitute.
But officials now say they are also investigating whether Bittrolff may be linked to third cold case in Suffolk County, the December 1993 murder of Sandra Castilla in Southampton, N.Y.
Suffolk County District Attorney Thomas Spota said that the condition of the body and the position in which it was found make Bittrolff a suspect, as does an item of clothing that was missing from all three bodies. Spota would not specific which item of clothing was missing.
In addition, said Spota, Castilla "was in a similar profession and line of work as the other victims." Bittrolff has not been charged in the Castilla case.
But Spota said that prosecutors are not prepared to link Bittrolff to the most infamous string of cold cases on the South Shore of Long Island, the so-called Gilgo Beach murders.
"No evidentiary or investigative link between these two victims and the Gilgo crime scenes," said Spota. The families of 10 Gilgo victims were notified of the arrest, however.
Bittrolff was identified as a suspect after DNA from the crime scene was similar to DNA collected from his brother, who was arrested in 2013 and convicted of assault. Prosecutors said they realized that the DNA from the crime scene had to have come from a close family member, which led them to Bittrolff.
Bittrolff's attorney, Harry Tillis, said that "enhanced DNA does not make a case."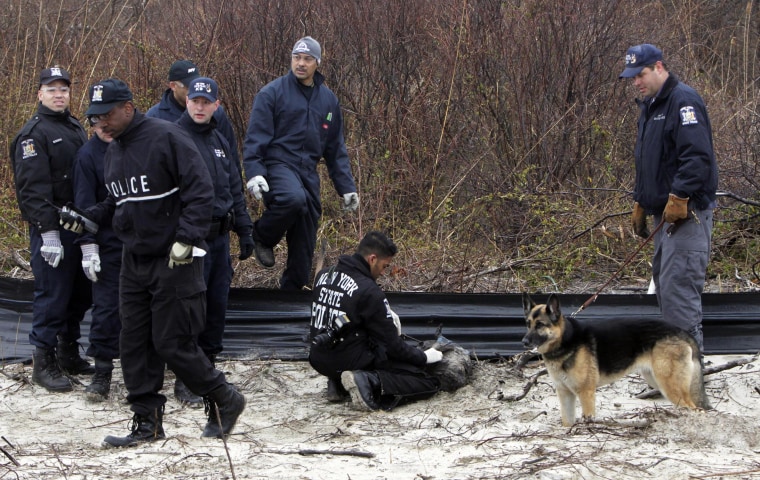 Gilgo Beach Murders
The search for a possible serial killer began with the May 2010 disappearance of Shannan Gilbert. Gilbert, a 24-year-old from New Jersey who advertised as an escort on Craigslist, ran from the home of an alleged client in Oak Beach, right next to Gilgo Beach on the same sandy barrier island, and was never seen again.
On Dec. 11, 2010, a skeleton was found on Gilgo Beach. Within days, three more bodies were found.
In January 2011, officials identified the four victims as Megan Waterman of Maine, Maureen Brainard-Barnes of Connecticut, and Melissa Barthelemy and Amber Lynn Costello of New York. Like Shannan Gilbert, all four women were in their 20s and advertised their availability as escorts on Craigslist. They had gone missing between 2007 and 2010.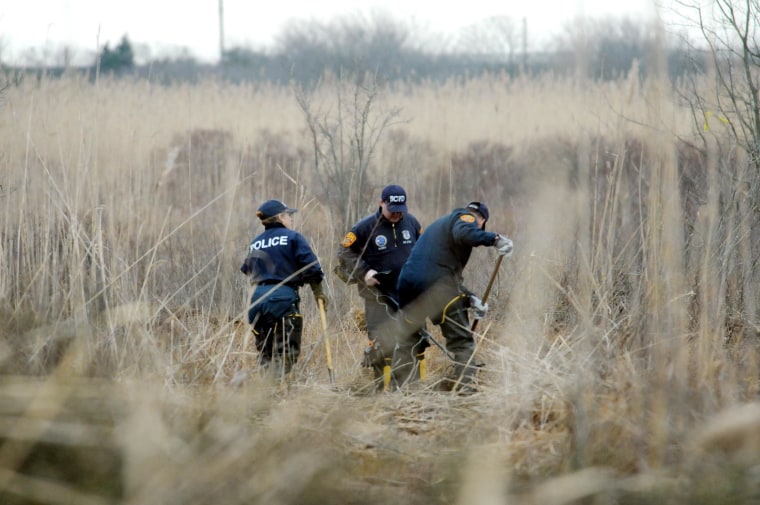 That same month, police discovered that a man had used Melissa Barthelemy's cell phone to call her teen sister repeatedly soon after Melissa disappeared in 2009. The man made explicit sexual comments, claimed to have killed Melissa and related details of her killing that only the murderer would know. Police believe the caller was a white male and the calls came from midtown Manhattan.
In March and April, police found the remains of six more bodies in roadside brush in the Gilgo Beach area, including a toddler and an Asian male. The rest of the bodies were adult females.
Officials were able to establish that one of the women was the mother of the toddler, but weren't able to identify either. They matched another body to two legs that had washed up on a nearby beach back in 1996.
They could only find a name for one of the victims, a 20-year-old prostitute named Jessica Taylor who had vanished in 2003. Some of her remains had also been found earlier further inland in Manorville, N.Y. Police realized that other remains from Manorville also matched body parts in Gilgo Beach, but those remains could not be identified.

When Shannan Gilbert's body was found a month later, however, face down in a marshy area, police said she had probably died of natural causes. They do not consider her a homicide victim.
As the police found more and bodies during 2011, they first believed they were looking for three different murderers, but then shifted focus to a single serial killer. At present, they are again leaning toward the idea of multiple perpetrators.