After multiple combat tours in Iraq as a U.S. Marine officer, Sarah Feinberg was proud to join the ranks of Booz Allen Hamilton, a prestigious firm headquartered in suburban Washington, D.C., that holds annual contracts valued at $6.5 billion with nearly every U.S. government agency.
Touting itself as one of "the world's most ethical companies," Booz Allen has counted former senior U.S. intelligence officials among its corporate officers. Feinberg thought she fit right in, and after taking leave to earn an MBA from the University of Pennsylvania's Wharton School, she was promoted to a position tracking internal financial data.
She soon made a discovery that would change her family's life.
Feinberg uncovered what the Justice Department ultimately declared was a civil fraud scheme under which Booz Allen allegedly was overcharging U.S. taxpayers to subsidize its money-losing private consulting contracts, including with foreign governments such as Saudi Arabia. After a yearslong investigation, Booz Allen last month admitted no wrongdoing while paying a $377 million settlement, what DOJ officials said was the third largest contract fraud settlement in history.
Because she discovered the alleged fraud and filed a complaint under the Civil War-era False Claims Act, Feinberg and her lawyers received an eye-popping $69 million from the settlement. Her share — around $40 million before taxes, hit her family bank account last week, said Feinberg, 39.
"I've got three kids, and I tell them, 'Doing the right thing is the right thing, no matter what the outcome is,'" said Feinberg, a volunteer treasurer at her Capitol Hill church who said she plans to give away at least $12 million of her share. "There's very few times in this life where you'll actually be rewarded for doing the right thing, but this is one of those unique situations."
In 2016, after nine months of failing to convince mostly older male Booz Allen executives to stop what she told them was fraud, Feinberg, then 31 and pregnant with twins, took advantage of the little-understood "qui tam" procedure allowing an insider to sue on behalf of the U.S. and recover between 15% and 30% of any settlement or judgment. She said she had no idea she could profit from standing on principle — until after she resigned from Booz Allen and brought her concerns to the Justice Department.
But for Feinberg it's not entirely a happy ending, because she believes prosecutors should have gotten a larger payment from the company. She said she believes the firm overcharged taxpayers by at least $500 million, as she argued in her lawsuit, and she noted that after Booz Allen paid the settlement, "their stock price went up by 20%."
Justice Department officials disagree, saying they got the best settlement they could. They noted in a statement to NBC News that Feinberg signed off on it, agreeing in writing that it was "fair, adequate and reasonable."
"This settlement, which is one of the largest procurement fraud settlements in history, demonstrates that the United States will pursue even the largest companies and the most complex matters where taxpayer funds are alleged to have been pilfered," D.C. U.S. Attorney Matthew Graves said in a statement.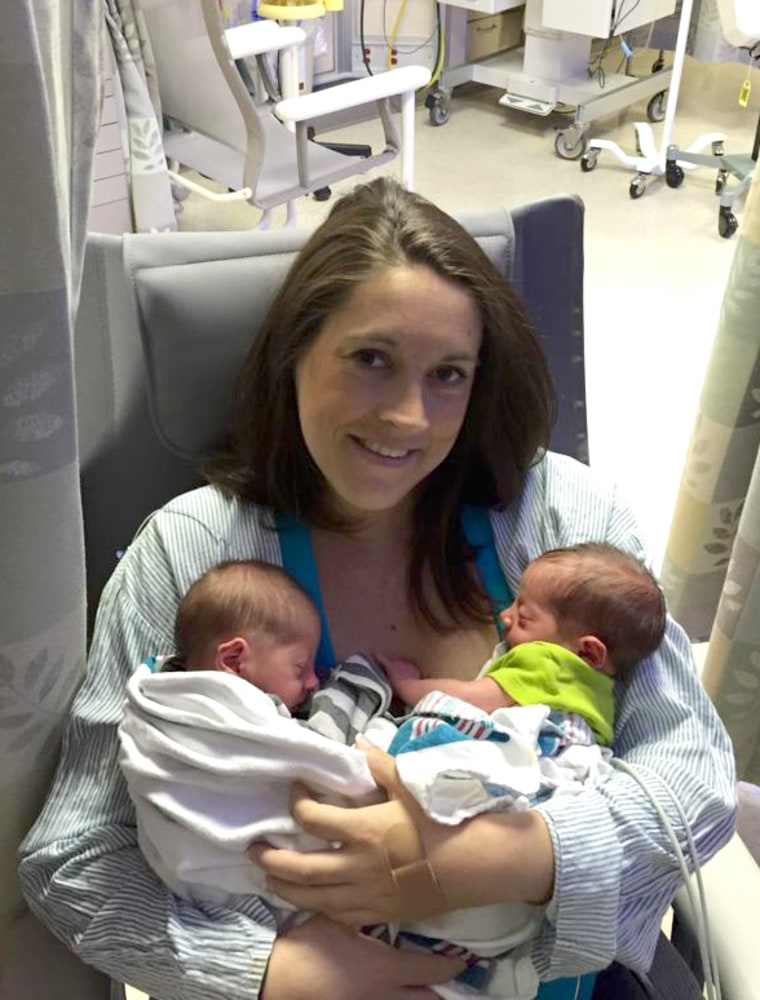 Booz Allen declined to make an executive available for an interview, but in a statement told NBC News that the company "has always believed it acted lawfully and responsibly — guided by its strong, century-old culture of ethics and accountability — and its position has been consistently grounded in facts."
The Booz Allen statement noted that the Justice Department dropped a separate criminal inquiry without charges. A separate Securities and Exchange Commission investigation also was closed without action, according to company filings.
Among the lawyers representing Booz Allen, according to court documents, was Lanny Breuer, who headed the Justice Department's criminal division from 2009 to 2013; and Daniel Suleiman, who was Breuer's deputy chief of staff at Justice.
Booz Allen spokeswoman Jessica Klenk added that when Feinberg raised her concerns, the company "promptly facilitated meetings for her with third-party experts as well as its financial, compliance and accounting teams to examine her concerns. Over the next year, these experts repeatedly affirmed that the company's practices were lawful and compliant."
Feinberg and Justice Department officials countered that the $377 million payment amounts to a stark refutation of the company's position.
Since the settlement was announced, Feinberg said she's gotten several messages from current and former Booz Allen employees praising her for her courage.
Her moral compass, she said, was honed in the Marine Corps, when she commanded dangerous transport missions in Iraq as U.S. troops were withdrawing from that country.
"It helped me kind of get a sense of right versus wrong, and to have a clear picture of the service that I wanted to perform for our country," she said.
She left the Marines in 2010 with the rank of captain and joined Booz Allen. She was attracted to the company's reputation as a bulwark of U.S. national security.
"I had a great experience working at Booz," she said. "And I had nothing negative to say about Booz — until I discovered this fraud."
A detailed description of what happened next is covered in her 37-page lawsuit, which was kept secret under seal for seven years while the Justice Department investigated. Booz Allen declined to respond in detail to the narrative laid out in the complaint.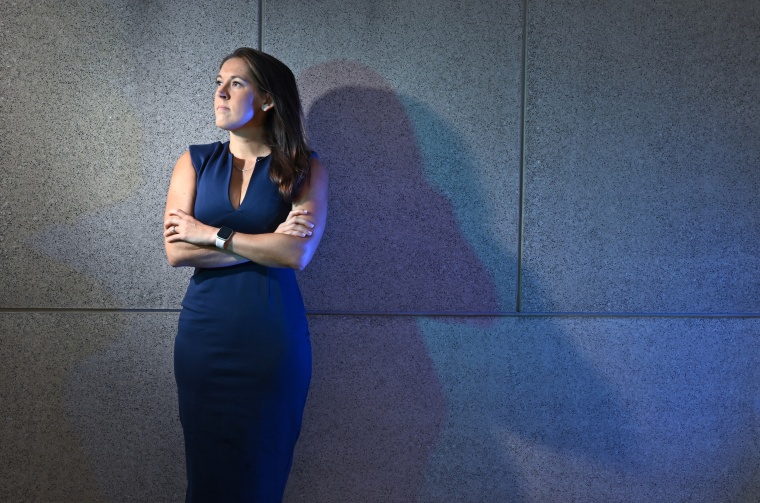 According to the suit, the company allowed her to take leave to earn her MBA, and when she returned, put her on a team under the company's chief financial officer, tasked with examining how to better track and analyze financial data.
She soon found something that gave her pause. Although the vast majority of its consulting clients were government agencies, Booz Allen had tried to build a business consulting for private and international clients, including the government of Saudi Arabia.
"I discovered that our commercial and international practices were very unprofitable," she said. "And in order to keep the company profitable, they were passing those costs onto the U.S. government contracts."
Feinberg at first thought it might have been an oversight.
"I was very naïve at the time, and I thought that the reason people do the wrong thing is because they don't know that something is happening, or they don't know what the right thing is. So I went and I talked to the head of finance, and presented what I had found, and asked if he was aware of it."
According to the lawsuit, that was Warren Kohm, now the chief financial officer at another company. He did not respond to a request for comment.
Kohm closed the door to his office, beckoned Feinberg to have a seat, and made clear he knew exactly what she was talking about, the lawsuit alleges.
The suit says he called it a "gray zone," but added that Defense Department auditors are "too stupid" to figure it out and demand repayment.
At that moment, Feinberg told NBC News, "I realized that this was a very intentional setup. And it wasn't just that there was the potential to overcharge the government; the rates were built to overcharge the government. If we should have been charging $100 to the government for an hour of work, we were charging $120 for that hour of work, so that that $20 could go to subsidize the international business."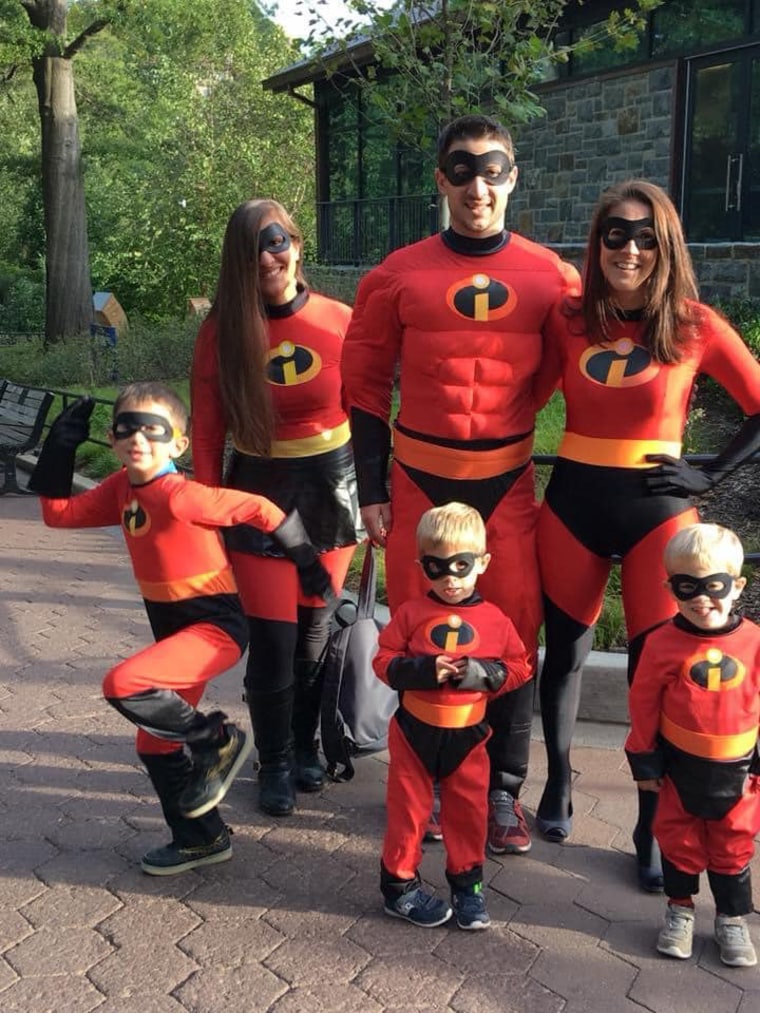 Feinberg then began a nine-month campaign to convince her bosses to put a stop to a practice that she argues in her lawsuit she was instructed to call something other than fraud.
"So in our private conversations, I was presenting this as fraud — something that the government will catch and we'll be penalized for it." But, she said, "I was told to call it a compliance risk."
Feinberg said the situation made her "very upset as a taxpayer. It made me very upset as a Marine officer. I saw how limited our resources were. And the idea that Booz was overcharging the U.S. Marine Corps for things that could be related to international contracts was absurd."
After dozens of meetings and phone calls, she attended a meeting in the Washington, D.C., office of the company's chief financial officer, Lloyd Howell, who is now director of the NFL Players Association. He did not respond to a request for comment.
She planned for the meeting as a final push to get the company to stop allegedly bilking U.S. taxpayers to subsidize its money-losing private contracts. But she said that what had been a 90-minute meeting was shortened to an hour. At the outset, Howell announced that he only had 30 minutes.
Of the eight people present, she said "they were mostly older men. There were, I think, two women in the meeting. And I was definitely the youngest person in the room."
Feinberg said she began her presentation, but Howell soon cut her off.
She quoted him as saying, "I appreciate the work that you've done on this … But we are not going to make it a priority."
She was devastated.
"I walked out of that meeting. And I called my husband right afterwards and told him I was quitting my job," she said.
In her resignation letter, she warned that Booz Allen was engaged in "risky subsidization of failing businesses."
Feinberg said she feels relatively lucky, as whistleblowers go. After quitting Booz Allen, she left the defense consulting business for a series of lower-paying finance jobs at media organizations. But she said she was never threatened or made to suffer for her efforts to flag alleged misconduct at a Fortune 500 company.
After she resigned, she said, two company lawyers instructed her to turn over or destroy the documents she had prepared describing the accounting scheme that allegedly defrauded the government.
She ignored them, and instead got her own lawyer — William Pittard of KaiserDillon.
Despite the tens of millions of dollars at her disposal, Feinberg said she doesn't envision her life changing all that much. A runner with an affection for caffeinated energy drinks, she aims to stay in her tidy, older Northern Virginia home with her husband, Evan, who runs an anti-poverty nonprofit organization. They say their young children will remain in the public schools they love.
There are plans for a lake house and a trip to Italy.
But, she said, "I'm going to give a lot of it to charity, and to causes I believe in."
As for Booz Allen, "I wish they had listened to me. It would have saved them a lot of pain."