Our images of law enforcement in America come largely from popular culture: A burly New York City cop pausing on his beat to berate "juvenile delinquents" at the point of his billy club; LAPD officers accelerating "code 3" in a black-and-white through sun-soaked Hollywood; a lawman of the old West, standing on main drag and ordering criminals to "get the hell out of Dodge."
All depict what was the common thread in U.S. policing as recently as a generation ago: the expectation that the typical patrol officer best protected and served his community by guarding his piece of turf and busting, intimidating or expelling any bad guy who entered it.
But experts and veteran law enforcement officials say that straight-forward mission is rapidly giving way to a more complex and nuanced form of policing. It's a world in which technology and instant communication help that beat cop serve and protect, while simultaneously demanding new levels of training and accountability and raising serious civil liberties concerns.
"It's like the difference in getting across the country on horseback like the pioneers did or flying in a jet from New York to California," Tyler Izen, president of the Los Angeles Police Protective League, which represents some 10,000 officers, said of the rapid-fire changes sweeping police departments across the country. "And it's happened in the span of a career."
It starts with the tools of the trade. As recently as the mid-1980s, an officer was equipped with the bare basics -- an in-car police radio, a pen, notebook, baton and a six-shot revolver with a strip loader and a few extra bullets. Back then, Itzen said, many old-timers eschewed bulletproof vests and even hand-held radios, which were just coming into fashion.
"Kid, if it doesn't fit in your pockets or on your equipment belt, you're making it too complicated," Izen recalled his training officer saying.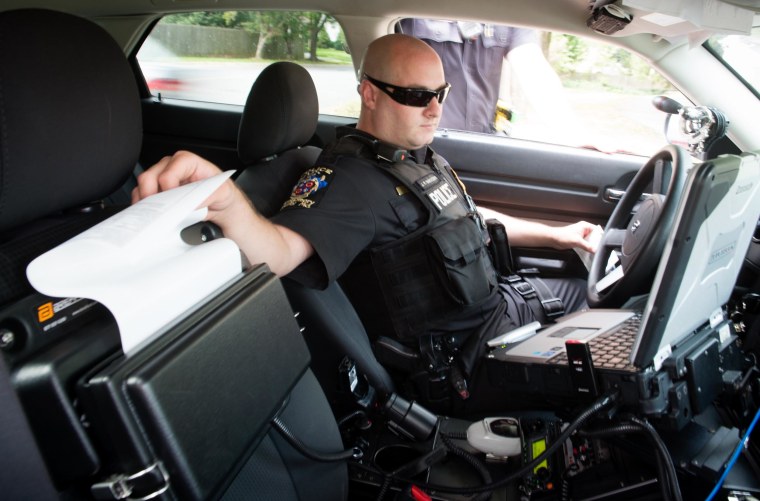 Cops of today have far greater resources at their fingertips, including hardware and software that used to reside at the station house. A police cruiser now typically is equipped with at least one laptop, giving instant access to national criminal databases, as well as portable fingerprint scanners, Breathalyzer units and automatic license-plate-reader technology that can identify stolen cars while cruising down the street, even at a high speeds. And while not department issued, personal smart phones and, specifically, policing-related apps are expanding officers' one-stop data search capabilities.
They also are toting far more firepower, typically high-caliber semi-automatic pistols and rifles with assorted magazine clips, as well as less-lethal beanbag shotguns and tasers.
The cornucopia of new equipment is not confined to large urban departments.
The Jackson, Miss., police department, for example, which has 525 officers serving a population of 185,000, has made huge strides in upgrading its equipment, in large part through grants to law enforcement after the 9-11 terrorist attacks. Paper is being superseded by digital, including the ability to instantly upload police reports from the field, and officers are using facial recognition software, automatic ticket writers and the automatic tag readers, said police Chief Lindsey Horton.
"We don't expect them to be robo cops, but we have to embrace technology," Horton said, noting some veteran officers opted for retirement rather than deal with the demands of the new technologies. "It's not optional anymore."
Data is also beginning to dictate the course of a day on patrol.
A generation ago, officers were "mostly self-directed," with a shift primarily focused on answering radio calls and "seeing what we could dig up," recalls Los Angeles Police Department Cmdr. Andrew Smith.
"Now, officers don't leave the station without sophisticated, comprehensive real-time data on wanted suspects, crime hot spots and trends and stolen vehicles," he said. "They have specific directions on where to go and what and who to look for."
"The roll calls are a little longer," admits Police Chief Craig A. Mellecker, of Dodge City, Kansas, the town where fictional U.S. Marshal Matt Dillon and real-life lawman Wyatt Earp once confronted law-breakers. "There is just a lot more information we need to get out to our officers."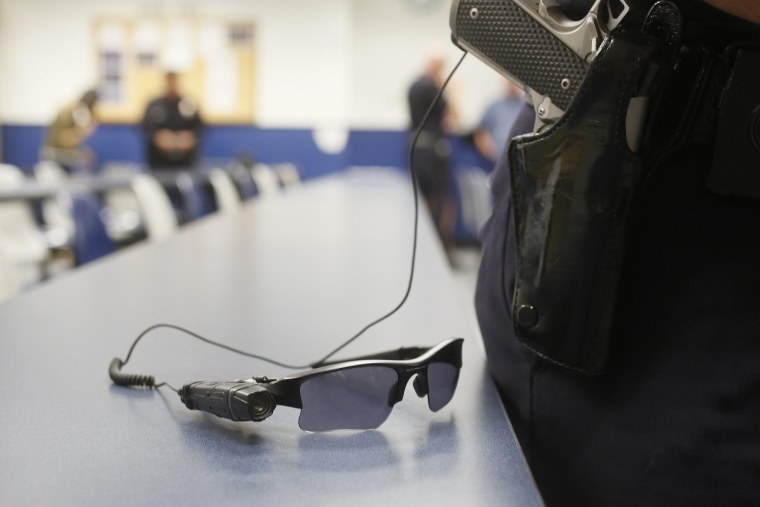 The types of crime officers are called on the fight also have changed as a result of technological advances, particularly the Internet and email, texting and social media.
That gives police a head start in gathering evidence that can more quickly lead to arrests and ultimately convictions, but it also gives criminals, street gangs, organized crime and even terror-related groups the ability to harvest personal data, which can yield big paydays while reducing their exposure to law enforcement.
Identity theft and credit card fraud in the form of phishing, skimming, shoulder surfing (using camera phones to snap a still or take video of a credit card or someone entering a PIN) continue to rise. Investigations into these crimes can be time consuming -- about 40 detective hours per case, on average.
Then there's the proliferation of traditional crimes -- drug dealing, bullying, extortion, stalking, piracy, prostitution and sex trafficking -- on the shadow Internet and on social media, law enforcement officials say.
Data on all of these crimes – as well as on activities of the cops – can be used to feed an evolving next wave of what is known as "predictive policing." The idea of using artificial intelligence software to prevent or severely reduce crimes before they happen is not the stuff of the film "Minority Report" -- at least not yet – but officials say it holds great promise and can at least help departments make informed decisions about the most efficient use of their resources.
"The biggest policy implication is going to be for training. The responsibilities (for officers) have increased qualitatively and quantitatively but are you going to recruit from the same pool of people."
Jon Shane, a professor at John Jay College of Criminal Justice in New York City, said the transformation in policing raises a host of practical issues, including how departments will pay for and maintain its new gear to whether law enforcement agencies should be hiring more highly educated cops, focusing instead on building "a fleet of crime analysts."
"The biggest policy implication is going to be for training," he said. "The responsibilities (for officers) have increased qualitatively and quantitatively but are you going to recruit from the same pool of people? How are they (policing agencies) going to address that gap?"
Another open question is how officers will react to being on the other side of the lens, as more departments begin collecting information on them.
Some agencies already have put the days of "Car 54, Where are You?" behind them by employing satellite vehicle locators to track officers' locations so they can be more efficiently be directed to 911 calls.
And technology is on the horizon that will allow police commanders to measure individual driver performance -- including speed and whether officers are wearing safety belts -- a bid to cut down on costly traffic accidents and on-the-job injuries.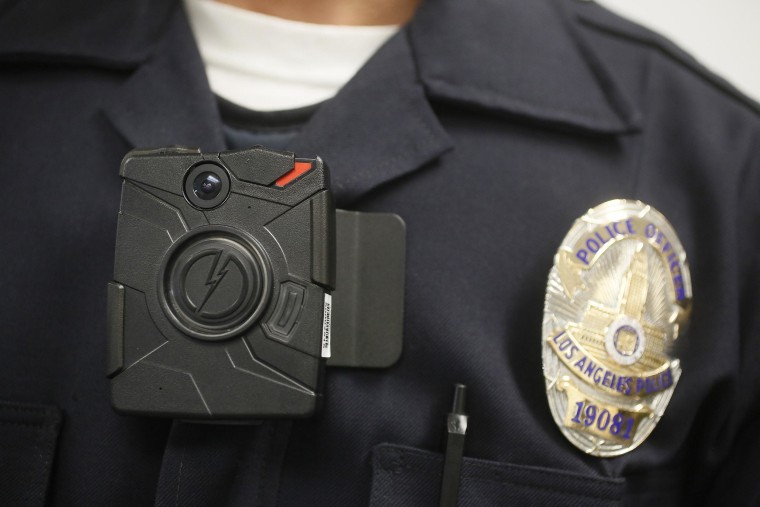 Perhaps the biggest game changer for so-called "accountability policing" is increased use of in-dash and on-body video cameras, which allow interactions between officers and suspects to be captured for later viewing.
Such footage is invaluable in documenting criminal activity, as well as any wrongdoing by officers, but many questions are being raised by its increasingly widespread use. One of the biggest concerns is what will happen to the video and other electronic evidence collected by police.
Jay Stanley, a senior policy analyst at the American Civil Liberties Union, said the public should be concerned about the potential for abuse.
"It enables what we call 'retroactive surveillance,'" he said. "You might not think that anybody cares about you or what you are up to right now but 10 years from now, but what if you get involved in political controversy or come to the government's attention for some other reason? Now, they can sift through your past life with a fine-tooth comb. If you collect enough data on anybody, chances are you can find something to pin on them."
"Just smile at the public and just do your job."
That's a two-way street, as cops are also facing unprecedented scrutiny from the public.The unwieldy video technology that captured grainy black-and-white video footage of LAPD officers beating Rodney King in 1991 has evolved into HD cameras on phones that fit in the palm of the hand and are nearly ubiquitous. Police officials say that officers should assume and act as if they are being at all times.
In Dodge City, Chief Mellecker says he tells his officers "to just smile at the public and just do your job."
While the job still is fundamentally about putting criminals behind bars, Mellecker says officers must be aware their broader mission. even when they are patrolling 20 square blocks vs. three blocks when he started out. One question that has to be top-of-mind is, "How you are treating your customers?" he said.
Geoff Alpert, a criminology professor at the University of South Carolina, agrees with that emphasis, warning that an over-reliance on high-tech could mean forsaking community policing, which has proven very effective in cutting crime.
"We talk about community policing, but the point of it (is) that officers need to get out in the street and meet people, talk to people, where they know who you are and you know who they are," Alpert said. "It's the human touch. That's how you get information. If you don't know your community cop, you are going to have a tougher time calling them. (And) if cops don't get information, (they) don't solve crimes."