Special counsel Robert Mueller has requested an interview with Russian pop star Emin Agalarov, who helped set up the now infamous 2016 Trump Tower meeting, according to Agalarov's lawyer.
"Conversations are ongoing" about a potential interview, the lawyer, Scott Balber, wrote in an email. "Unclear how this will play out."
Balber did not elaborate on whether Mueller is also interested in speaking to Agalarov's father, Aras Agalarov, a billionaire with ties to Russian President Vladimir Putin.
A spokesman for the special counsel's office declined to comment.
The Agalarovs were partners in the Trump Organization's hosting of the 2013 Miss Universe pageant in Moscow. They also played a key role in arranging the June 2016 meeting of Donald Trump Jr.; Jared Kushner, Donald Trump's son-in-law and now senior adviser; Paul Manafort, Trump's campaign manager at the time; a Kremlin-linked lawyer, Natalia Veselnitskaya; and others, according to congressional testimony.
Aras Agalarov had told an intermediary, Rob Goldstone, that Veselnitskaya had "information that would incriminate" Hillary Clinton, Goldstone wrote in an email to Trump Jr. on June 3, 2016.
The meeting took place days later, on June 9.
Veselnitskaya says she lobbied at the meeting against the Magnitsky Act, a set of sanctions and visa bans on certain wealthy Russians. Trump Jr. has said he took the meeting because he was told Veselnitskaya had dirt on Clinton, but it never materialized.
The meeting is of keen interest to Mueller's investigation into Russian interference in the 2016 U.S. presidential election and possible links to the Trump campaign.
In 2013, Donald Trump was featured in one of Emin Agalarov's music videos. In late June, Agalarov released a video appearing to mock the Mueller investigation and using impersonators to portray Trump and Clinton.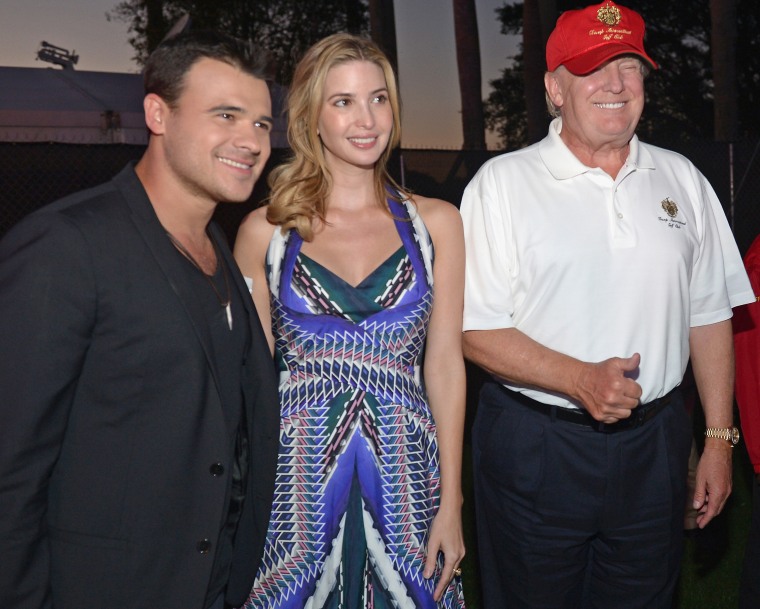 Also at the meeting was Russian-American lobbyist Rinat Akhmetshin and Irakly "Ike" Kaveladze, an Agalarov employee.
Veselnitskaya told NBC News last year that Emin Agalarov was crucial in setting up the meeting, although she claimed at the time that she had never met him.
In testimony to the Senate judiciary committee, Trump Jr. said he did not remember whether or not he had spoken directly to Emin Agalarov about the meeting.
In an interview this month with "VICE News Tonight" on HBO, Emin Agalarov said he and Trump Jr. did speak before the meeting was set up.
"I said, 'Listen there's some people that want to meet you,'" Agalarov told Vice. "'They obviously want something that could potentially help them resolve things that you could be interested in or maybe not. If you can spare a few minutes of your time, I'd be grateful. If not, no problem.'"
"Obviously Don Jr., obviously being Don Jr., said: 'Of course. I'll do it if you're asking,'" Agalarov said.
CORRECTION (Aug. 2, 2018, 5 p.m. ET): A previous version of this article misstated the pageant the Agalarovs and the Trump Organization hosted in Moscow in 2013. It was the Miss Universe pageant, not Miss America.