One day after the acting attorney general warned the White House that its national security adviser was subject to blackmail, the president summoned the FBI director to dinner at the White House, people close to James Comey told NBC News.
At the Jan. 27 dinner, a week after assuming the presidency, Trump requested a loyalty pledge from Comey, people familiar with the dinner say. Comey replied that he could not offer loyalty, but he could pledge his honesty.
This account of the dinner contradicts the one President Trump gave to NBC News Nightly anchor Lester Holt on Thursday. Trump said Comey requested the meeting, asked to be retained in his job, and told him he was not under investigation.
James Clapper, who retired in January as director of national intelligence, told NBC's Andrea Mitchell that Comey told him on the night of the dinner the president had invited him — and he was uneasy about it.
"He mentioned that he had been invited to the White House to have dinner with the president and he was uneasy with that," Clapper said, adding that Comey didn't want to create "the appearance of compromising the integrity of the FBI."
Clapper said it would have been inappropriate and out of character for Comey to have asked for job security, or to have told the president anything about a pending criminal investigation.
It's not known whether the men talked about national security adviser Michael Flynn. Flynn had been interviewed by the FBI a few days before, on Jan. 24 — grilled about his conversations with the Russian ambassador to the U.S., Sergey Kislyak.
Acting Attorney General Sally Yates had told the White House counsel that Flynn lied to White House officials about his talks with Kislyak — and that as a result, Vice President Mike Pence had misled the American people.
Yates was soon fired for refusing to enforce Trump's travel ban. Now Comey has been removed, sparking a host of new questions. Trump suggested, in an exclusive interview Thursday with Holt, that he had the FBI's Russia collusion investigation on his mind when he decided to remove Comey.
"When I decided to just do it, I said to myself, I said, 'You know, this Russia thing with Trump and Russia is a made up story, it's an excuse by the Democrats for having lost an election that they should have won,'" Trump said.
Trump gave Holt an entirely different account of the dinner, saying that Comey requested it to seek job security, and told the president he was not under investigation.
None of that is true, Comey's associates insist.
A former senior FBI official said Comey would never have told the president he was not under investigation — contradicting what Trump said.
"He tried to stay away from it [the Russian-ties investigation]," said the former official, who worked closely with Comey and keeps in touch with him. "He would say, 'Look sir, I really can't get into it, and you don't want me to.'"
A current FBI official and others close to Comey confirmed that the director did not request the one-on-one dinner, which happened at the White House a few days after Trump was sworn in.
Related: Trump Interview With Lester Holt: President Asked Comey If He Was Under Investigation
In his interview with Holt Thursday, Trump said twice that he believed Comey requested the dinner. Trump said Comey asked that Trump keep him on as FBI director, and told the president on three occasions that he was not under investigation as part of the FBI's inquiry into Russian election interference.
"The president is not correct," the former official said. "The White House called [Comey] out of the blue. Comey didn't want to do it. He didn't even want the rank and file at the FBI to know about it."
But in the end, "He's still the commander-in-chief. He's your boss. How do you say no?"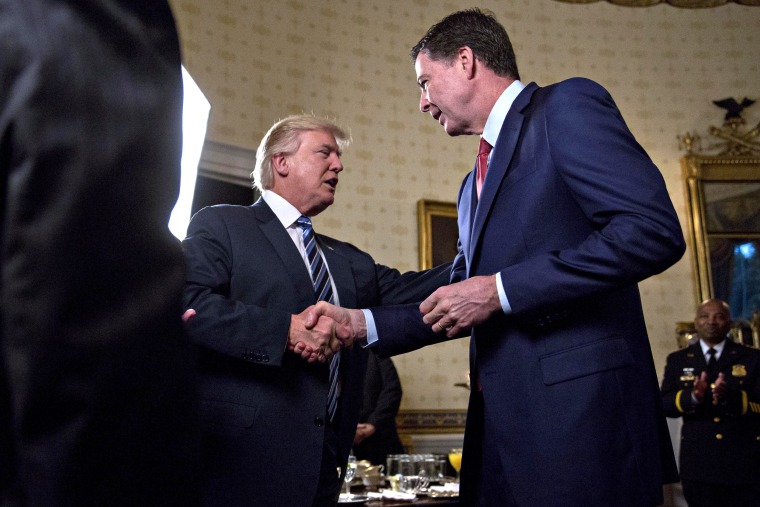 Related: Trump Told He Would Not Be Greeted Warmly at FBI: Officials
Many current and former FBI officials interviewed by NBC News said the bureau was reeling from the Comey firing. Not everyone agreed with each Comey decision, but he was a popular and well-regarded director, they said.
White House Deputy Press Secretary Sarah Huckabee Sanders claimed Thursday that she had heard from "countless members of the FBI who are grateful for the president's decision."
Current and former FBI agents scoffed at what they termed a ridiculous assertion.
Related: Fact Checking Donald Trump's Interview With NBC's Lester Holt
"I doubt five people at the FBI even have the [phone] number of the deputy White House press secretary," the former senior official said.
NBC News reported Thursday that the White House abandoned an initial idea for Trump to visit FBI headquarters, after learning he would not be greeted warmly there.