The rail industry believes that thousands of new tank cars that were designed to help prevent fiery oil train crashes may not be up to the job, according to statements by industry authorities at a meeting convened by the nation's top transportation safety agency this week.
Testifying before the National Transportation Safety Board on Tuesday, Robert Fronczak, assistant vice president of environment and hazardous materials for the Association of American Railroads (AAR), said the most updated standard adopted by the industry in 2011 is "no longer adequate."
Train car safety has become a hot button issue following a spate of oil train accidents, including a crash in July 2013 that killed 47 in Quebec. The accidents brought renewed calls for regulation of tank cars, including the most commonly used car, the DOT-111, which regulators have known for 20 years has serious safety issues.
As an NBC News investigation last fall revealed, thousands of oil-filled DOT-111s are now traveling through American towns, with a domestic oil production boom stoking a surge in the shipment of crude by rail from 9,500 cars in 2009 to 400,000 in 2013.
In 2011 a committee of rail and energy industry experts voluntarily created a safer design known as the CPC-1232. Since the crashes, the industry has also begun to retrofit some older cars to make them less prone to puncture and explosion, and earlier this year a number of energy companies announced they would update their fleets to include more of the new and retro-fitted cars.
But in January some of the new CPC-1232 cars broke open during derailments in New Brunswick and Mississippi, according to a McClatchy report, indicating the updated features may not be enough.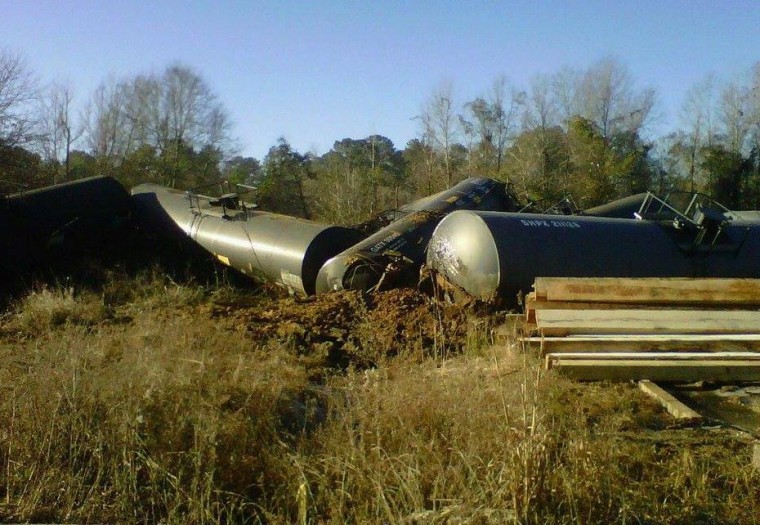 "The NTSB is not convinced that these modifications offer significant safety improvements," NTSB Vice Chairman Christopher A. Hart testified before a Senate committee in March.
Recently the AAR called for an even more robust design that includes a thicker shell and shields on the ends to prevent puncture and thermal protection.
At this week's safety meeting, the Railway Supply Institute, a tank-car industry group, proposed a plan that largely mirrored the AAR's improved design and said the CPC cars would need to be retrofitted. An analysis of the newly proposed design on behalf of AAR estimated that it could bring the probability of a release in an accident down to less than 5 percent, as opposed to more than 26 percent with the old DOT-111 cars.
The rail industry's push has driven a wedge between railroads and the oil and ethanol industries, which own the cars and would therefore shoulder much of the cost. A representative for the ethanol industry told the NTSB at this week's meeting that there may be no design that guarantees a car won't fail in a major derailment.