PESHAWAR, Pakistan –- Dozens of their friends and coworkers have been murdered for distributing polio vaccine here, but a resolute band of Pakistani women are risking their lives to fight the rapid spread of the disease, defying Islamic extremists who see inoculation as a CIA plot.
"My first priority," one polio worker, whose sister-in-law and niece were both gunned down a year ago as they distributed the vaccine near Karachi, said in broken English, "I want polio finished and leave Pakistan."
NBC News' Ann Curry visited the front lines of the international campaign against polio in Pakistan earlier this year to meet some of the women who go door to door to pass out the vaccine, which can prevent early death or a lifetime of paralysis or disfigurement. They risk their lives for the equivalent of about $2.50 a day.
GulNaz, the worker whose sister-in-law and niece were killed as they were making their rounds to inoculate children, said she doesn't want their sacrifices to be in vain.
"Their deaths gave me a new resolve," said GulNaz, who asked that she be identified only by her first name out of safety concerns for her family. "Their sacrifice makes my mission more meaningful. I'm not stopping now."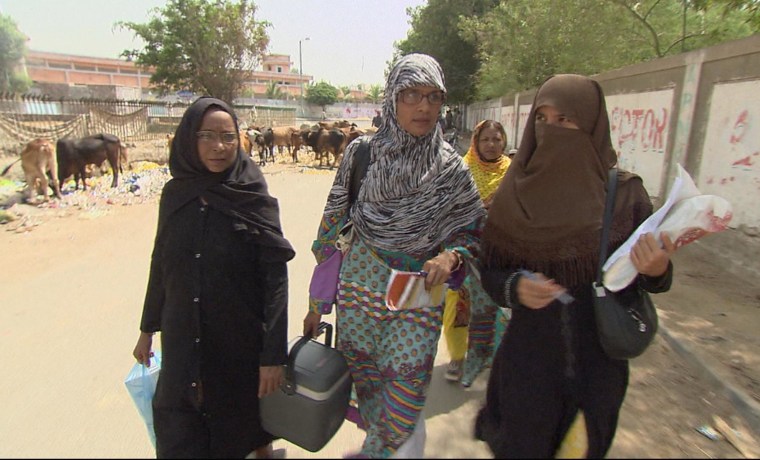 The vaccination drive has taken on a new urgency in the wake of the World Health Organization's declaration of a global health emergency for polio on May 5, which singled out Pakistan, Syria and Cameroon as nations that had allowed the virus to spread outside their borders.
But it also has gotten more risky in Pakistan, where the government temporarily suspended the campaign this summer in the wake of a pair of attacks on the Karachi airport claimed by the Pakistan Taliban, fearing that the polio workers also might be targeted, according to health officials familiar with the order.
Sign up for breaking news alerts from NBC News
Pakistan is Ground Zero in the revival of the disease, which just two years ago appeared to be on the verge of eradication following 25 years of progress. This year, Pakistan has tallied 260 deaths from the disease -- nearly three times as many as last year.
It also is likely the most dangerous country in the world in which to distribute a vaccine. Sixty-four polio vaccine workers and security personnel protecting them have been killed by snipers and roadside bombs over the last two years. Recently, the government has been providing Army troops to accompany the vaccine workers in an effort to halt the slayings.
"The children of our Pakistan, our community, also are our children."
The attacks are believed to be the work of Islamic militants, including members of the Pakistani Taliban, who widely believe the workers are actually CIA spies. It's a view shared by many of Pakistan's majority Muslims in the wake of a fake hepatitis vaccination program run by the CIA in 2011 as it hunted Osama Bin Laden.
As a result of the violence, few foreign aid workers are willing to venture into the most dangerous areas, particularly communities near Karachi controlled by Islamic militants and the tribal areas near the border with Afghanistan.
That's unacceptable to Huma, a mother of two who lives in Peshawar, which borders the lawless tribal areas. She said she feels a responsibility to protect those children as well as her own.
"The children of our Pakistan, our community, also are our children," said Huma, who estimates that she has vaccinated thousands of children in the nearly a year she has been a polio worker. "… They have to be the future of Pakistan. They have to be the future of tomorrow."
Huma, who also asked that her last name not be published, said the job requires equal parts resolve and diplomacy to try to overcome the suspicions of Muslim parents, particularly when the discussion begins only after a door is slammed in her face.
Related
Four Pakistan Polio Workers Killed by Assassins on Motorcycles
"We have to work in their comfort zone … in which … they are understanding of our words," she said, adding that she often has to make strategic decisions on the fly as far as "how to enter into the home, how to convince them."
In one case, Huma recalled, she visited the home of a woman doctor repeatedly to try to persuade her to vaccinate her daughter, only to be turned away each time. Finally, she went to the daughter's school and explained to the girl why the vaccination was so important. The next day, after the girl relayed the message "that we have to work together and we have to eradicate the polio" to her mom, "She let me in," Huma said. Huma vaccinated the daughter and the woman later began giving vaccinations to other children herself, she said.
But Huma and other vaccine workers, who have managed to distribute 450 million doses of vaccine over the last two years, say there are some areas where even they dare not enter -- neighborhoods controlled by Islamic militants that are declared "no-go" zones by organizers of the vaccination effort. That means thousands of kids go unvaccinated, raising the chances of new polio outbreaks that could quickly race through Pakistan's teeming cities and across borders.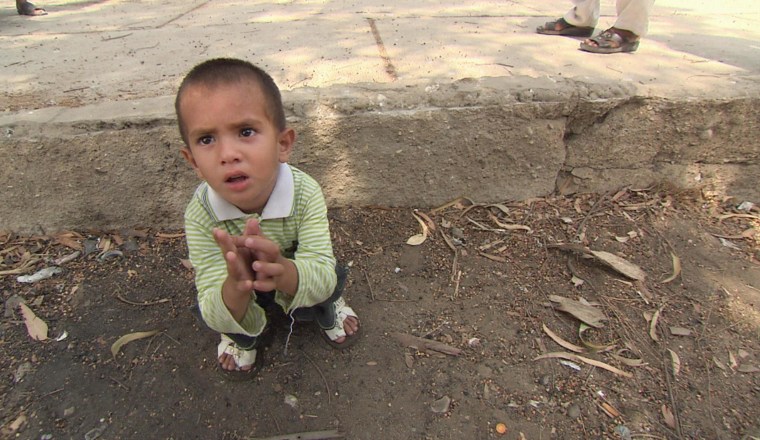 The depth of many Pakistanis' suspicions of the vaccine workers was evident in an interview with a man named Usman.
Usman, who is originally from the tribal area of South Waziristan, was himself struck by polio as a child and walks with a decided limp. Being "a little educated" about the benefits of vaccination, he said he allowed the vaccine workers to inoculate his three oldest children -– but not his now-3-year-old son, Musharaf.
Usman said the revelation of the CIA's phony vaccination program was key to his change of heart.
"I gave three of my kids polio drops," he said. "The fourth one I didn't because by then polio workers were involved in espionage. The CIA uses the program to get us."
Musharaf was recently diagnosed with polio, though he isn't yet showing any symptoms of the disease and may never do so. Despite his son's diagnosis, Usman said he has no regrets, saying Musharaf is better off with polio than being blinded by a drone attack.
"It's better that our kids get handicapped here than suffer from that," he said. "At least they can see. Allah decides and will decide for them and give them a living."
Follow NBC News Investigations on Twitter and Facebook.
Huma, the vaccine worker in Peshawar, said attitudes like Usman's are the reason she can't walk away from the inoculation campaign, despite the danger she faces as she appeals to parents to let her protect their kids with two drops – just two drops -- of vaccine from an eye-dropper.
"We have to vaccinate them," said Huma. "… I understand the importance of these two drops. I want other mothers to understand the importance of these two drops."