A rookie police officer was struck in the head by a man wielding a hatchet in the New York City borough of Queens Thursday, in an assault that has police investigating if the suspect could have been inspired by Wednesday's "terrorist" attack in Canada.
Police opened fire, killing the 32-year-old suspect and wounding a woman who was nearby, according to officials. The officer, 25, survived the attack. A second police officer, 24, was struck with the hatchet in the arm and is also being treated. The name of the suspect was not immediately released.
The 2 p.m. apparently unprovoked attack occurred as four police officers were posing for a passing photographer when the suspect charged the group, swinging a hatchet with a four-and-a-half-inch blade, officials said. He struck one officer in the arm and another in the head before two officers drew their weapons and opened fire as he swung the hatchet a third time, officials said.
"No known motive for this attack has been established," Police Commissioner William Bratton told reporters.
The officer struck in the head suffered a fractured skull and was in surgery Thursday evening. As police investigated the scene they discovered a woman a half-block away had been shot in the lower back. She was operated on and is in stable condition.
Thursday evening the New York Police Department issued a patrol bulletin alerting officers to be in a state of heightened awareness after Wednesday's murder of a Canadian soldier and shootout at the Parliament complex in Ottawa. The bulletin warns of potential attacks on uniformed officers.
However, two law enforcement sources said a review of some of the suspects postings and interviews with people who know him paint a picture of a disturbed loner who was angry about what he felt was the unfair treatment or oppression of African Americans.
While there are some Islamic references, and there remains concern he may have been inspired in part by images of radical terrorists overseas - his views seem if anything linked to black radical ideology of the 1970s, law enforcement sources said.
Police stress that their investigation is ongoing.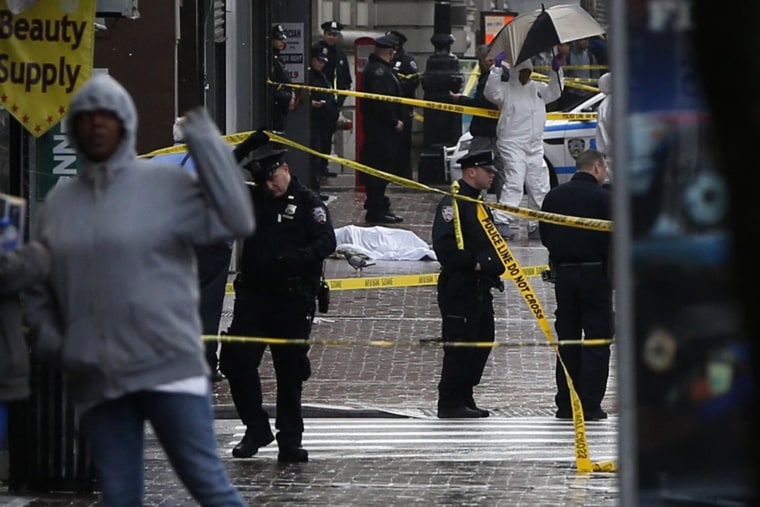 SOCIAL