Ohio Gov. John Kasich has postponed nine executions until a federal appeals court decides whether the state should be allowed to use a controversial drug that has been blamed for complications in other lethal injections — including one in Arkansas last week.
It's been more than three years since Ohio has killed a prisoner. The last time it happened was the execution of Dennis McGuire, who took 25 minutes to die and appeared to gasp for breath after being injected with the sedative midazolam and the painkiller hydromorphone.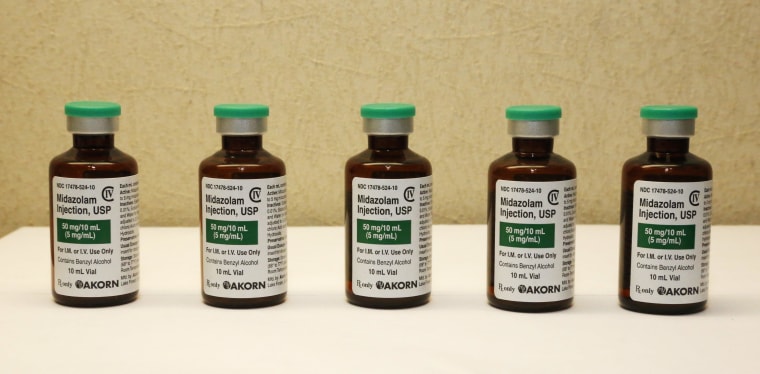 "It's not the right drug for the job," Kevin Werner, executive director of Ohioans to Stop Executions, said of midazolam.
After the McGuire execution, the state scrapped midazolam, which critics say does not shield inmates from the pain of the execution. When it could not obtain a substitute, it brought back midazolam as part of a new three-drug cocktail.
In court filings, Ohio has argued that death-row inmates have not shown that midazolam carries "a substantial risk of severe pain" and have not offered an alternative method of execution that the state can obtain.
In January, a federal judge blocked Ohio from using its midazolam-based protocol, and a panel of the 6th Circuit U.S. Court of Appeals voted 2-1 to uphold that decision. But last week, the 6th Circuit reversed course and said the entire court would hear the appeal.
Werner said that if the 6th Circuit decides the executions can proceed, there will almost certainly be an appeal to the U.S. Supreme Court.
The high court heard a case involving midazolam in 2015 and did not find the drug violated the constitutional protection against cruel and unusual punishment.
Related: Arkansas Governor Says He Made Right Decision on Executions
But several other executions that used the drug since then did not go as planned — most recently the lethal injection of Kenneth Williams in Arkansas, where witnesses reported he coughed, convulsed and jerked his body.
"Some people in Ohio and in other states believe the Supreme Court is going to have to step in and settle this," Werner said.
Kasich set an optimistic schedule, however, rescheduling the first of nine executions for July 26 — six weeks after the 6th Circuit is set to hear arguments. That prisoner is Ronald Phillips, who was sentenced to death in 1993 for the rape and murder of his girlfriend's three-year-old daughter, Sheila Marie Evans. His execution has been postponed seven times.