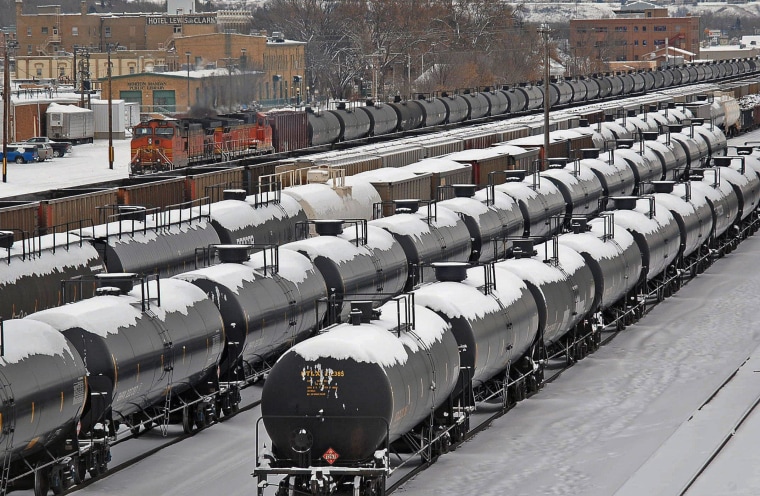 Federal regulators are proposing fines against three oil companies, alleging that they shipped dangerous crude oil mislabeled as a less hazardous type of petroleum. The sanctions are the first after months of surprise inspections, spurred in part by a series of fiery train crashes that highlighted the risks of transporting oil by train.
Regulators proposed a total of $93,000 in fines against Hess Corp., Marathon Oil Co. and Whiting Oil and Gas Corp. for shipping crude labeled as low- or medium-risk crude when it was in fact more dangerous. Regulators did not allege that the mislabeling was intentional.
"The fines we are proposing today should send a message to everyone involved in the shipment of crude oil: You must test and classify this material properly if you want to use our transportation system to ship it," said Transportation Secretary Anthony Foxx in a statement Tuesday.
An oil boom in North Dakota has led crude shipments to spike to nearly 400,500 carloads last year from just 9,500 in 2008, according to the Association of American Railroads. But recent crashes fueled concern that safety may have suffered in the process.
Mislabeling may have contributed to the deadly crude train crash in July in Lac-Mégantic, Quebec, which killed 47, according to Canadian investigators. Subsequent explosions of crude train cars in Alabama and North Dakota prompted regulators in January to warn that the crude coming out of North Dakota's Bakken Region may be particularly flammable.
Yet documents obtained by NBC News indicate federal regulators have known of labeling issues since June 2012.
The three companies facing the proposed fines announced Tuesday accounted for only some of the 11 samples found to have been improperly identified and labeled, according to a DOT spokesperson.
In a statement, Marathon OIl said it "is committed to safe and responsible operations including compliance with all applicable laws and regulations." The company said it would "respond as appropriate" to the proposal for fines.
Hess Corp. declined a request for comment from NBC News. Whiting Oil And Gas did not respond to a request for comment.