WASHINGTON — Defense Secretary Chuck Hagel announced Monday a reorganization of the Pentagon's efforts to identify the remains of American service men and women from the nation's wars.
The Joint POW/MIA Accounting Command (known as JPAC), which has been the subject of a series of investigative reports by NBC News and other news organizations in the past year, will be consolidated and reorganized under the acting under secretary of defense for policy, Michael Lumpkin. Hagel explained that the change is intended to increase the number of identifications of remains, and provide more information and help for the families of the deceased.
"There's not a more important, emotional issue in our society today," Hagel told reporters at the Pentagon, "than you take care of the people who gave their lives to this country, and you take care of their families. That's been a critical component of this country since its founding."
NBC News reported on Oct. 10 that JPAC has been holding so-called "arrival ceremonies" for seven years, with an honor guard carrying flag-draped coffins off of a cargo plane as though they held the remains of missing American service members returning that day from old battlefields. The ceremonies were known among some military employees as "The Big Lie."
After NBC News raised questions, the Pentagon acknowledged that no honored dead were in fact arriving, and that the planes used in the ceremonies often couldn't even fly but were "static aircraft" towed into position. The Pentagon said the coffins, or transfer cases, did contain actual human remains that had "recently" arrived.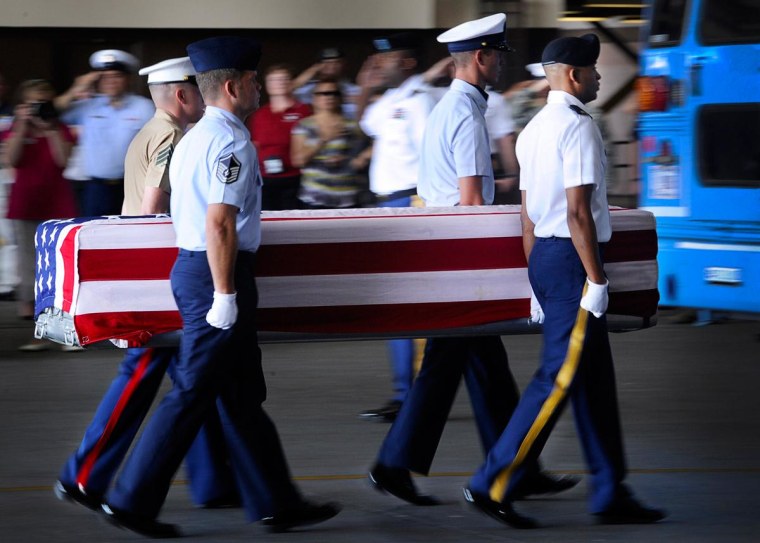 JPAC's mission is to return and identify the 83,000 missing service men and women from World War II, Korea and Vietnam.
Under the changes announced Monday, Hagel said, JPAC will be combined with its sister agency, the Defense Prisoner of War/Missing Personnel Office (known as DPMO). These two agencies have often butted heads. The new agency doesn't yet have a name. Its laboratory work will be overseen by the armed forces medical examiner, who already oversees an Air Force lab, the Life Sciences Equipment Laboratory. The lab work identifying remains has been tightly managed by the JPAC Central Identification Laboratory at Pearl Harbor, with families of missing service men and women saying the lab did not share information, did not do any of its own DNA analysis, and opposed disinterments of remains for identification.
In a follow-up interview with reporters, Lumpkin, the acting under secretary, acknowledged that several changes in attitude are in the works:
A new approach to disinterments is possible.
Cooperation with outside agencies will be encouraged. JPAC has resisted working with nonprofits and individuals who search for military crash sites. "Why wouldn't we leverage their good work?" Lumpkin said.
The process could become one more led by DNA, with DNA matching being used to start the process of identification, instead of being used only as a confirmation for more laborious methods. Work with university labs specializing in DNA matching is possible.
Families of the missing may be more actively encouraged to submit DNA samples as part of a search for matches, not just for confirmation.
The agency's Central Identification Lab in Hawaii will no longer exist as an entity, but the laboratory function there could remain, and could have the same leadership on site. Those decisions haven't been made.
The Pentagon has been spending about $100 million a year on finding and identifying remains, but has been identifying fewer than 100 bodies a year.
NBC News also reported, in August, on delays by the Pentagon in identifying the dead from previous wars, with requests for disinterments for DNA testing being denied even when a match seemed certain. Several investigations of JPAC are under way, in Congress and inside the Pentagon. An internal report called the agency "acutely dysfunctional," and a Government Accountability Office report said the effort to identify missing and unknown service men and women has been undermined by squabbling between agencies.
For more details on the arrival ceremonies, and what happens behind the scenes, see the NBC News report from Oct. 10.
YOU CAN HELP: Do you have documents or information about the Pentagon's effort to identify MIAs? Send to bill.dedman@nbcuni.com.