Penniless and desperate in January 2012, Clifford Hayes went looking for a bed in a homeless shelter. Instead, he found one in jail.
His arrest did not occur because he committed a new crime. It was the result of an old warrant arising from a DUI and driving-without-a-license conviction in 2007, issued after Hayes failed to keep up with payments to a private probation company assigned to monitor his case. When Hayes, unemployed and surviving off $700 a month in disability payments, fell behind, the company asked the court to put out a warrant for his arrest.
It's an increasingly common situation, with more than 1,000 court systems across at least 10 states now using private probation services, according to a critical new report by Human Rights Watch.
"Probation is supposed to be a way to keep people out of jail, a way for courts to subject people to monitoring and oversight instead of locking them up," said Chris Albin-Lackey, Human Rights Watch senior researcher on business and human rights and author of the report. "What we see in the context of private probation is the whole thing being turned on its head."
The picture painted in the watchdog's report, which focuses on industry practices in Alabama, Georgia and Mississippi, is grim. Some probation officers with private companies act like abusive debt collectors, it says, adding that the "offender-funded" supervision system they enforce inherently discriminates against the poor, as those least able to afford it pay the highest price. The report also argues that lack of oversight, and a drive for profit, have created a system prone to abuse.
Probation companies cater to courts looking for an inexpensive way to make sure fines get paid. The companies take over collection and monitoring of low-level offenders, offering those who cannot pay at once a way to pay over time, like a payment plan.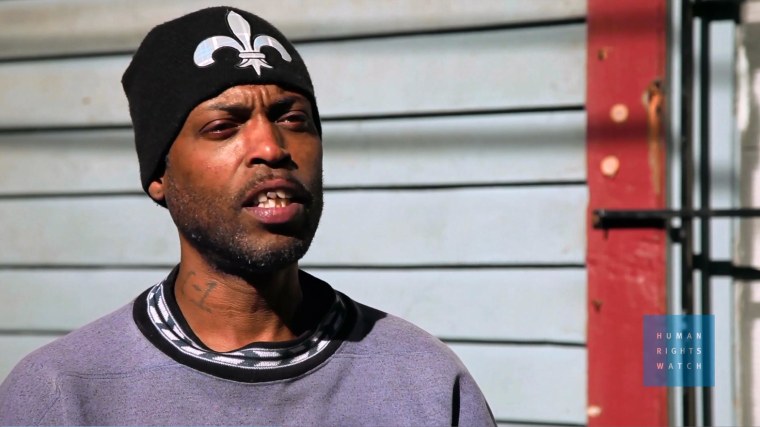 The offer comes at a price. In addition to their fines to the court, probationers also must pay probation fees, typically $35 to $40 a month, to the for-profit company. If they don't make their appointments and keep up payments, probationers like Hayes can be sent to jail. After his 2012 arrest, a judge told him he would have to pay his outstanding $854 or spend eight months behind bars.
In this model the poorest spend the longest on probation, said Human Rights Watch's Albin-Lackey, which means they pay more fees to private companies, and run a higher risk of incarceration.
The industry rejects such charges and argues that the model offers municipalities and courts an effective solution to the problem of collecting fines and supervising offenders.
"We believe that private probation services provide an effective solution to deal with individuals who willfully violate the laws of the State of Georgia at no cost to the law abiding residents of Georgia," Danna Philmon, president of the industry-group the Private Probation Association of Georgia, said in an email to NBC News. She said she has not seen the report and could not comment directly on its findings.
"It runs counter to business sensibilities to mistreat a customer; whether that customer be a probationer, our courts or the general public at large whom we seek to aid and protect."
Offenders who go to jail are those who fail to follow the rules, she said. Companies have protocols to deal with indigent offenders to prevent incarceration of those unable to pay their fines or fees, Philmon explained, adding that probation is a business in which companies have an interest of providing good service.
"It runs counter to business sensibilities to mistreat a customer; whether that customer be a probationer, our courts or the general public at large whom we seek to aid and protect," Philmon wrote.
Lawsuits against companies in Tennessee, Alabama and Georgia, however, claim the profit motive drives courts and companies to violate the civil rights of many of the poorest who come through the system.
In 1983, the Supreme Court ruled that a court cannot send a probationer to jail simply for failing to pay a fine if he or she is too poor to pay it.
But Human Rights Watch found that in courts with weak judicial oversight, companies routinely seek arrest warrants for those who fail to keep up with outstanding fines – requests that are often granted with little review. Probation companies have responded in news reports and litigation that they do not have the authority to have people jailed -- only the court can do so -- and that it is not their role to determine if a probationer can afford to pay.
"The crimes they've supposedly committed, especially minor traffic offenses, can put these people in bankruptcy or, if they don't pay their fines to the private company, in jail."
Hayes' attorney John "Jack" Long argues otherwise. He has has brought more than a dozen lawsuits against the company hired to collect the court system's fees and fines, California-based Sentinel Offender Services, claiming the company's practices, and in fact the entire system, is unconstitutional and preys upon the poor.
"A lot of these fines are too high for the people that get them," said Long. "The crimes they've supposedly committed, especially minor traffic offenses, can put these people in bankruptcy or, if they don't pay their fines to the private company, in jail."
Last year a Superior Court judge in Augusta ruled that Sentinel, one of the largest private probation companies in the nation, had routinely violated offenders' right to due process. He enjoined law enforcement from acting on any of the more than 5,000 probation violation warrants until it was reviewed by an independent overseer.
That order has been lifted pending appeal in the lawsuits after both the company and the lower court judges who work with Sentinel argued that such oversight "interferes and obstructs the orderly operation of the court." The lower court judges who depended on Sentinel's services argued the order is "unprecedented and goes far beyond the relief necessary to protect the rights" of probationers.
The stakes in the suits are high. Eighty-six private probation companies monitor between 250,000 and 300,000 probationers each year, according to Georgia's County and Municipal Probation Advisory Council, or CMPAC, which regulates the industry in the state. Companies are not required to report how much they collect in supervision fees. Human Rights Watch estimated the industry took in about $40 million a year in Georgia alone.
In response to the report, Ann Marie Dryden, VP of Communications for Sentinel, wrote in a statement to NBC News that "we believe some of the circumstances highlighted focused solely on the financial aspect of probation and failed to recognize other non-financial conditions that were present."
"However, we believe many of the recommended changes outline in this report would be beneficial to the industry and supported by Sentinel," Dryden added.
While the Peach State has the most rigorous regulation of the industry, Human Rights Watch found the oversight, which it described as under-resourced and limited in its authority, was still insufficient to fully oversee the industry.
A spokeswoman for CMPAC said the agency had not reviewed the report and could not offer comment.
Despite the legal challenges, companies are looking to broaden their authority in Georgia. An industry-backed bill pending before the state Legislature would give judges the authority to extend, or "toll," probation sentences for those who do not comply with the terms. This would allow companies to request that a judge reinstate supervision, along with fees, even if the original term of probation had run out. Sentinel and the courts in Augusta had routinely done that before the court there ruled it illegal. Sentinel has lobbied extensively for the bill.
Once a county privatizes its collections or probation, it can be difficult for it go back.
In LeFlore County, a small region of the impoverished Mississippi Delta, local leaders spent nearly a year debating whether to end a contract with Judicial Correction Services. JCS is along with Sentinel one of the nation's largest probation companies, operating in about 480 courts across Georgia, Florida, Mississippi and Alabama, where the company faces several lawsuits.
"A lot of those people who helped elect us are the people who get these fines."
In December the Board of Supervisors voted to cancel their contract with the company. Wayne Self, a LeFlore County supervisor critical of the industry, said supervision fees amounted to a kind of "double jeopardy" upon the poorest offenders.
But Self said with the county nearly $1 million in debt, judges in the county still have an incentive to continue to use the company to collect money, including outstanding court fines and fees. Meanwhile, representatives from other companies have already started to lobby the county for contracts.
"A lot of those people who helped elect us are the people who get these fines," Self said. "Right now the economy is hard. These fines are just making life a lot more miserable. I'm not trying to make life more strained for people."
JCS did not respond to requests for comment in time for publication.
Albin-Lackey, author of the Human Rights Watch report, said the situation in LeFlore County highlights the basic unfairness of the for-profit probation model.
"One of the darker realities of this whole business is that some of the poorest communities and counties in the country are among the best opportunities," he said. "Where you have a lot of people who are struggling to pay down relatively small financial penalties they owe to their local courts, probation companies can come in and get large volumes of people under their supervision."
And as tough economic times and steep budget cuts forces courts to do more with less, "offender-funded" probation seems an increasingly attractive solution. But without rigorous and sometimes costly oversight and regulation, the report argues, the solution can create new problems.
"Courts may be able to outsource their probation to private companies," Albin-Lackey said. "But it doesn't mean they no longer have a responsibility to make sure that people's rights are being respected."