Editor's Note: This story was co-published with The Virginian-Pilot and the Investigative Reporting Program.
More than a year after a Navy helicopter crashed off the coast of Virginia, killing three crew members, high-ranking military officials are worried not enough has been done to prevent a similar tragedy, according to confidential documents obtained by The Virginian-Pilot and NBC News.
After an MH-53E Sea Dragon caught fire and went down on Jan. 8, 2014, the military ordered crews to inspect all Sea Dragons in the fleet –- and every CH-53E Super Stallion, the Marine Corps variant -– for signs of damaged fuel lines and wires like those that caused the crash.
There's now evidence that many of those inspections were conducted haphazardly, if at all, leaving dozens of potentially unsafe helicopters in service and sending officials scrambling to come up with a plan to fix the problems, according to a chain of emails circulating last week among leaders at Naval Air Systems Command, the Maryland-based office that oversees all Navy and Marine Corps aircraft programs.
Read The Virginian-Pilot's Version of This Story
"Please close hold this information and do not forward," a Marine officer wrote at the start of one email about the shortcomings of last year's inspections. "Engineering is very concerned. … We don't need another mishap as a result of chafing wiring on a fuel line."
The emails included attachments detailing the seriousness of the situation, including a spreadsheet documenting disparities in how much time was spent on the inspections, and a PowerPoint presentation apparently used during a leadership briefing last week by Col. Hank Vanderborght, the Sea Dragon and Super Stallion program director.
The bottom line, Vanderborght wrote to begin the slides, is that "the risk of cabin fire was not mitigated and the hazard of chafing on fluid-carrying lines and wires was not eliminated."
A spot check of Marine helicopters conducted two weeks ago produced disturbing results, according to the slides. Of 28 Super Stallions examined, all but eight were found to have bad fuel lines or wiring, including at least one with chafing lines in the same location that led to the deadly Sea Dragon crash a year ago, when a worn-out wiring bundle released an electrical arc that connected with jet fuel, igniting an explosive fire.
Follow NBC News Investigations on Twitter and Facebook.
Vanderborght recommended that "Top Level leadership conduct intrusive verification," that the inspections be completed with "requisite attention to detail," and that training and on-site guidance be provided for inspection teams.
This week, a similar review is being done on Sea Dragons, said Cmdr. Mike Kafka, a spokesman for Naval Air Force Atlantic. The engineers so far have discovered additional discrepancies and have concluded that the initial training on how to conduct the wiring and fuel-line inspections was inadequate, Kafka said.
After the crash, the Navy had estimated crews would need to spend 36 hours on each aircraft to conduct the newly required inspections and related repairs. But on dozens of Navy and Marine Corps helicopters, crews reported spending less than three hours on the work, according to maintenance records included in the emails.
Click Here to Read the Virginian-Pilot's Coverage of Sea Dragons
Only six of the 28 Sea Dragons that remain in service – and just 17 of the 151 Super Stallions – received an adequate wiring and fuel-line inspection of at least 36 hours after last year's crash, according to an analysis of the data.
Additionally, according to the emails, officials are worried that some of the squadrons focused on finding chafing fuel lines but failed to properly search for bad wiring, which should have been given equal attention.
Kelly Burdick, a spokeswoman for Naval Air Systems Command, said correcting the cause of the Jan. 8, 2014 crash is "paramount" to the Sea Dragon and Super Stallion community.
"Cross checking to ensure corrective actions are having the desired effects is part of our normal process. If a discrepancy is found, we immediately act to rectify the situation. The e-mail and brief … are part of a process," she said, adding that Vanderborght was traveling and wasn't available for an interview.
The internal emails and documents sound an alarming tone, yet more than two weeks after the discrepancies were discovered, Sea Dragons and Super Stallions continue flying in Norfolk, Virginia, at bases across the country and overseas. Further, there is little indication that maintenance crews who work on the helicopters or sailors who fly them have been fully briefed on the matter.
"It's all news to me," said one aviator from Helicopter Mine Countermeasures Squadron 14, speaking on the condition of anonymity. "I find it deeply troubling."
The inspections ordered a year ago were among measures the Navy has taken to try to improve the safety of wiring and fuel lines. Although some of the helicopters are outfitted with wiring from the 1980s – now brittle and prone to sparking fires – nobody had been required to regularly inspect Sea Dragon wires over the helicopter's three decades in service.
Since the crash, every Sea Dragon is supposed to be thoroughly inspected every 400 flight hours to ensure no wires or fuel lines are chafing or damaged.
Earlier this week at HM-14 – one of two Sea Dragon squadrons at Norfolk Naval Station – a maintenance crew, unaware of the higher-level concerns, grounded the only helicopter at the command that had been cleared to fly this week. Maintainers found several chafing fuel lines and wires, according to sources.
A safety investigation conducted after last year's crash said the Navy, in order to fully remedy the chafing issue, must go beyond inspections: "Physically isolating aircraft wiring from all critical aircraft components is necessary to prevent catastrophic chafing between maintenance intervals," the report said.
In a statement Thursday, Rear Adm. J.R. Haley, commander of Naval Air Force Atlantic, said he is confident in the Navy's ability to ensure Sea Dragons are safe to fly and trusts the service's "culture of safety," which gives even junior pilots authority to demand that repairs be made if they are uncertain of an aircraft's safety.
"We are aware of the challenges in maintaining the aging airframe and will continue to ensure the helos remain safe," Haley said in the statement. "NAVAIR engineers have years of experience over many prior airframes in sustaining the safety of our aircraft as they age. We have total confidence in their ability to ensure we are flying airworthy planes."
Nicole Van Dorn, whose husband was among the three sailors killed off Virginia Beach, said it was "beyond inexcusable" that many helicopters were not properly inspected following the crash.
Lt. Wes Van Dorn had been working to expose problems at his squadron and often warned that someone would get hurt if changes weren't made.
"This points to exactly what Wes observed," Nicole Van Dorn said. "That is, an organizational culture that is built on the acceptance of risk because it's easier. I'm so glad someone is speaking up, because Wes can't."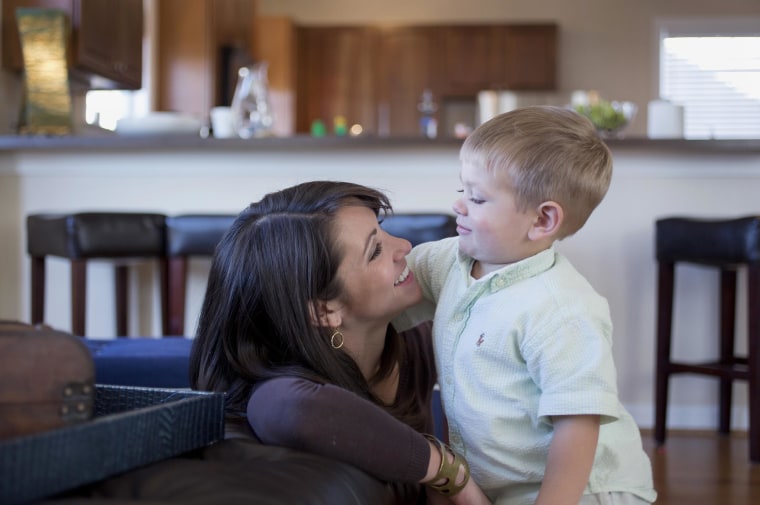 The Virginian-Pilot has spent more than a year investigating problems with the Sea Dragon, the Navy's oldest and most crash-prone helicopter -– and the only one in the fleet capable of sweeping for underwater mines. The latest revelations come days after an NBC Nightly News and Virginian-Pilot story raised concerns about the safety of the aircraft.
Even as Naval Air Systems Command officials were trading emails last week, the newspaper had been questioning the command about its efforts to address wiring problems in light of a Jan. 15 incident over the Arabian Gulf.
In that incident, two wires had chafed inside a Sea Dragon, causing an electrical arc that –- according to numerous sailors at the command –- sparked a brief fire and forced the crew to land in Kuwait.
The Navy confirmed that there was an electrical malfunction but did not use the word "fire."
When asked about the incident, the service responded by touting its work to fix bad wires and fuel lines. No mention was made of the newly discovered problems with those efforts.