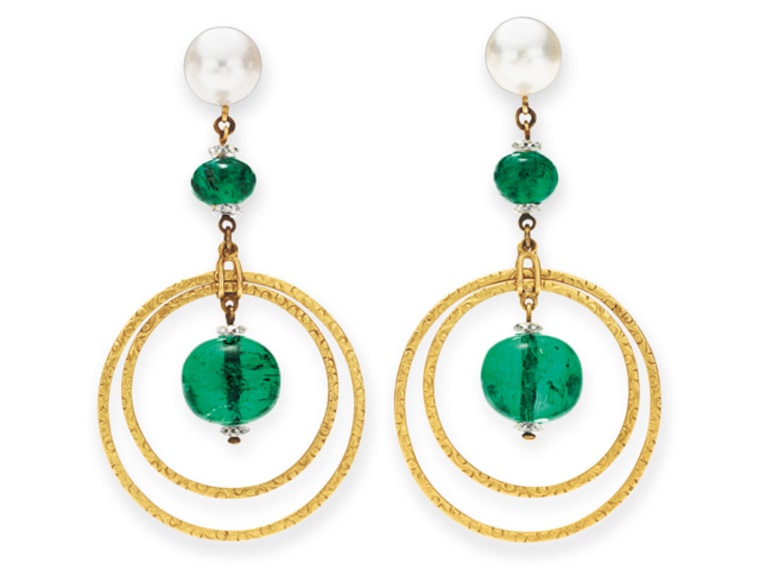 NEW YORK — The jewelry collection of Huguette M. Clark, the mysterious heiress to a copper fortune, was sold at auction Tuesday afternoon at Christie's New York, fetching $18.3 million, far above the pre-sale estimate of $8.5 million to $12 million.
The jewels had been recovered from the bank vault of the reclusive heiress, who lived the last 20 years of her life in Manhattan hospitals and who had rarely been seen since the 1930s.
The last surviving child of U.S. Sen. William Andrews Clark (1839-1925), who made his fortune in mining, railroads and other ventures, Huguette Clark has been the subject of a series of reports on msnbc.com about her vacant properties and the management of her fortune. Born in Paris in June 1906, she died in May 2011 at age 104.
Hundreds of people filed through Christie's at Rockefeller Center to see her jewels over the weekend.
The highlight was a rare 9-carat purplish-pink diamond ring, with a pre-sale estimate of $6 million to $8 million.
"Four million dollars," started the elegant auctioneer, Rahul Kadakia.
"Seven point five million dollars?" Kadakia added, hearing a bid. "All right, why waste time."
It was hammered home at $14 million, plus commission, for a total outlay of $15,762,500.
The buyer of the "Clark pink" was identified as Brett Stettner of Stettner Investment Diamonds.
The pace was set with the first two items, onyx photo frames estimated at about $6,000. They each sold for $60,000.
A pair of art deco bracelets sold for $90,000 and $480,000.
The total for all Clark items, with commissions, was $20.8 million.
See the accompanying slideshow for details on the Clark jewels and their final sale prices.
"It was like chasing a rainbow and you had this big pot of gold at the end. It was fantastic," auctioneer Kadakia, head of jewelry for Christie's, said on the TODAY TV show about opening the Clark vault. (See the accompanying video.) "They were all in this original boxes, in this bank vault, since the 1940s."
In addition to bidders at Christie's at Rockefeller Center in New York, bidders were online and on the telephone in Texas, Bahrain, Japan. They were alerted that parties with a potential financial interest were bidding on several of the less-expensive items. Possibly these were Clark relatives.
Many non-Clark items in the jewelry auction also sold well above their estimates, including a 24.68-carat diamond that sold for $420,000, or more than twice its high estimate.
An apartment already sold
One of her three mysterious apartments on New York's Fifth Avenue found a buyer soon after they hit the market in March. The top-floor apartment, listed at $24 million, sold in less than a month for an undisclosed price. The two others remain on the market, at $19 million and $12 million. Each apartment has about 5,000 square feet of space. Also on the market: her country home in New Canaan, Conn., at $19.8 million.
How can anything be sold now?
Proceeds from the properties and jewelry will be used to pay estate expenses, with the rest held for the eventual winner of the legal battle over her $400 million fortune. On one side are members of the Clark family, grandchildren of her father from his first marriage, whom she included in one will and then cut out of her last. On the other side are her attorney, accountant and nurse, all named in the last will, which left nothing to her relatives.
Her oceanfront home in Santa Barbara, Calif., with an estimated value of $100 million, is not on the market, because her second will designates it as a public museum and home for her art collection. The fate of that property is tied up in the legal battle. The largest chunk of the estate is left to that museum in the second will.
Also not for sale: her doll collection, with an estimated value of $4 million, which the second will leaves to her nurse.
The full story
More on the Huguette Clark mystery is at http://clark.msnbc.com/.
Do you have information on the Clark family?
Reporter Bill Dedman is writing a nonfiction book about the Clark family. If you have information, you can reach him at bill.dedman@msnbc.com.