Battered and on the run, al Qaeda is quietly looking for a charismatic leader capable of taking command when Ayman al-Zawahri's tenure comes to what will likely be a violent end. And just as quietly, the U.S. intelligence community is searching for that same man -– so they can kill him.
The deadly game, which is unfolding in places like the ungovernable border area between Afghanistan and Pakistan, the deserts of Yemen and the battlefields of Syria, comes at a critical moment for al Qaeda, according to U.S. officials and counterterrorism experts.
The Islamic terrorist organization founded in the early 1980s by Osama bin Laden is desperately in need of cash and fighting the widespread perception that it is irrelevant in an era where most of its affiliated groups are focused on regional conflicts, not landing blows against world powers.
"Al Qaeda is at the most moribund point in its history," said Michael Leiter, the former director of the U.S. National Counter Terrorism Center and now a counterterrorism consultant to NBC News. "It's nothing like the centrally led organization of 2001 or even 2010."
In spite of its decline -- or perhaps because of it -- the Islamic terror group responsible for the Sept. 11 attacks and numerous other deadly strikes against Western targets is seeking a future leader that it hopes can rekindle its influence and solve its budget crisis. Among the leading candidates is an English-speaking Egyptian agricultural expert -- an "up and comer" even though he's been involved in Islamic extremism for several decades, according to a U.S. counterterrorism official.
A secret job search
The search for a successor to the 62-year-old Zawahri is cloaked in secrecy, in large part because of the success of U.S. efforts to wipe out al Qaeda's leadership.
According to an NBC News analysis, the U.S. has eliminated at least six potential successors -– all in drone attacks -- since bin Laden was killed in a U.S. Navy SEAL raid on his compound in Abbottabad, Pakistan, on May 1, 2011. All of them were on a "kill list" created by the U.S. intelligence community and approved by the president. No name added to the kill list has ever been removed.
The U.S. offensive also has decimated the Mujahideen Shura (or "consultative council") that will officially select the next al Qaeda leader.
Zawahri, an Egyptian doctor who has -- by his count -- been targeted by the U.S. on at least four occasions, has not formally had a second-in-command since the death of Atiyah Abd al-Rahman on Aug. 22, 2011, as far as U.S. intelligence officials know.
And U.S. drones are no longer the only threat to al Qaeda's leaders.
On Sunday, a senior member of the group and former confidante of bin Laden, Abu Khalid al Suri, was killed in a suicide bombing in Aleppo, Syria, where he had been sent to mediate among jihadist rebel groups.
Syrian sources tell NBC News that al Suri ("The Syrian" in Arabic) was among five people killed when two unidentified men fired rocket-propelled grenades toward an outpost of Ahrar al-Sham, a Sunni jihadist group, then detonated bombs when al Suri and the others emerged from a building. The suicide bombers, al Suri and two others died in the blasts.
U.S. counterterrorism officials say the attack was almost certainly carried out by the Islamic State of Iraq and the Levant (Syria), known by its Arabic acronym of ISIS. Earlier this year, ISIS, formerly known as Al Qaeda in Iraq, was expelled from al Qaeda by Zawahri over its violent acts against other Islamic groups opposed to the Syrian regime.
"It makes graphic the cacophony of forces in Syria and also shows how increasingly irrelevant al Qaeda is to the broader movement."
Leiter said the incident is telling.
"It makes graphic the cacophony of forces in Syria and also shows how increasingly irrelevant al Qaeda is to the broader movement," he said.
The infighting among Islamic terror groups has grown as al Qaeda's influence has waned, likely in large part because of its financial woes, experts say.
U.S. and Western sanctions and financial regulations have stripped al Qaeda of much of its financing. U.S. officials say it has gone from having an annual budget of between $25 million and $30 million at the time of the 9/11 attacks to an organization that has been forced to seek loans from its affiliates. The lack of money is one reason that al Qaeda hasn't been able to replicate the 9/11 attacks, which cost $500,000 to plan and carry out, according to FBI estimates. Instead, Zawahri suggested in September that inexpensive "lone wolf" attacks like the Boston Marathon bombing, carried out by two brothers, were the way to go.
Zawahri, who remains atop the U.S. kill list, is seen as ill-equipped to reverse the loss of prestige and fund-raising ability, being a didactic theologian incapable of inspiring the sort of loyalty that bin Laden engendered.
That's why the search for a new leader has an air of urgency, U.S. officials and terrorism experts say.
"They're looking for a number of things: battlefield cred, religious cred and some fluency in the English language," said one senior U.S. official, who, like others interviewed for this article spoke on condition of anonymity. "He will have to have served on the tip of the spear in some battlefield and having risen to the position of a sheik or something similar. English is important to transmit their ideas beyond the Arab world." And it has to be a man.
Some candidates for heir apparent
Evan Kohlmann, another NBC News terrorism consultant, said a handful of names have emerged as the leading candidates to be heir apparent to Zawahri.
Kohlmann, whose company, Flashpoint Intelligence, monitors al Qaeda's propaganda wing, al-Sahab, to determine who is on the rise in the organization, said being featured in YouTube videos and quoted in jihadist Internet forums is often a bellwether for promotion in the group.
Follow NBC News Investigations on Twitter and Facebook
One name that has become more prominent in recent months -- and checks all the boxes listed by the U.S. official -- is Hussam Abdul Rauf, Kohlmann said. Rauf, a 55-year-old Egyptian who currently serves as al Qaeda's spokesman, is well educated, having graduated from a Cairo university with a degree in agriculture. He later worked in the office of the Egyptian Agriculture Minister, helping to handle the ministry's relations with other ministries around the world. He is an English speaker and a computer expert. He fought in Afghanistan against the Soviets in the 1980's, forsaking a chance to travel to the U.S. to further his computer skills.
A U.S. counterterrorism official confirmed that Rauf is considered "an up-and-comer" within al Qaeda, despite being involved with extremist Islamic movements dating back to the late 1980's.
"Rauf is best known as the driving force behind al Qaeda's premier propaganda vehicle, 'Vanguard of the Khurasan,' whose production he oversaw starting in the years after 9/11," the official said. "His behind-the-scenes experience with this publication subsequently gave way to a more public role delivering al Qaeda's message to its global followers."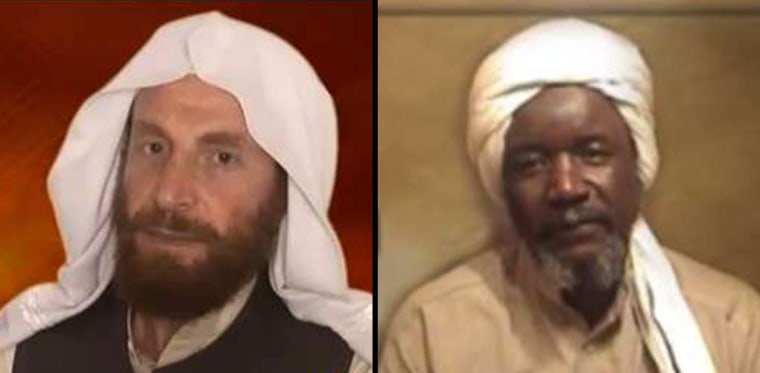 Other names mentioned by Kohlmann include:
Nasir Abdel Karim al-Wuhayshi, the head of the Yemen-based Al Qaeda in the Arabian Peninsula and bin Laden's personal secretary at the time of the 9/11 attacks. Wuhayshi is not seen as charismatic and has never been promoted by al-Shahab, the al Qaeda propaganda wing, but won admirers after he and 22 other captives escaped from a maximum security prison in the Yemeni capital of Sanaa in February 2006. Kohlmann noted there were rumors last year that he was secretly named No. 2 by Zawahri, but that was never acknowledged by al Qaeda.
Shaykh Abu Klalik, who is apparently an African, based on his appearance and dialect. He has appeared in recent al Qaeda videos giving Shariah sermons and is a presumed member of the Mujuhideen Shura council.
Muhammad bin Mahmoud al-Bahtiti, believed to be an Egyptian national who has previously been named in official al Qaeda communique to the people of Egypt.
Ustath Ahmad Fareeq, a Pakistani who sometimes acts as an official al Qaeda spokesman and is a member of the Mujahideen Shura council.
Adam Gadahn, the American propagandist. A long shot for the job, Gadahn lacks battlefield experience and religious credibility among many al Qaeda followers. But his profile has risen after bin Laden's files showed he regularly corresponded with the late al Qaeda leader.
It's not clear whether al Qaeda would look beyond Zawahri's inner circle and to the so-called affiliate groups such as Al Qaeda in the Arabian Peninsula, the Yemen-based al Qaeda affiliate that has attempted to mount numerous attacks against Western targets, or Al Qaeda in the Islamic Maghreb, which aims to overthrow the Algerian government.
Kohlmann said he believes the next No. 2 will emerge from a small circle of Egyptians that Zawahri has surrounded himself with, because picking someone from one of the al Qaeda affiliates "would inevitably cause the withering of the central command."
Others disagree, including some in the U.S. government, believing that a charismatic figure is more likely to emerge from the affiliates.
"I doubt an English-speaking charismatic is going to help the global brand."
Leiter noted that one affiliate leader might have filled the bill if the U.S. hadn't killed him: Anwar al-Awlaki, an American leader of AQAP killed in Yemen in late 2011. "Al-Awlaki had the strategic vision. He was very important," said Leiter.
Leiter essentially dismisses the search for a new leader as insignificant, saying it obscures larger issues like the breakdown of discipline between the core al Qaeda group and affiliates and the shrinking budget.
"In my opinion, it's a mistaken line of inquiry trying to figure out who's going to resonate or who may not," Leiter said. "I doubt an English-speaking charismatic is going to help the global brand."
Rather than targeting inspirational leaders or the top officials of al Qaeda –- "knuckleheads one through five" -– Leiter said the U.S. now conducts "operationally relevant killings" by going after those individuals in militant groups who want to target U.S. interests.
"Inspirational leaders have little influence," he said. "What's more important is separating out those with global ambitions … and killing them."