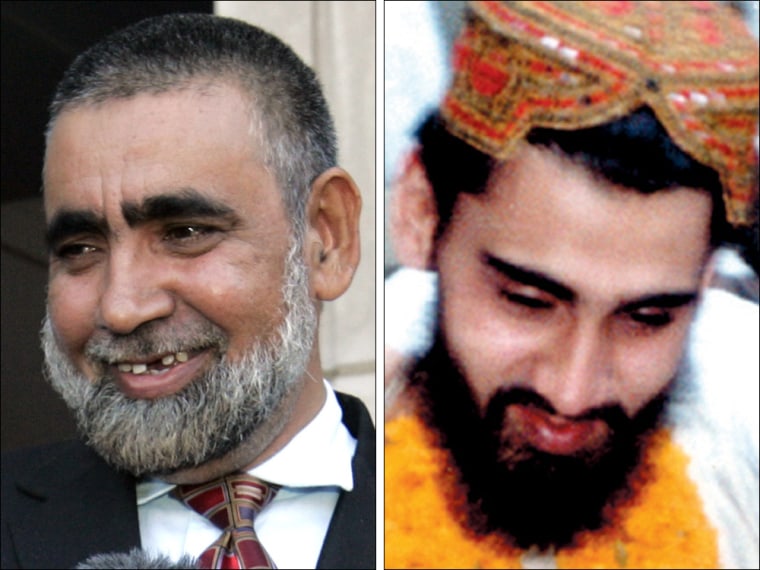 Jihadist websites, with their heroic militaristic videos and messages promising everlasting life to martyrs, have shown themselves capable of inciting would-be holy warriors to action. But an expert on Islamic terrorism says less attention has been paid to another breeding ground for radicalization that is even harder to police – the family dinner table.  
Familial indoctrination and recruitment for terrorism emerged as a theme in a study of 50 high-profile terrorist attacks since 2001 by Karen Greenberg, director of the Center on National Security at Fordham Law School. In at least eight of those cases, radicalization occurred within families, most often involving an "elder-younger relationship," she said.
"Several terrorism prosecutions in the United States have included fathers and sons, brothers, and even cousins," Greenberg said. "The importance of this is to underscore the way in which the personal and the political often intersect in these cases -- and also the importance of the effect of an influential often older person or figure in pushing the radicalization along -- extending what might otherwise be a lone-wolf narrative to a slightly larger circle."
With family members -- and reportedly even Dzhokhar Tsarnaev himself -- telling authorities that his older brother, Tamerlan, encouraged him to embrace radical Islam, the blood-relative scenario may now be playing out in the Boston Marathon bombings.
While Tamerlan Tsarnaev, 26, reportedly was himself led down the radical road by a mysterious man known to family members only as "Misha," he in turn exerted tremendous influence over younger brother, Dzhokhar, 19,  according to some relatives.
"They all loved Tamerlan. He was the eldest one and he, in many ways, was the role model for his sisters and his brother," Elmirza Khozhugov, 26, the ex-husband of Tamerlan's sister, Ailina, told the Associated Press. "You could always hear his younger brother and sisters say, 'Tamerlan said this,' and 'Tamerlan said that.' Dzhokhar loved him. He would do whatever Tamerlan would say."
If investigators gather evidence to support that scenario, Dzhokhar Tsarnaev's defense is likely to play the under-the-influence card in an effort to paint their client in a sympathetic light and, if he is convicted, possibly mitigate what could be a death sentence.
Whatever the outcome, Greenberg said she sees similarities between the Tsarnaev case and eight that preceded it – a list that doesn't include three sets of Saudi brothers involved in the Sept. 11, 2011, terror attacks on the United States: the al-Ghamdis (Ahmed and Saeed), al-Shehris (Mohand, Wail and Waleed) and al-Haznis (Nawaf and Salem).
Among the other high-profile cases cited by Greenberg, all of which resulted in convictions on material support for terrorism charges at a minimum:
The 2007 plot to attack the Army's Fort Dix in New Jersey, in which six radicals planned an attack on the Fort Dix military reservation in New Jersey. The plot, "to kill as many soldiers as possible," including three brothers -- Shain Duka, Eljvir Duka, Dritan Duka – ethnic Albanians who were born in Macedonia. All were sentenced to life in prison for conspiracy to commit terrorism.
A 2006 Toledo plot which two cousins, Zubair Ahmed and Khaleel Ahmed, and three other men were convicted of plotting to train jihadists in Ohio for eventual missions against U.S. troops in Iraq. They were sentenced to 10 years and eight years and four months in prison, respectively, in 2010.
The so-called Portland Seven plot, in which Oregon residents and brothers Ahmed and Muhammad Bilal, were among seven militants who traveled to China in hopes of crossing into Afghanistan to fight with the Taliban against U.S. troops. In this case, prosecutors said the older brother, Ahmed, radicalized his younger brother. They received sentences of 10 years and eight years, respectively.

A 2009 Quantico, Va., plot, in which a father, Daniel Patrick Boyd, and two of his sons, Zakariya and Dylan, were among eight men convicted of plotting "to advance violent jihad, including supporting and participating in terrorist activities abroad and committing acts of murder, kidnapping or maiming persons abroad." Prosecutors said the men traveled to Gaza, Jordan and Kosovo after training in North Carolina, in an effort to "commit jihad." The elder Boyd, a convert to Islam, pleaded guilty to conspiracy to kill people overseas and of material support for terrorism and was sentenced to 18 years in prison. Zakariya and Dylan Boyd pleaded guilty to conspiracy to provide material support to terrorism and received sentences of nine and eight years, respectively.
A 2005 case in Lodi, Calif., in which a father and son, the Hayats were charged with training in Pakistan to commit jihad. The son, Hamid, a 24-year-old cherry packer, was ultimately found guilty of international terrorism and sentenced to a 24-year prison term. His father, Umer, charged with two counts of making false statements to the FBI, ultimately pleaded guilty and was ordered released for time served.
While family ties have lured some into terrorism, some have used their influence to warn family members away from jihad.
Osama bin Laden himself reportedly warned his 24 children not to follow his path.
In a four-page will published by a Kuwaiti newspaper shortly after his death on May 2, 2011, the elder bin Laden tried to justify his terrorist activities against the United States and Israel, but warned his kids against emulating him.
Unfortunately for them, three younger bin Ladens – Khalid, Hamza and Sa'ad – already had entered the family business.
Khalid died with his father in the Navy SEAL raid on their compound in Abbottabad, Pakistan; Saad was killed in a U.S. drone strike in Pakistan in 2009. The whereabouts of Hamza bin Laden, who was reportedly being groomed to be his father's successor after Saad's death, are unknown.
Robert Windrem is a fellow at the Center on National Security. 
More from Open Channel:
Follow Open Channel from NBCNews.com on Twitter and Facebook