Documents exclusively obtained by NBC News show that Hamas created detailed plans to target elementary schools and a youth center in the Israeli kibbutz of Kfar Sa'ad, to "kill as many people as possible," seize hostages and quickly move them into the Gaza Strip.
The attack plans, which are labeled "top secret" in Arabic, appear to be orders for two highly trained Hamas units to surround and infiltrate villages and target places where civilians, including children, gather. Israeli authorities are still determining the death toll in Kfar Sa'ad.
The documents were found on the bodies of Hamas terrorists by Israeli first responders and shared with NBC News. They include detailed maps and show that Hamas intended to kill or take hostage civilians and school children.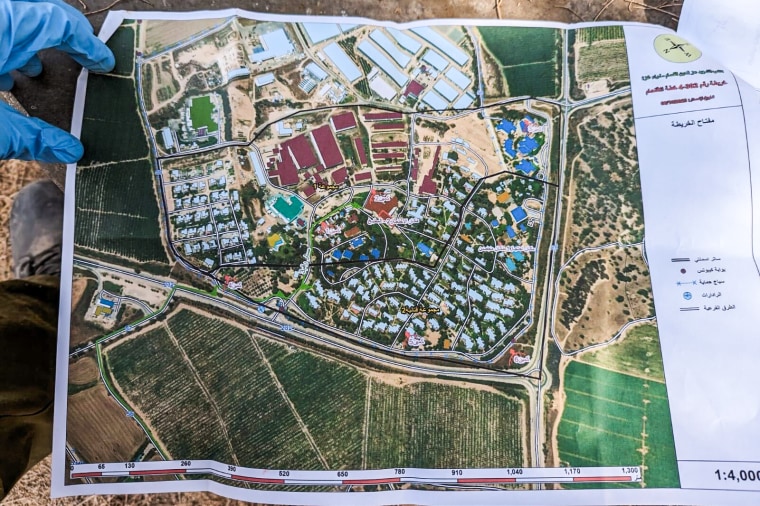 One page labeled "Top Secret" outlines a plan of attack for Kfar Sa'ad, saying "Combat unit 1" is directed to "contain the new Da'at school," while "Combat unit 2" is to "collect hostages," "search the Bnei Akiva youth center" and "search the old Da'at school."
Another page labeled "Top Secret Maneuver" describes a plan for a Hamas unit to secure the east side of Kfar Sa'ad while a second unit controls the west. It says "kills as many as possible" and "capture hostages." Other orders include surrounding a dining hall and holding hostages in it.
The detailed plan to attack Kfar Sa'ad is part of a trove of documents that Israeli officials are analyzing, according to one source in the Israeli army and one in the government. Surveillance video of Hamas terrorists entering a kibbutz on Oct. 7 shows tactics similar to those laid out in the documents obtained by NBC News.
The Israeli officials said that the wider group of documents show that Hamas had been systematically gathering intelligence on each kibbutz bordering Gaza and creating specific plans of attack for each village that included the intentional targeting of women and children.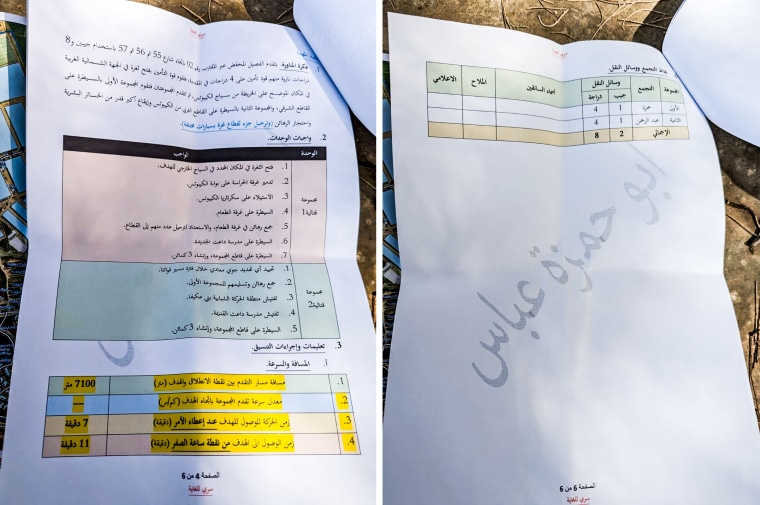 "The dental office, the supermarket, the dining hall," an Israel Defense Forces source said. "The level of specificity would cause anyone in the intelligence field's jaw to drop."
The plan of coordinated attacks flies in the face of recent claims by Hamas that it did not kill children. A video released by Hamas on Friday showed armed terrorists holding and feeding Israeli children taken hostage, including babies.
The Hamas documents, footage of the aftermath of the massacre and interviews with eyewitnesses and first responders tell a harrowing story.
"I saw murdered babies. I saw murdered children. I saw mothers and children murdered together," said Yossi Landau, a commander of ZAKA, an Israeli first responder organization.
Kibbutz Kfar Aza was one of the worst hit locations in the unprecedented terror attack on the morning of Saturday, Oct. 7. The Hamas maps obtained by NBC News show blue circles around Kfar Sa'ad and three other villages that also border Gaza: Kfar Aza, Nahal Oz and Alumim.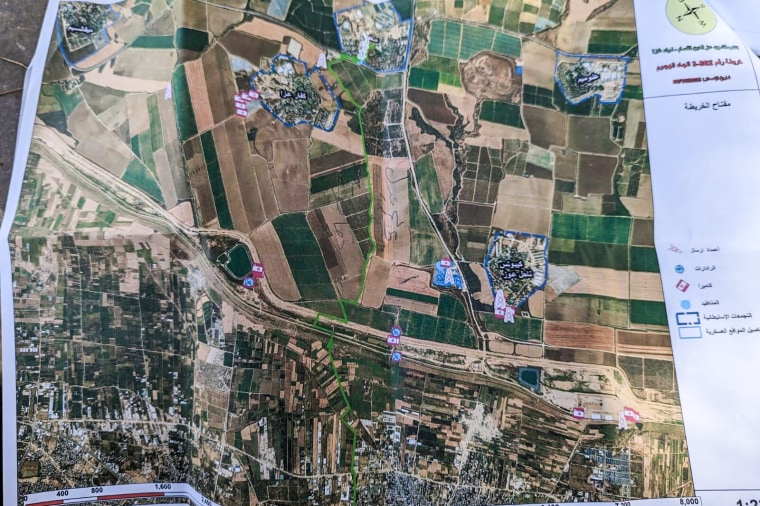 Two Hamas units were to approach Kfar Sa'ad separately from two different assembly points, according to the documents. The also described the numbers and types of vehicles to be used by each group.
"Group 1 assembly point: HAMZA transportation: one jeep and four motorbikes...
"Group 2 assembly point: ABDEL RAHMAN transportation: one jeep and four motorbikes."
Exactly how the vehicles should drive to the target villages was also laid out:
"Length of platoon train: approximately 125 meters...
"Shape and length of each group on the motorbikes: 50 meters for each group."
One IDF official, who declined to be named while the investigation is ongoing, said he was astounded by the degree of planning that went into ensuring maximum civilian casualties. He said, "I've never seen this kind of detailed planning" for a mass terrorist attack.