For the 26 years David Lee Gavitt sat in a Michigan prison, he told everyone who would listen that he did not set the fire that killed his wife and two baby girls. Nearly 25 years would pass before some of the nation's top fire experts would tell him they believed him.
"David's case was the classic example of a bad arson case," said John Lentini, a leading fire scientist who reviewed Gavitt's case during the effort to get his conviction overturned. "People jumped to conclusions."
Since Gavitt's conviction in 1986, the field of fire investigation has been turned on its head. Scientists and investigators have discovered that features long considered signs of a fire intentionally set, in fact also occur during accidents. This has prompted the re-examination of arson convictions across the country that may have been based on bad science.
The National Registry of Exonerations shows at least 17 arson convictions have been overturned in the past 24 years, in part on findings that the fire investigations were flawed. One of those was Gavitt's.
The fire that changed Gavitt's life started on March 9, 1985, inside the modest living room of his home in Ionia, a town of 12,000 in rural Michigan.
It spread from the window, gaining speed as it fed on the orange shag carpeting, the couch and upholstered chairs, and the collection of vinyl records that the heat quickly melted.
Gavitt later told police he woke to the sound of the family dog scratching at the bedroom door. When he opened it, he found the living room engulfed in flames.
Follow NBC News Investigations on Twitter and Facebook.
"Angie, you've got to get the kids out of here," he recalled shouting at his wife. "We're on fire." He sprinted down the hall to an empty bedroom, he told investigators, slashing his arm as he smashed a window to help his family escape. But when he went back for his family, the house had filled with black smoke.
"I was on my hands and knees," he told police in one of several interrogations. "I was hollering for her. 'Angela, say something so I know where you're at so I can get you out of here,' and there was no answer. The kids didn't even make a sound. I stayed in that room searching as long as possible. ... I could feel my hair singeing. I could feel the back of me burning. I thought to myself, 'Oh dear God, it's over with.'"
"You just think, 'My God, how do you prove your innocence?'"
Police found him sitting in a driveway across the street, bleeding and burned, surrounded by neighbors. As flames licked the edges of broken windows, Gavitt yelled, "Where are my wife and kids?" Responders rushed Gavitt to the hospital with severe burns on his back, arms and feet.
In minutes the fire had consumed nearly all of Gavitt's' world: the one-story home rented on the wages earned from his factory job, and, he would soon discover, Angie and his two girls.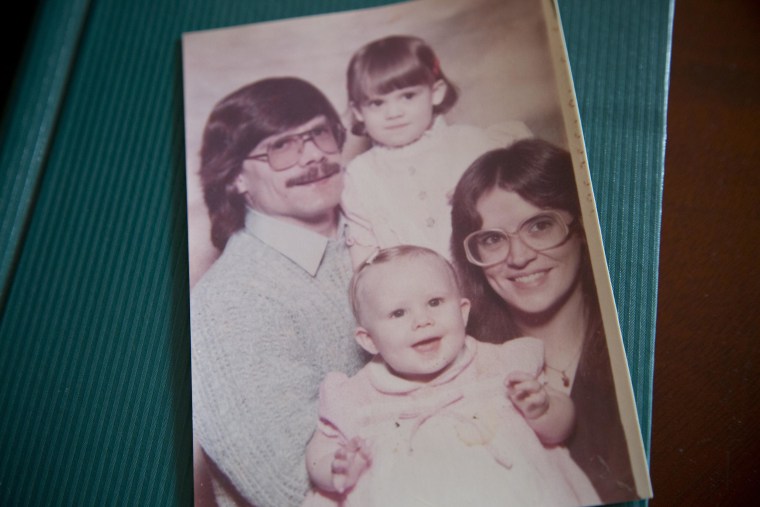 After the fire scene cooled and investigators began to comb through the home's charred remains, they traced the path of the fire and found irregular, circular patterns on the floor. Based on what they knew at the time, the patterns indicated that someone had poured gasoline, or some other accelerant, a clear sign of arson. Gavitt, who had no criminal record or history of violence, became the main suspect.
Months later he was convicted and sentenced to life without parole for the murder of his family.
"'This can't be happening,'" Gavitt recalls thinking when he heard the verdict. "You just think, 'My God, how do you prove your innocence?'"
"Every conviction that arose in that time period is called into question."
Details of Gavitt's story mirror that of Cameron Todd Willingham, whose case helped catalyze a movement to re-examine the discipline of arson investigation.
In 1992, a Texas jury convicted Willingham of the murder of his three daughters. Investigators pointed to charred patterns in the shape of puddles and other signs to prove that the blaze that ripped through the Willingham house had been intentionally set. Willingham maintained his innocence.
By that time, the thinking behind fire science was already changing. The same year Willingham was convicted and sentenced to death, the National Fire Protection Association, which writes standards to promote fire prevention and safety, published its first science-based arson investigation guidelines. The guidelines asserted that certain phenomena, which for years had been considered distinct markers of arson --- such as "crazed" glass, puddle and V-shaped marks on the floor -- could occur in accidental fires.
One key change was the discovery of "flashover." The phenomenon occurs when so much heat builds up in a room that everything within it ignites, or when "a fire in a room becomes a room on fire," according to Mike Marquardt, a special agent and certified fire investigator with the federal Bureau of Alcohol, Firearms, Tobacco and Explosives, also known as the ATF. The patterns created by flashover, a natural occurrence, had long been mistaken as signs that a room had been doused with an accelerant.
In January 2004, a leading fire scientist who reviewed Willingham's case pro bono at the request of Willingham's supporters found that all of the evidence that had been used to argue the fire was arson did not stand up to the new scientific standards. Willingham, he said, had been convicted by "junk science." Despite that, the state of Texas put Willingham to death the following month.
Outrage about the execution mounted as arson science continued to evolve. In 2009, the National Research Council, which helps to shape policy on science, engineering and medicine, published a report that found that all matter of established forensics -- from fingerprinting to hair samples -- were not, in fact, well supported by science. In the case of arson investigations, the report found that "rules of thumb" that had long been understood as signs of arson "have been shown not to be true."
In prison, Gavitt built some semblance of a life for himself, keeping busy with work and reading about other cases like his own. He struggled to persuade fellow inmates that he was not a "child-killer." He began writing letters to anyone who might read them, but they generated little interest in his case. Wrinkles set in. Both his father and his mother, who put what little money she had toward her son's defense, passed away. He was not permitted to attend their funerals.
But Gavitt kept fighting, thinking of his wife, his girls, and his mother, who told him never to give up. "When I didn't have any hope left, she would give me hope and say, 'David, I can't tell you when, but someday the truth will come out,'" Gavitt said.
Then in 2010, the University of Michigan Law School's Innocence Clinic took his case.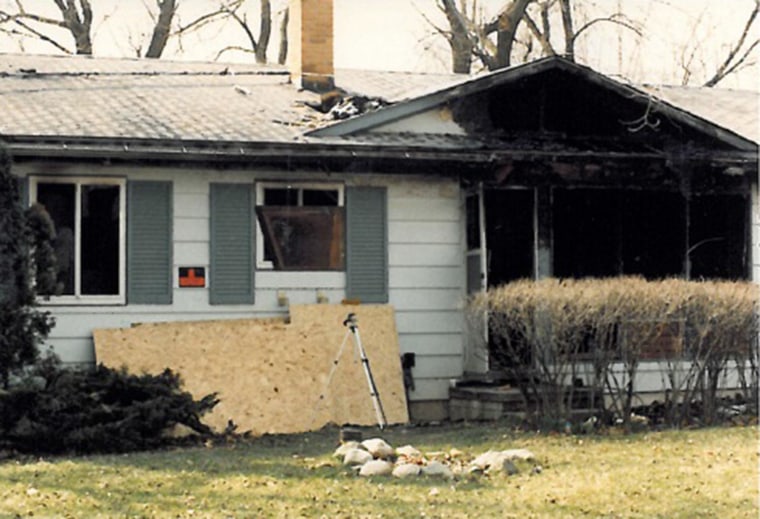 John Lentini, an expert who has investigated more than 2,000 fires, reviewed the case for the clinic. He found that the evidence used to convict Gavitt was based on fire science both outdated and flawed. One key piece of evidence in Gavitt's case was a chromatogram test, used by chemists to identify compounds at the scene of a fire. A lab technician interpreted the results of the test to mean that gasoline had been present in the house. Lentini found that the technician had misread the chromatogram. "This case is based on the finding of gasoline, and the finding of gasoline is erroneous," Lentini said.
Because the criminal justice system makes it hard for appellate attorneys to challenge forensic evidence, winning exoneration in cases that do not involve DNA is notoriously difficult. Even so, Imran Syed, Gavitt's attorney at the Michigan Innocence Clinic, called his case a "textbook" wrongful arson conviction, one that has pushed the clinic to examine other arson cases.
"Every conviction that arose in that time period is called into question," he said. "It doesn't mean every single person is innocent, of course. But every one of those cases deserves a second look because you're talking about people who were convicted on the basis of false assumptions."
Syed found an unusually open ear in Ionia County Prosecutor Ron Schafer, who agreed to take a look at the case. Schafer, who was attending a nearby high school when Gavitt's case first unfolded, said he had no preconceived notions about his guilt, or possible innocence.
"We can certainly look at the science and say, 'Today, what we know now, is different than what we knew then,'" Schafer said. "Does justice demand that we re-examine it? And in this case, that he would be entitled to a new trial? Absolutely."
He asked the ATF's Marquardt to review the file. The special agent also found that the evidence that led to Gavitt's conviction did not prove arson. Marquardt said that investigators' fixation on the idea that a crime had been committed ultimately tainted their investigation.
If they had not already determined arson based on flawed science, Marquardt found, "The course of the investigation may have changed dramatically."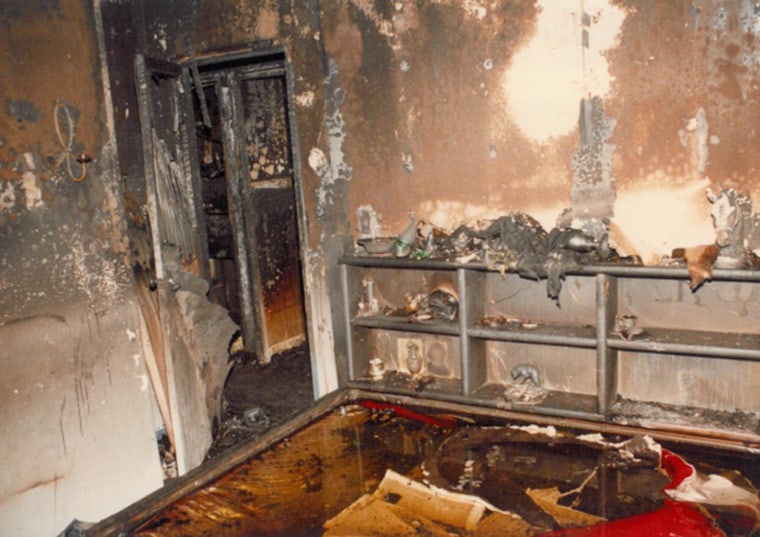 While Schafer determined that evidence was insufficient to re-prosecute Gavitt, he underlined that questions around Gavitt's actions that tragic day -- why, for example, he didn't break open the bedroom window where his children were sleeping -- remained unresolved. The re-investigation "doesn't give us that concrete, 'We know this was accidental,' or, 'We know it was intentional,'" said Schafer. "Nobody knows that, other than Mr. Gavitt."
Gavitt has maintained since his earliest interrogations that he tried to find his children in the burning room, and tried to go back for them before he was overcome with smoke and his injuries.
But advances in fire science have made investigators more comfortable with unresolved questions. Applying the scientific method to fire investigations -- allowing for doubt, looking for concrete proof -- means far more fires are now left "undetermined."
"As we learn more about fire, we understand that we may not be able to determine what happened," Marquadt said. "We accept that more easily today than we did in the past."
Texas has perhaps made some of the greatest strides on that front.
In 2011, the Texas Forensic Science Commission released a report on two problematic arson cases, including Willingham's, finding that neither designation of arson would sustain scrutiny by current standards, and issuing recommendations for improving fire investigations in Texas.
That spurred the most comprehensive overhaul of fire investigation in the nation. The Texas State Fire Marshal's Office has convened a panel of top experts to review potentially problematic arson convictions, and is revising training and investigation methods. Nine cases have thus far been reviewed. In two, the panel found the investigations credible. Five others, they found, did not stand up to modern fire investigation standards. Two proved inconclusive. Their work is ongoing.
"With power comes great responsibility--to make sure we are doing our part to maintain the integrity of the criminal justice system," said Chris Connealy, the fire marshal who heads the review panel. "If there's one person in prison who shouldn't be there, then that's one too many."
The Navarro County District Attorney's office, which prosecuted Willingham for murder and won his conviction, did not respond to a request for comment from NBC News. In the past it has stood by the conviction, and it tried to stop a 2010 effort by the Innocence Project to have Willingham declared innocent. In April, the Texas Board of Pardons and Paroles denied a petition for a posthumous pardon.
"There were many times I felt like just giving up."
In June 2012, Gavitt strode out of the Carson City Correctional Facility. His conviction had been vacated, and the charges against him dismissed. Under a warm summer sun, he felt goosebumps prickle his skin. It was a sign, he said, that Angie and his daughters were there with him.
"Each and every time Angela would hug me, I would get them same bumps," he said. "That's how I knew it was her."
At 54, he is now trying to rebuild his life. He met a woman, Kathy, and married her. They gaze at each other like teenagers in love. Kathy is determined to make sure her husband has the best life he can.
That life now is a far cry from the dank prison cell in Carson City. He inherited grandkids, who call him "Grandpa." For their first wedding anniversary, he and Kathy bought a house. "This is the first home David has ever owned," Kathy said. "He's got a beautiful life now."
But difficulty has followed him. In a state where jobs are scarce, Gavitt has struggled to find full-time work. It's hard to explain the 26-year gap on his resume. Unlike some other states, people exonerated of crimes in Michigan aren't entitled to compensation. A law to help the exonerated is currently pending before the state house. In the meantime, Gavitt finds work through temp agencies and tries to adjust to freedom.
As for any anger he may have at the system that put him away, he says most of it remains behind him, in his old prison cell.
"There were many times I felt like just giving up and not even write any more letters to anybody because I know what the response would be," Gavitt said. "But each and every time I'd sit back on my bunk in my cell. There'd be, like, a voice saying, 'Goddamn it, don't you ever give up, David Lee. You did not do this to us.' "