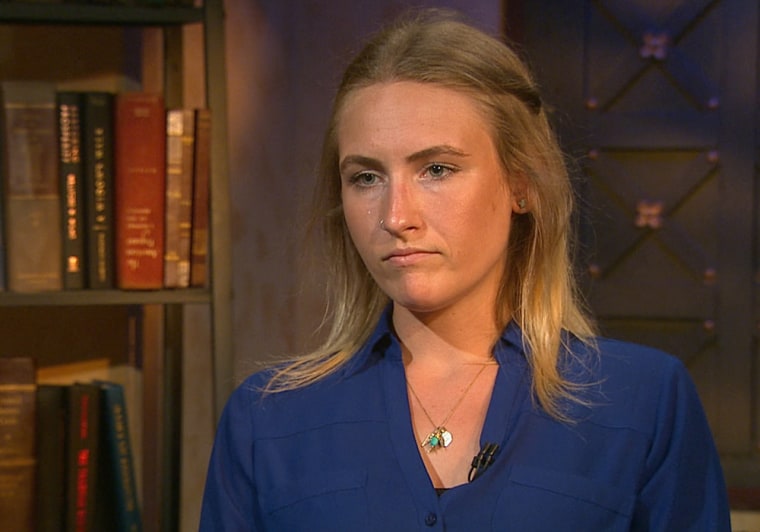 A 23-year-old Washington, D.C. woman who alleges she was raped on a Marine Corps base just blocks from the U.S. Capitol said she never thought she'd be in danger among members of the military.
"I thought I was going to a place where I would be safe," said Karalen Morthole in an exclusive interview with NBC News. "In my head, I thought these are people who are supposed to be protecting me."
This week a Marine Corps general ordered that Master Sgt. Ronald E. Bohlayer be charged with raping Morthole after a night of partying and drinking last July at the historic Marine Barracks on Capitol Hill. The charges come as the entire U.S. military is under fire for its handling of sexual assault cases, and barely a year after the release of an Oscar-nominated documentary, "The Invisible War," that featured allegations of sexual assault and raucous drinking at the Barracks. The allegations got widespread attention from Congress despite strong denials from the Marine Corps. 
An attorney for Bohlayer, meanwhile, questioned whether the general's order that his client be prosecuted for rape, despite the recommendations of an investigating officer that the charge be dropped, might have been influenced by the current publicity about sexual assaults in the military.
Morthole, who agreed to let NBC News use her name, is a local bartender and recent Catholic University graduate. She said that after attending a Washington Nationals game last July 3, she was partying with some friends at the Ugly Mug bar on 8th Street SE when she accepted an invitation from a Marine to go to a pub on the grounds of the Barracks, directly across the street. She was escorted onto the base by the Marine early on the morning of July 4, she said, without showing any identification to a guard.
Once at the Marine Barracks pub, she said, she and others present began drinking "a lot" of shots of Irish whiskey – and one Marine got sexually aggressive in a patio area outside. "The man who was doing this kept on making very vulgar advances toward me, sexual advances towards me," Morthole said. He "pinned" her against a wall, she said, got "very close to my face and …kept repeating the phrase, 'I'm going to (blank) you.'"
"I was very scared," said Morthole. "I can just remember being in excruciating pain and crying and asking him to stop."
After raping her, Morthole said, her attacker escorted her outside and tried to make her get into a cab with him so they could go back to her home. When she refused, "He got within six inches of my face and started screaming obscenities at me, which prompted the guard I was standing next to to hold up his arm and say, 'Stand down.' "
Bohlayer, the noncommissioned officer now charged with raping her, is a 22-year veteran of the Marine Corps who served in Iraq and was awarded a Bronze Star in Afghanistan in 2010, according to his lawyer. The charge sheet alleges that he forced Morthole to have sexual intercourse at a time when she was "incapable of consenting . . . due to impairment by alcohol, and that her impairment was known or reasonably should have been known by the accused."
Bohlayer has adamantly denied the charges, and his lawyer, Maj. Joseph Grimm, said in a statement that both the local U.S. attorney's office and a Marine investigating officer had investigated the incident and concluded there were no grounds to bring charges. Morthole says she first went to a local hospital about a week after the incident and didn't report the alleged assault to the Washington, D.C. police until about a week after that. She later testified before a grand jury, but was told by a local prosecutor that no charges would be brought because the alleged assault amounted to a case of "he said-she said."
In his statement, Grimm said that the Marine "Investigating Officer" -- a reserve colonel who is a former military judge -- reached the same conclusion at a pretrial hearing. "After hearing the testimony of Ms. Morthole and all the relevant witnesses, the investigating officer found that the allegations of sexual assault and rape were baseless," said Grimm. "The Investigating Officer subsequently recommended that the sexual assault and rape charges be dismissed." Grimm acknowledged that the investigating officer did recommend that other lesser charges be brought.
But Marine Maj. Gen. James A. Kessler, the commander or "convening authority" in charge of the case, overrode the recommendations of the investigating officer and directed that Bohlayer be court-martialed on charges of rape as well as indecent exposure and disorderly conduct.
In a court hearing on the case this week, Grimm suggested that Kessler's decision was influenced by the current "wide publicity about sexual assaults in the military" as well as pressure from Marine Corps Commandant Gen. James Amos, who in recent testimony on Capitol Hill said that "a single sexual assault in a unit can undermine everything."
"We are currently investigating whether the Convening Authority's decision to refer the case to a court-martial was caused by unlawful command influence," Grimm said in his statement.
A Marine Corps spokesman declined any comment on the Bohlayer case, including Grimm's charge that the case was being influenced by politics. "That's going to be something for the court and the jury to decide," said Capt. Eric Flanagan. "It would be inappropriate for us to comment."
The case is, in some ways, the reverse of another celebrated recent sexual assault case – that of Air Force Lt. Col. James Wilkerson, who was convicted of aggravated sexual assault by a military jury last November only to have his conviction overturned by a top Air Force general who served as the "convening authority" in the case. The disclosure of that reversal outraged members of Congress and led to current demands by Sen. Kirsten Gillibrand, D.-N.Y., and others that military commanders be stripped of their authority to make decisions about sexual assault prosecutions.
Eugene Fidell, who teaches military law at Yale Law School, said it is relatively unusual -- but not unheard of -- for a convening authority like Maj. Gen. Kessler to direct that court-martial charges be brought when the investigating officer recommends otherwise. "It's not completely rare, but it's not something that happens every day," he said.
But Fidell said that "in the current political climate," Maj. Gen. Kessler was "traversing a minefield."
"If you send the case to trial against the recommendation (of the investigating officer), people will complain that you're being too hard and politically correct," he said. "If you refuse to send the case to trial against a recommendation, then it means you're unwilling to bite the bullet and make the difficult decision. So most convening authorities right now are probably scratching their heads."
Fidell also said that Morthole's acknowledgement that there was heavy drinking that night should not be a barrier to convicting the defendant. "If anything [it] helps the prosecution," he said, "because that would suggest that the victim was not in a position to defend herself, to say, 'Stop, don't do that,' or scream out. It's often the case that people in these situations have had too much to drink."
More from Open Channel:
Follow Open Channel from NBCNews.com on Twitter and Facebook