This story was originally published by The Center for Public Integrity, a nonprofit, nonpartisan investigative news organization in Washington, D.C.
The Republican establishment wants to deny Donald Trump the Republican nomination for president, even though he's the delegate leader, and a new TV ad wants to know if its viewers think that is wrong.
"Donald Trump is the true frontrunner in the presidential race," says the boisterous narrator. "And we need you to pick up the phone and let us know your opinion."
Dial one of the two toll-free numbers on the screen and you hear the same voice asking callers to press "1" if they agree that this is wrong. And then, the same voice asks for a donation to Great America PAC.
So who is Great America PAC?
Well, the Federal Election Commission says it's a hybrid super PAC.
But didn't Trump say he was opposed to super PACs?
The ad's sponsor
Great America PAC formed in February, but under a different name: TRUMPAC.
Great America PAC is a "hybrid" political action committee, meaning that like a super PAC, it can raise and spend in unlimited amounts to advocate for or against candidates. But it also operates as a traditional PAC, collecting limited amounts of money that is sent directly to a candidate.
Hybrid PACs were born out of the 2011 federal court case Carey v. Federal Election Commission that opened the door for such groups to exist, so long as they keep separate bank accounts for the two activities.
And the treasurer of Great America PAC is Dan Backer, the conservative attorney who helped to make hybrid PACs possible.
Who's behind it?
Backer, a conservative lawyer, is known for winning McCutcheon v. Federal Election Commission, a decision that further opened the flood gates for money flowing into elections. The decision eliminated aggregate limits for individual donors.
Also behind the group is Bill Doddridge, founder of diamond retailer The Jewelry Exchange.
Doddridge co-founded Great America PAC with tea party operative Amy Kremer. In March, they recruited Jesse Benton, a Republican operative who previously oversaw a super PAC supporting Rand Paul. Paul dropped out of the presidential race in February.
Eric Beach, also a former Paul ally, is overseeing fundraising for Great America PAC.
Money in
Doddridge and Beach are the biggest benefactors of Great America PAC, together contributing $50,000 to the group, though federal records show that Great America PAC is mostly a small-dollar operation.
Out of its 825 disclosed contributions through February, nearly 98 percent were in the amount of $5. In March, Great America PAC solicited donations via email, using Trump's trademarked "Make America Great Again" slogan. A portion of the donations would be forwarded to the campaign.
Great America PAC forwarded about $3,300 to the official Trump campaign through February, according to its most recent FEC report.
Great America PAC raised roughly a total $73,000 through the end of February, but if its reported TV buys are any indicator, it raised at least $1 million since.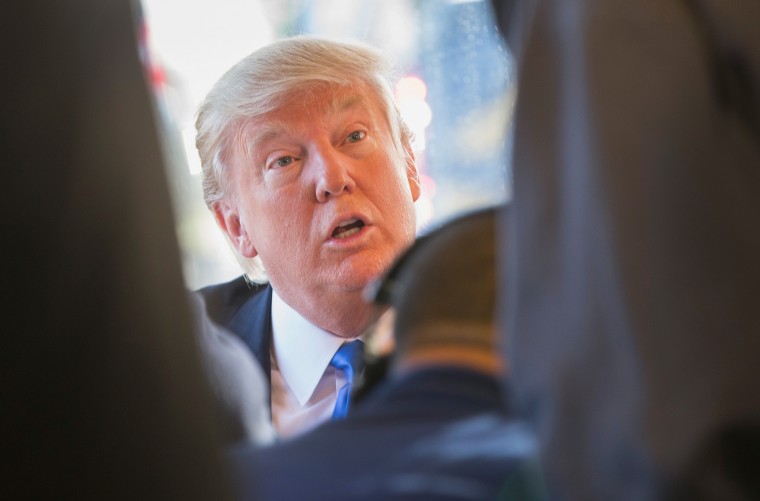 Money out
Great America PAC has reported spending about $1.1 million on expenditures such as TV ads, radio spots and email list rentals, according to FEC filings. The ad is airing primarily on satellite and cable stations, according to the group.
Why it matters
Trump frequently talks on the campaign trail about how much he dislikes super PACs, calling them "a disaster" and "very corrupt" during a Republican debate hosted by CNN in March.
"And frankly, I know the system better than anybody else and I'm the only one up here that's going to be able to fix that system because that system is wrong," Trump added.
Though not closely linked with Trump, Great America PAC has emerged as the most moneyed super PAC complementing his efforts. Trump previously disavowed super PACs supporting him, though he has yet to do the same for Great America PAC.
Great America PAC's efforts also come at a time when the self-described "self-funding candidate" is being targeted in attack ads fueled by super PACs and "dark money" organizations. Just before Florida's primary in March, a band of outside groups paid for more than 4,300 TV ads attacking Trump.
Whether Trump has changed his tune on super PACs is uncertain. Trump campaign spokeswoman Hope Hicks did not respond to requests for comment from the Center for Public Integrity.
The Center for Public Integrity is a non-partisan, Washington, D.C.-based news organization dedicated to producing original investigative journalism on issues of public concern.