Iran is sending materials to Russia to help Moscow build a drone manufacturing plant that could be operational next year, part of a "deepening" military partnership between the two countries, the Biden administration said Friday. Officials also said that Tehran provided hundreds of armed drones to Russia last month for Moscow's war in Ukraine.
Warning of growing defense ties between Iran and Russia, the Biden administration released a satellite photo of what it believes is the planned location of a drone production plant in the Alabuga special economic zone in the Russian republic of Tatarstan.
The White House also described how Iranian-made drones are transported to Russia, releasing a graphic to illustrate the route. The drones are "shipped across the Caspian Sea, from Amirabad, Iran, to Makhachkala, Russia, and then used operationally by Russian forces against Ukraine," John Kirby, spokesperson for the White House National Security Council, said in a statement.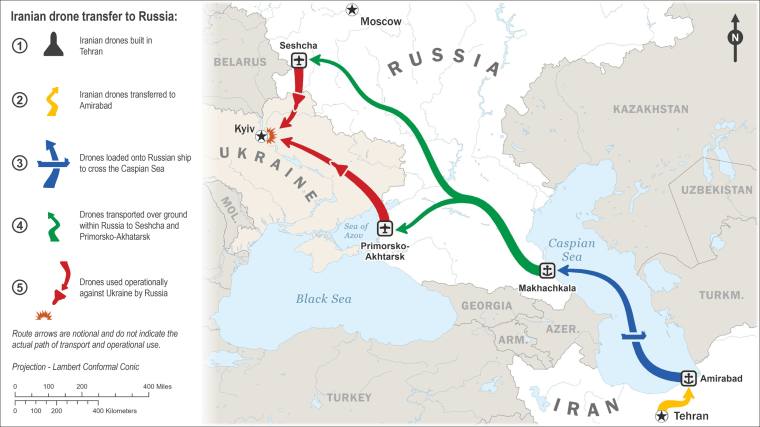 "As of May, Russia received hundreds of one-way attack UAVs, as well as UAV production-related equipment, from Iran," added Kirby, using a military acronym for drones, unmanned aerial vehicles.
Kirby said that Russia had used Iranian drones in recent weeks to strike Kyiv, which has experienced a vast uptick in aerial attacks. He said that Moscow has been "offering Iran unprecedented defense cooperation, including on missiles, electronics, and air defense" in return for Iran's supplying kamikaze drones to Russia.
Iran has denied that it has provided Russia with drones for the war in Ukraine but has announced plans to bolster its defense cooperation with Moscow, including purchasing Russian fighter jets and other military hardware. Russia's embassy in Washington and Iran's mission to the United Nations did not immediately respond to requests for comment.
In March, Iran announced a deal to buy Russian Su-35 fighter jets to replace its aging fleet of military aircraft. Iran also has expressed interest in purchasing Russian attack helicopters, radars and YAK-130 combat trainer aircraft.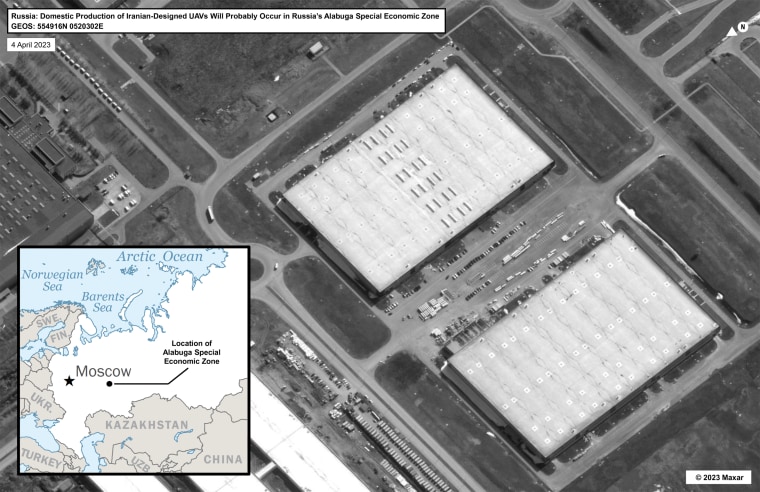 "In total, Iran is seeking billions of dollars' worth of military equipment from Russia," Kirby said, calling the terms "a full-scale defense partnership that is harmful to Ukraine, to Iran's neighbors, and to the international community." 
The statement was the latest example of the Biden administration releasing intelligence information publicly to try to undermine Russia's invasion of Ukraine. The United States has imposed a series of sanctions on organizations or individuals allegedly involved in the transfer of Iranian drones to Russia and issued export controls to try to prevent Russia from obtaining electronic components needed to operate Iranian drones.
The administration also issued an advisory to "help governments and businesses put in place measures to ensure they are not inadvertently contributing to Iran's UAV program." Officials also said the U.S. is working to provide Ukraine with air defense systems needed to counter Russian drone and missile attacks.
Henry Rome, a senior fellow at the Washington Institute for Near East Policy, a think tank, said Iran's provision of drones to Russia presents a "hard problem set for Western powers, given the direct air and sea routes between Iran and Russia."
"We can try to expose and deter this activity, and over the long run complicate the relationship by restricting flows of technology," Rome said. "But these steps may take time to bear fruit.