Good morning. Here are some of the stories we're following today:
1. Mother Teresa to Become Saint as Pope Declares Second Miracle
She will likely be canonized in September to coincide with the 19th anniversary of her death and Pope Francis' Holy Year of Mercy, according to an Italian Catholic newspaper report. Read more in NEWS.
2. San Bernardino Defendant Admitted Plots on Facebook Before Attack
Enrique Marquez Jr., the former neighbor charged with assisting the San Bernardino, California, shooters, admitted on Facebook a month before the shootings that he was involved in terrorism and might go to prison, according to federal court documents revealed Thursday. Read more in NEWS.
3. Scientist Who Went Viral Lands in U.S., Vows to 'Give Back'
The Syrian refugee known as "The Scientist" on the popular Humans of New York blog arrived Thursday to a new life in the United States with four of his children and a simple message: It's not about him. It's about Syria. Read more in NEWS.
4. Seven Losers in Congress' New $1.1 Trillion Spending Bill
Congress is scheduled to vote on a $1.1 trillion spending bill Friday that would avert a government shutdown until next October and fund almost all federal activities. But like just about any bill in Congress, this one's full of little goodies and pet projects that can have a big effect on medical research and health and science policies. Read more in HEALTH.
5. Pharma CEO Ran Companies 'Like a Ponzi Scheme': Feds
Martin Shkreli, the pharma boss who became infamous after hiking the price of an HIV-related drug by 5,000 percent, was arrested Thursday by the FBI, prosecutors said, accusing him of orchestrating a "trifecta of lies, deceit and greed." Read more in BUSINESS.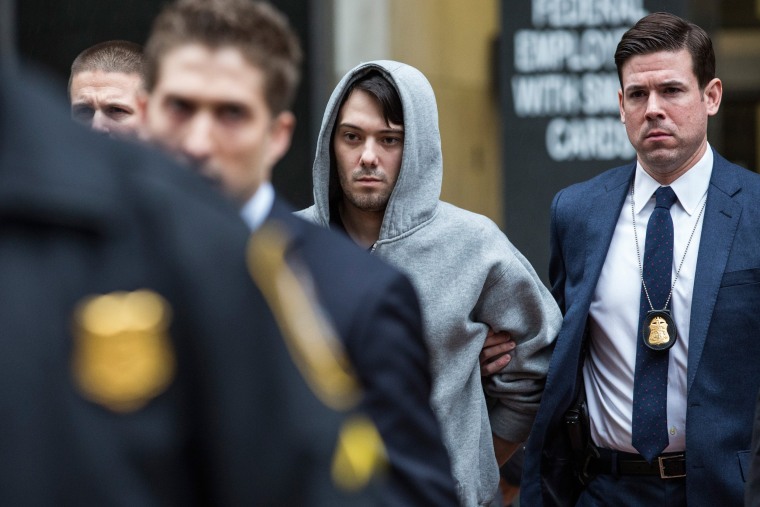 6. Nicked? Gillette Suing Dollar Shave Club for Infringement
The Gillette Company is suing online razor supplier Dollar Shave Club in federal court for patent infringement. The lawsuit filed Thursday in U.S. District Court in Delaware claims that Dollar Shave Club is selling products that infringe on patented technology, including a blade coating used on Gillette products such as the Mach3, Venus and Fusion razors. Read more in BUSINESS.
7. Supermodel Bar Refaeli Under Investigation for Tax Evasion
Refaeli is under investigation in her native Israel over allegations that she evaded paying local tax on earnings from her international career. Lawyers for the 30-year-old, who Israeli media have reported is worth up to $20 million, rejected the accusations. Read more in NEWS.
Nightly Spotlight
Faith Russell may suffer from spina bifida but that hasn't stopped her from running 22 races in the two years to raise money for gifts for hundreds of children around the world.