Good morning. Here are some of the stories we're following today:
1. Jackpot! Lucky Tickets in $1.5B Powerball Sold in Three States
History's largest-ever lottery jackpot has at least three lucky winners. Three states — California, Florida and Tennessee — sold winning tickets for the monster $1.58 billion Powerball lottery, according to California lottery spokesman Russ Lopez. Six numbers — 08, 27, 34, 04, 19 — and Powerball 10 were drawn Wednesday night in the historic lottery event. Read more in NEWS.
2. Terrorists Lay Siege to Indonesia's Capital
Terrorists rocked the heart of Indonesia's capital on Thursday with a four-hour gun and bomb assault that left seven people dead and 10 others wounded, officials said. Read more in NEWS.
3. Donald Trump Responds to Nikki Haley: 'I'm Very Angry'
Nikki Haley's right: Donald Trump is angry. A day after the Republican South Carolina governor made a jab at Trump and others in urging the country to resist "the angriest voices," Trump told a crowd here Wednesday, "I am! I'm very angry because I hate what's happening to our country." Read more in POLITICS.
4. Ted Cruz Dismisses Undisclosed Loan Report as 'Filing Error'
Ted Cruz on Wednesday night dismissed a New York Times report that he failed to properly disclose a loan from Goldman Sachs during his 2012 bid for the U.S. Senate, calling the matter merely a "filing error." "It is an inadvertent filing question," he told reporters at a press conference in Dorchester, S.C. Read more in POLITICS.
5. Five Dead After Car Flies Off Overpass, Bursts Into Flames
The Arizona Department of Public Safety said the midsize SUV was carrying what appeared to be two adults and three children when it slammed "at a good rate of speed" into an off-ramp's concrete barrier on Interstate 10 in Phoenix at about 12:30 a.m. ET. Read more in NEWS.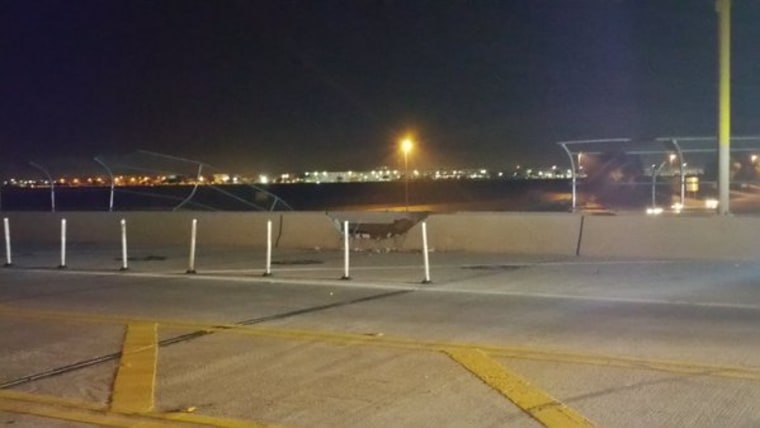 6. Israel's Shimon Peres Rushed to Hospital With Chest Pains
Ayelet Frisch told Israel Army Radio that Peres fell ill at his home and that after a check-up found changes to his heart rate he was sent by ambulance to a hospital near Tel Aviv. In a later statement, Peres' office said he underwent a successful cardiac catheterization. Read more in NEWS.
7. 'El Chapo' Actress: Don't Believe What's Said About Me
Kate del Castillo, the Mexican actress who actor Sean Penn said helped set up his Rolling Stone interview with Mexican drug lord Joaquín "El Chapo" Guzmán, said Wednesday that some of the things being reported about her aren't true. Read more in NEWS.