Good morning. Here are some of the stories we're following today:
1. Defense Secretary Used Personal Email for Work
Pentagon spokesman Peter Cook said Carter believed it "was a mistake," adding in a statement that the defense secretary had stopped such use of his personal email. The statement from Cook follows a report in the New York Times which said Carter used personal email to conduct some work matters during his first months at the Pentagon — a violation of Defense Department rules — and even after Hillary Clinton came under fire for doing the same while secretary of state. Read more in NEWS.
2. Bernie Sanders to Nab One of His Biggest Endorsements
Sanders is set to pick up one of his biggest endorsements yet Thursday from the powerful Communications Workers of America union, sources told NBC News' Andrea Mitchell. The group represents about 700,000 workers nationally, making it by far the largest union to back Sanders yet. Read more in POLITICS.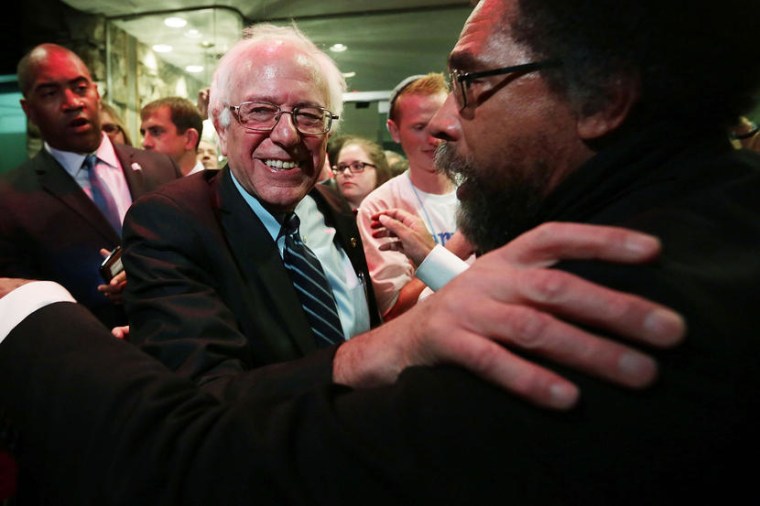 3. Judge Declares Mistrial of Cop in Freddie Gray Death
In what is a perceived legal blow for prosecutors, the jury was hung and the judge declared a mistrial in the trial of Baltimore police Officer William Porter in connection with Freddie Gray's death after he sustained injuries while in custody. Read more in NEWS.
4. The Key to Stopping Next ISIS Attack? Follow the Money Trail
The key to stopping the next ISIS attack could be to go after the group's money, a top Treasury official said Wednesday. "When two terrorists talk on cell phones, they'll use code, they probably won't use each other's real names, and they are going to make lots of efforts to mask what they're doing," Adam Szubin, the Treasury's acting undersecretary for terrorism and financial intelligence, said at briefing Wednesday. Read more in NEWS.
5. That Scary Movie Really Is Blood Curdling
Scary movies really are blood-curdling, Dutch researchers have found. That frisson of fear releases a little bit of the blood-clotting protein called Factor VIII, they report. "A truly relaxing and merry Christmas, without exposure to frightening situations, seems to be advisable to prevent venous thrombosis," they wrote. Read more in HEALTH.
6. Female Players Are 'Ugly,' Wear Too Much: Ex-NBA Star
Three-time NBA all-star Gilbert Arenas was slammed by fans and the league itself over "repugnant" and "utterly disrespectful" Instagram posts insulting WNBA players. Arenas posted a short video of two women playing basketball in skimpy underwear on Wednesday, alongside the caption: "NOW this is what America was hoping for when they announced the #WNBA back in 1996." Read more in NEWS.
7. Birthplace of the Atomic Bomb Hard at Work on New Weapon
Hidden amid the mountains and mesas of northern New Mexico lies Los Alamos National Laboratory. It's shrouded in secrecy. Once known simply as Project Y, it was a classified lab where scientists built the atomic bomb. Now, 70 years later, scientists there still work on nuclear weapons, but they're also using some of that same knowledge to battle cancer. Read more in HEALTH.
Nightly Spotlight
Lance Cpl. David Pond is hoping that a reunion with Pablo, his canine comrade in Afghanistan, will finally bring him peace of mind.