Good morning. Here are some of the stories we're following today:
1. Cruz Says He'd Have Agents Hunt Undocumented Immigrants
Ted Cruz asserted Monday night that he would "of course" support federal law enforcement agents actively looking for undocumented immigrants to deport. "Of course you would," Cruz told Fox News' Bill O'Reilly. "That's what [Immigrations and Customs Enforcement] exists for. We have law enforcement that looks for people who are violating the laws that apprehends and deports them." Read more in POLITICS.
2. Trump on Protester: 'I'd Like to Punch Him in the Face'
A night before Nevadans head to caucus, Donald Trump made his final pitch with more of the no-holds-barred rhetoric that earned him so much attention in the first place. The real-estate tycoon said he'd like to punch a protester in the face and fondly recalled the "old days" when "guys like that" who disrupted a political rally would "be carried out on a stretcher." Read more in POLITICS.
3. Kalamazoo Suspect Admits to Killings, Silent on Why
The Uber driver arrested for the deadly Kalamazoo, Michigan, killing spree was charged Monday with six counts of murder and ordered held without bail. Prosecuting attorney Jeff Getting said Jason Brian Dalton "admitted his involvement" in the killings and was found with what appears to be the murder weapon. But the 45-year-old suspect kept quiet during his brief hearing. Read more in NEWS.
4. 'Strong Tornadoes' Feared as Storm Aims at Gulf Coast
A powerful storm could spawn severe thunderstorms and even a handful of dangerous tornadoes across the northern Gulf Coast on Tuesday, according to forecasters. "A few tornadoes are expected and conditions favor one or two of these to be strong tornadoes," NBC News meteorologist Bill Karins said. "Cities most at risk are New Orleans to Mobile with a lesser threat for Houston and Atlanta." Read more in NEWS.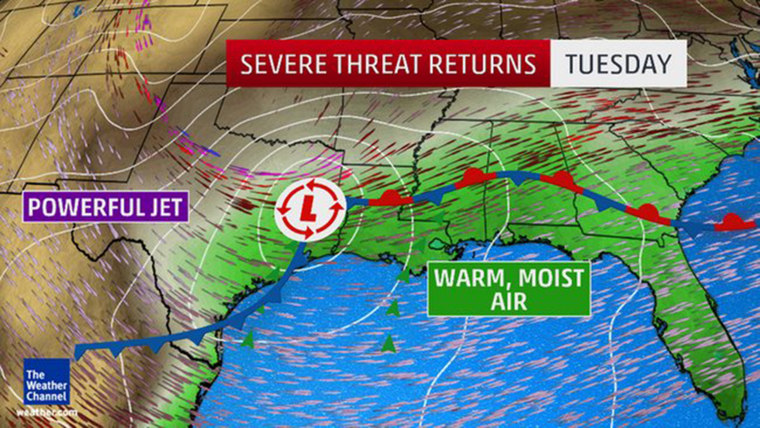 5. Apple Is Not the Only Company Feeling Heat From the Feds
Apple isn't alone. The tech giant is dominating the headlines in a standoff over whether to help the FBI access the locked, encrypted iPhone of one of the San Bernardino terrorists. But this case is just one example of the broader tension that has erupted between tech companies and the Justice Department across a range of national security and criminal issues. Read more in BUSINESS.
6. Cyber Boss Quits Before Hearing on Federal Hack
The head of cybersecurity for the government's human resources office has resigned, she said Monday, two days before she was scheduled to go before Congress to talk about last year's massive hacks of federal personnel records. Read more in NEWS.
7. Camille Cosby Testifies But Will Be Grilled Again
Bill Cosby's wife Camille testified under oath Monday in a defamation lawsuit filed by seven women who claim the comedian sexually assaulted them — but she's not done answering questions. Lawyers said the intensely private 71-year-old will return on March 14 for the second part of the deposition, which she tried and failed to prevent. Read more in NEWS.
8. Country Music Hall of Famer Sonny James Dies at 87
Country singer Sonny James, who recorded romantic ballads like "Young Love" and turned pop songs into country hits, has died. He was 87. James, whose given name was James Loden, died Monday in a Nashville hospice facility, according to a family friend, Gary Robble, who was the lead singer of James' backing band, the Southern Gentlemen. Read more in NEWS.