MEDELLÍN, Colombia — The tropical forests stretch across this country like an unbroken green ribbon, linking the steamy Amazon with the chilly Andes — but in the country's fragile peace, deforestation is speeding up, destroying the region's valuable biodiversity at an alarming rate.
In 2016, after over 50 years of bitter civil conflict, the leftist guerrilla group the Revolutionary Armed Forces of Colombia (FARC) signed a peace deal with the Colombian government to disarm and demobilize their jungle bases.
Since then, more than 40 soccer fields' worth of forest are lost every day, as previously inaccessible areas are now more open to exploitation, according to Dr Nicola Clerici from Colombia's Universidad del Rosario. What that looks like on a map is a rash of angry red eating away at the green ribbon. Government figures put a chilling number at 398,570 hectares (984,888 acres) of forest lost since 2016. And once that strip begins to fray, species that rely on being able to move through these zones will be under even more pressure — or even face extinction.
But a growing body of research suggests newly post-conflict areas provide a golden opportunity to tackle the challenge of deforestation, because these are often areas that have been conserved by conflict and communities want to develop long-term plans for peace.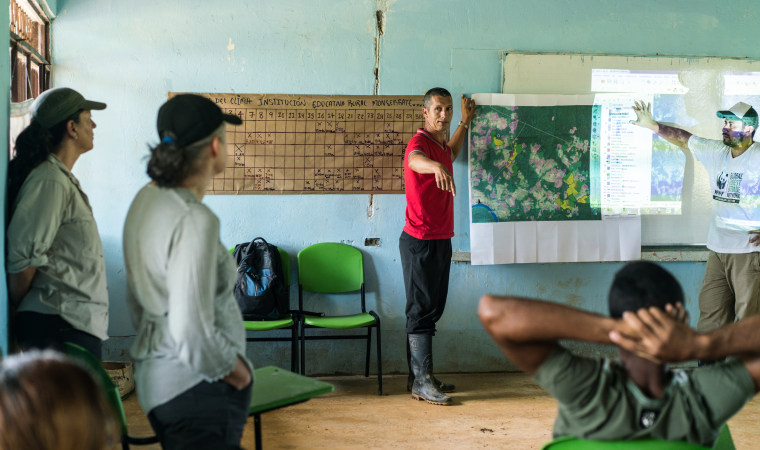 Tropical zones are known hotspots of biodiversity, but particularly in the last 30 to 40 years, armed conflicts have broken out in some of the most densely forested regions: In Angola, Democratic Republic of Congo and Cote D'Ivoire in Africa; Bangladesh, Cambodia and Myanmar in Asia; and Colombia, Guatemala and Nicaragua in Latin America; among many others.
Alistair Monument, practice leader for forests at World Wildlife Fund (WWF) International, told NBC News that post-conflict environments are a golden opportunity when it comes to preserving forests because that's when discussions about how best to use newly accessible land come into play between local communities, businesses and governments.
"The end of a conflict can pave the way for dialogue," he said. "As conflict ends, all parties have a critical window of opportunity to identify a way forward that balances socioeconomic development and environmental conservation to help bring sustainability and stability to impacted people and areas."
Lessons from Asia
Monument, who recently visited Colombia to see some of the WWF initiatives here, spent years living and working in the Myanmar-Thai border area, which at first glance appears very similar to Colombia, teeming with forests that cling to high mountains. But that region, known as the Dawna Tenasserim Landscape, is home to tigers and elephants, as well as the Karen indigenous group who fought for decades against the Myanmar government for an autonomous Karen homeland.
In 2015, the government and several insurgent groups agreed on a nationwide ceasefire — which opened the door to a resurgence of rubber plantations.
"We need to have development, but we're looking at ways to do it sustainably," Monument said.
With rubber in high demand around the world, the resource has provided economic opportunities in the post-conflict zone. NGOs, along with national and local authorities, have been working to help select already degraded areas for rubber cultivation in order to preserve existing forest.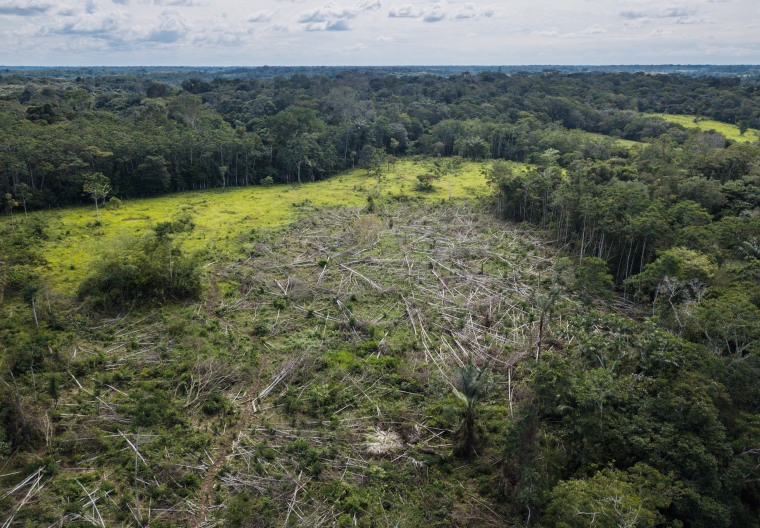 Another example of a post-conflict society that has confronted deforestation challenges is the southeast Asian country of Laos. During the Vietnam War, a network of roads used by the North Vietnamese Army and Vietcong known as the Ho Chi Minh trail ran through the country.To disrupt it, the Americans dropped bombs and sprayed Agent Orange herbicide on Laotian forests. This, along with agricultural practices, led to a decrease of forest cover from 70 percent in the 1940s to less than 40 percent in the 1990s.
Today, Laos is home to successful efforts to replace damaging farming practices with a sustainable cash crop: rattan. Thanks to this easy-to-grow non-timber forest product, which has a global market is worth $4 billion, farmers have a better income without deforestation. Laos has also set the ambitious target of 70 percent forest cover by 2020.
These countries have confronted same challenges as Colombia — land rights, ethnic and social disruption and finding the right crops to move forward — giving hope that Colombia can turn the tide of deforestation before it is too late.
Can Colombia's forest survive?
Colombian Walter Vergara leads the Global Restoration Initiative's effort to reforest 20 million hectares (just under 50 million acres) of badly degraded forest land in Latin America and the Caribbean by 2020.
While Colombia's deforestation has increased dramatically since the peace treaty — deforestation was up 23 percent in 2016, with almost two-thirds of that deforestation occurring in the Amazon, the country's most biodiverse region, according to government figures — Vergara said that in the shifting ground of Colombia's peace, there's scope to change.
"It's an ideal time to challenge the traditional way of thinking," he said. "For example, for three or four centuries, the northern savanna of Colombia have been losing productivity but those areas are very close to ports and other transport — if productivity could be restored there, that would take pressure off [deforestation for grazing] in newly-opened-up areas."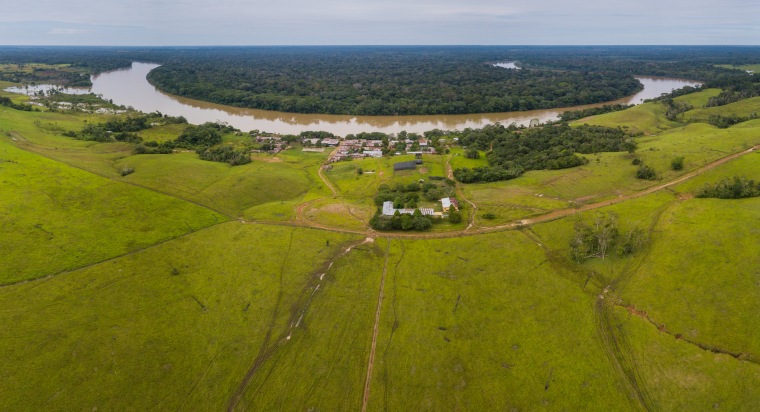 Colombia is also being recognized for its deforestation initiatives like being the first Latin American country to commit to zero-deforestation cacao and other programs designed to provide a living wage for those close to protected areas like Serranía del Chiribiquete National Park, which expanded in July 2018 to 4.3 million hectares (more than 10.6 million acres), making it the world's largest tropical rain forest national park.
But how can authorities track deforestation and take action in time?
Terra-i is a vegetation monitoring system using satellites and drones to detect deforestation in near real-time. The global project, based out of the International Center for Tropical Agriculture in the south of Colombia, is now using a tool designed to detect changes in forest coverage and land use in the local area. The goal is to allow local environmental authorities to see images of suspected illegal mining or ranching activities so they can hopefully act in time to prevent large-scale deforestation.
Colombia has yet to find the silver bullet to its post-conflict deforestation, but by looking to other post-conflict societies, building up grassroots community projects, it may be able to find a way to stop deforestation before its ribbon of forest is left in tatters.