Twenty-five people have died and dozens more have been hospitalized after drinking tainted liquor in Costa Rica, health officials said Monday.
The announcement came nearly a month after the country's health ministry first put the alcohol-related death toll at 19 and attributed the deaths to methanol poisoning.
Liquor producers sometimes use the potentially toxic liquid to increase profit margins and raise alcohol content, according to the Associated Press.
In a news release, Costa Rica's Health Ministry said it had seized more than 55,000 bottles of liquor and shuttered 10 supermarkets and other places in the country's capital, San José, and in the city of Alajuela, that sold the tainted alcohol.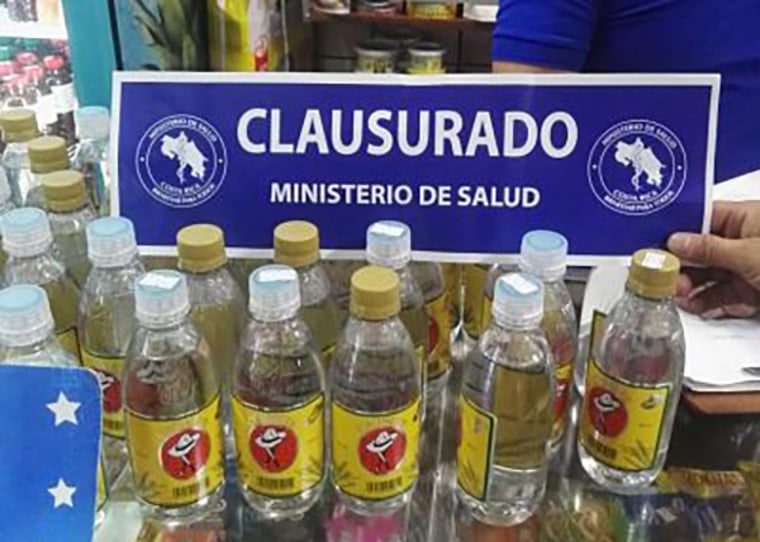 Among the dead were 19 men and six women between the ages of 32 and 72, the ministry said. Fifty-nine people had also been hospitalized.
A ministry spokesperson told NBC News that no tourists had died and that nearly all of the dead were Costa Rica citizens.
Walker Barnes, a 25-year-old Californian who said he visited the country last month on a surf trip with his family, said in an interview that on his last night there he drank a local rum that Costa Rican officials have identified as tainted.
A day after returning to Los Angeles, Barnes said he started experiencing fatigue and achy muscles. Soon, Barnes said he could barely move.
A battery of tests and several days in an emergency room followed, Barnes said, adding that he was released without a diagnosis.
Doctors told him that "he must have a weird virus or a curious case of pneumonia," Barnes' brother, Fletch Barnes, said in an Instagram video about the ordeal that includes hospital footage.
After seeing an article about what had happened in Costa Rica — and talking to his doctor about it — Barnes said the physician agreed that his symptoms appeared to point to methanol poisoning.