If you were one of the curious viewers who tuned in to the Today show recently to see Charlie Sheen discuss "recent speculation about my health," the former star of "Two and a Half Men" did not disappoint. He revealed that he is HIV-positive and that he had been living with the diagnosis for about four years. "It's a hard three letters to absorb," he told Matt Lauer. Sheen made his health status public because he was tired of paying money to blackmailers threatening to ruin his career. "I think I released myself from this prison today," he said.
Tuesday marks World AIDS Day, an opportunity to unite in the fight against AIDS, show support for people living with HIV – and also to learn from Sheen. His experience reminds us that that the stigma surrounding HIV remains as strong as ever, with people quick to pass judgment on those living with the virus. Most importantly, his experience reminds us that people need to learn the facts about HIV, so that they can protect themselves.
Before Sheen "came out" as HIV-positive, gossip sites and magazines were full of lurid stories. "Hollywood Superstar's Desperate Battle With AIDS Revealed" blared one headline at Radar Online. This sensationalistic coverage overlooks the fact that much has changed since the first reported case of HIV in 1981.
To be clear, HIV is the virus that can lead to AIDS, but this occurs far less than in years past. Although 1.2 million people died of AIDS in 2014, this represents a 42 percent decrease since 2004.
By staying on his medications, Sheen can live a long and productive life. As Scott Schoettes of Lambda Legal noted, "A person who is diagnosed early and has consistent access to care and treatment has a life expectancy that is only a handful of months shy of a person without HIV."
Sheen's experience reminds us that that the stigma surrounding HIV remains as strong as ever.
Yet Sheen's disclosure of his HIV status was sad confirmation of its enduring stigma. According to Sheen, he told his recent partners about his diagnosis. Then one (or more) of them used this information to allegedly blackmail him for millions. Sheen's initial response to this extortion shows that the shame surrounding HIV is still tremendous.
This shame can have destructive consequences. Because people are afraid of being known as HIV positive, they don't get tested. Because they don't get tested, they can potentially infect others.
Consider that in 2013, the rate of HIV diagnosis among Latinos was nearly three times that of whites – and that 15 percent of Latinos with HIV do not know that they are carrying the virus. So just as medical researchers have made breakthroughs in HIV treatment, the public needs a sea-change in its attitude about HIV as well.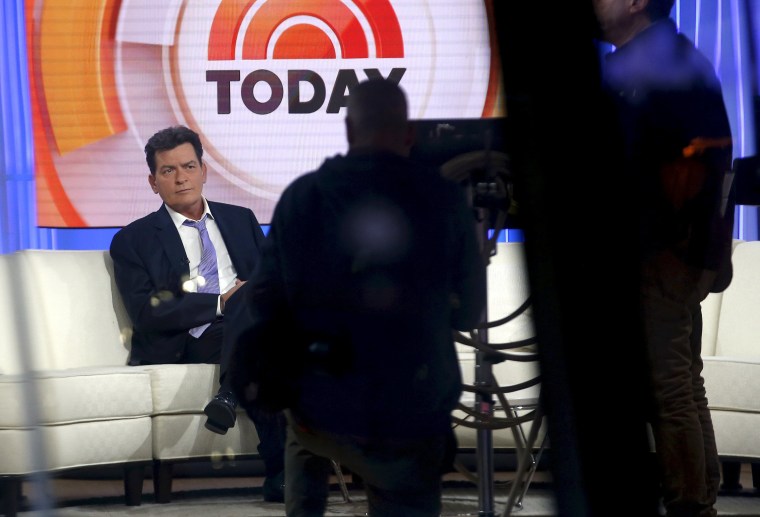 In my opinion, Matt Lauer erred in asking Sheen if he knew how he contracted HIV, because questions of how a person got the virus can lead to judgements on whether it was in a "good way" (blood transfusion) or a "bad way" (drug use, risky sexual behavior). We have to remember a person can contract the virus from a single encounter. HIV does not discriminate between "good people" and "bad people." Neither should we.
Actress Jenny McCarthy has been critical of Sheen because he did not disclose his status when she played his TV love interest. But we have to remember HIV is not transmitted through kissing; Sheen had no obligation to disclose anything to McCarthy.
Another woman has accused Sheen of endangering her life because he allegedly did not disclose to her at the time they were romantically involved. The takeaway here is how dangerous it is to rely on another person's word that they are HIV-negative, or to assume that they are because we know them. The smart approach is for everyone to engage in safe sex.
Related Article: Natl Latino AIDS Awareness Day Stresses Prevention, Treatment, Support
Sure, Sheen is about as representative of HIV-positive people as Caitlyn Jenner is of the transgender community. He seems to be conflicted about his Hispanic heritage; born Carlos Estevez, he has stated that being Latino "was never a part of my life."
But this helps show that Sheen – who was raised as a child of wealth and privilege, the son of a celebrated actor, and a TV and film star – is probably just as flawed as any other person. If nothing else, Sheen has reignited a discussion about HIV at a time when too many people are growing complacent about its consequences. The Department of Health and Human Services reports that, despite an overall decline in new HIV diagnoses among Latinos over the past few years, diagnoses increased sharply among Latino men who engaged in sex with other men.
Moralizing about Sheen's presumed lifestyle says more about us than it does about him. In the spirit of World AIDS Day, Sheen and others living with HIV deserve to be viewed with decency and compassion.