A Venezuelan fighter jet "aggressively shadowed" an American reconnaissance aircraft flying over the Caribbean last week, military officials said Sunday.
The Russian-made SU-30 Flanker approached the U.S. Navy EP-3 Aries II on Friday at an "unsafe distance" and in an "unprofessional manner" while the aircraft was flying in approved international airspace, the United States Southern Command said in a statement.
U.S. Southern Command said it made that determination after reviewing video documentation.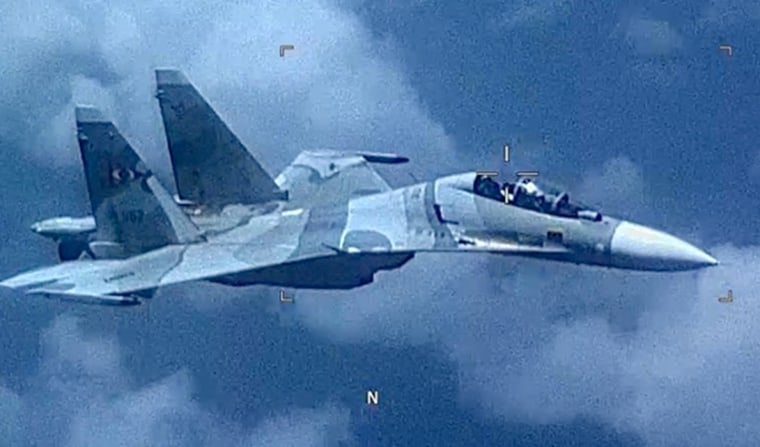 "The U.S. routinely conducts multi-nationally recognized and approved detection and monitoring missions in the region to ensure the safety and security of our citizens and those of our partners," the statement said.
Venezuela's Defense Minister, Vladimir Padrino, said the encounter occurred after an EP-3 with radio-electronic reconnaissance capabilities and anti-submarine warfare capabilities was "intercepted" within Venezuela's Exclusive Economic Zone, according to Reuters.
Padrino said there had been dozens of similar "incursions," the wire service reported.
U.S. Southern Command said the incident underscored Venezuelan President Nicolás Maduro's disregard for international laws and agreements, as well as Russia's "irresponsible military support" for an "illegitimate regime."
Russia has backed Maduro amid U.S.-imposed sanctions and as the United States and other countries support Venezuelan opposition leader Juan Guaidó, who has described himself as that country's rightful leader.
Download the NBC News app for breaking news
The Trump Administration first announced sanctions two years ago, after Maduro won a presidential election that American officials described as a sham.
Venezuela has been plagued by hyperinflation and widespread shortages of basic goods and gas. Maduro has blamed the crisis on those sanctions, while Maduro's critics have blamed mismanagement and corruption within the government.
Venezuela, which has the largest producible oil reserves in the world, owes Russia billions of dollars for loans that it received in exchange for oil fields and military equipment.