On March 2, 1917, President Woodrow Wilson signed into law the Jones-Shafroth Act, granting U.S. citizenship to residents of Puerto Rico, a colony which just 19 years earlier had been ceded to the United States from Spain after the Spanish-American War.
One hundred years later, Puerto Ricans are locked in a vigorous debate over their relationship with the United States: pushing for statehood or keeping its current U.S. commonwealth status with some modifications, with a small contingent pushing for independence.
Puerto Rico was considered strategically important to the United States due to, among other things, its geographic location in the Caribbean and particularly during the Cold War its relatively close proximity to Cuba.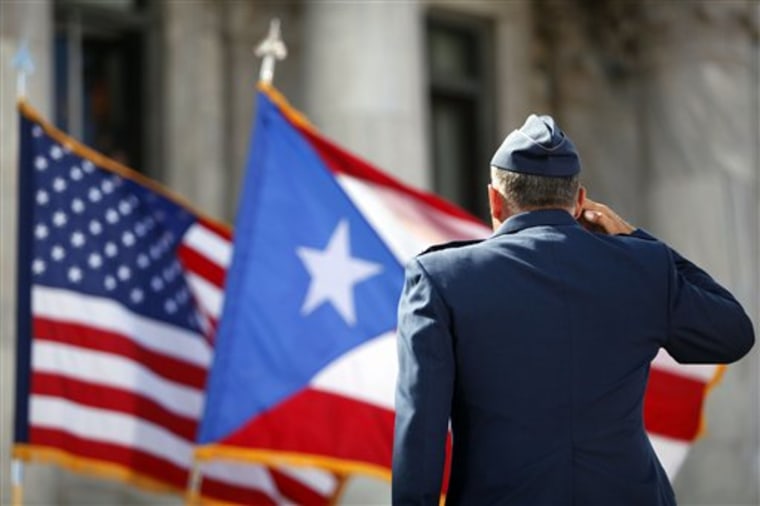 Puerto Rico was home to a number of U.S. military bases, including until 2004, one of the largest U.S. naval bases in the world. The independence movement was discouraged and dismissed as radical or socialist or communist; because of that it has not gained significant footing, particularly compared to political parties pushing for statehood or the current U.S. commonwealth status.
Under its current commonwealth status, Puerto Rico has some degree of self-governance but not like the 50 states; it is ineligible for Supplemental Security Income (SSI) or the Earned Income Tax Credit, and the island receives half the rate of federal healthcare funding even while island residents pay the same Medicare tax as residents of the 50 states.
Statehood supporters say these are examples of the blatant unfairness that U.S. citizens living in Puerto Rico endure, to say nothing of the thousands who have served – and died – defending the United States in the U.S. Armed Forces.
RELATED: Opinion: Puerto Rico's Crisis? Let's Look At Our History
For their part, commonwealth supporters say the way to tackle these issues is to push for parity without radically changing the island's relationship with the U.S. Under commonwealth, they argue, Puerto Rico has been able to maintain a certain national identity - including fielding its own Olympic team – that would disappear if it became a state.
Which option gains traction depends almost entirely on the party in power at any one particular time.
When Puerto Rico's new governor was sworn into office two months ago, he promised he would immediately start pushing for statehood for the island and make it a top priority in his administration, just as other pro-statehood leaders had done in the past.
What is different this time, they say, is that the 100th anniversary of U.S. citizenship should be an impetus for change.
"The United States cannot pretend to be a model of democracy for the world while it discriminates against 3.5 million of its citizens in Puerto Rico, depriving them of their right to political, social, and economic equality under the U.S. flag," Gov. Ricardo Rosselló said. "There is no way to overcome Puerto Rico's crisis given its colonial condition."
It's a sentiment echoed by Carlos Mercader, executive director of the Puerto Rico Federal Affairs Administration, the Rosselló administration's representative in Washington.
"Puerto Ricans on the island are American citizens without the responsibilities and rights that other American citizens who live in the 50 states enjoy," Mercader told NBC Latino, adding that the island's economic woes – high unemployment and a crushing $72 billion debt -- have been exacerbated by its current relationship.
"If anything, the economic crisis brought to the forefront that Congress dictates what happens to Puerto Rico, and the fiscal control board is an example of that," referring to the seven-member board appointed by the U.S. Congress to oversee the restructuring of the island's debt.
As a a U.S. territory, it is not allowed to restructure any of its debt under Chapter 9 the way cities such as Detroit did. The island's hands are tied, says Mercader, because of its current political status.
"We can't continue with this colonial status. Former territories that become states are empowered and are put in a position to develop their economy, their resources, and to be an equal partner and be on equal footing with the rest of the states in the nation," said Mercader.
Federico de Jesús, a principal at FDJ Solutions in Washington, D.C., says the control board is going to play a big factor in whatever happens with the island's political status.
"It is in charge for at least five years because they have to approve a fiscal plan for five years, and this is their first year, so while the board is in place, the island's status is not going to change," adding that the likely budgetary ax the board yields is another looming factor.
"The control board wants $4.5 billion in cuts. That could mean more austerity without any economic growth, and they (statehood supporters) could be doing this now because if they wait until the cuts are made, people won't look so favorably on the statehood party," said the former Obama administration official and former island government official.
That's something that island resident Charlyn Gaztambide Janer agrees with wholeheartedly, saying the statehood effort is a "smokescreen" the island government is throwing at its residents.
"This is just a scheme from pro-statehooders to scare people and tell them 'Hey, look at how our economy is in shambles, we tried it other ways and got nowhere and so the only thing that will save us is statehood,'" said the communications specialist who does not support statehood.
"If the U.S. would have wanted us to be a state, they would have done it years ago. This is like going out with someone for years and years, and all of a sudden you tell them, let's get married and they tell you if I had wanted to I would have asked you years ago," said Gaztambide Janer.
The island government is pushing to hold a plebiscite to gauge Puerto Ricans' status preferences. The cost of a plebiscite would be quite a hit for an island on its financial knees, say those who think officials should turn their focus elsewhere, particularly when so many on the island are divided on what to do about the island's relationship with the mainland United States.
"I don't think a push for statehood is feasible at all. It's delusional. It's a waste of time and money because there are too many issues going on right now in Puerto Rico, especially with the economy," says Lucy Reyes, a Puerto Rico native who is currently a labor lawyer in Boston.
RELATED: Voices: While History Is Being Made in Cuba, What About Puerto Rico?
"Just because the pro-statehood party won (in November) doesn't mean there's this sudden mandate for statehood. Statehood was not why they voted for the statehood party; they were considering one candidate over another on other factors and there were other candidates running that spread the vote."
Resident Commissioner Jenniffer González, the island's non-voting member of the U.S. House of Representatives and a supporter of statehood for the island, is nonetheless plugging away, and recently introduced legislation in Washington, "The Puerto Rico Admission Act" to hold a plebiscite – or status referendum -- on the island with the goal of admittance as a state by 2025.
Statehood supporters on the island are all for it.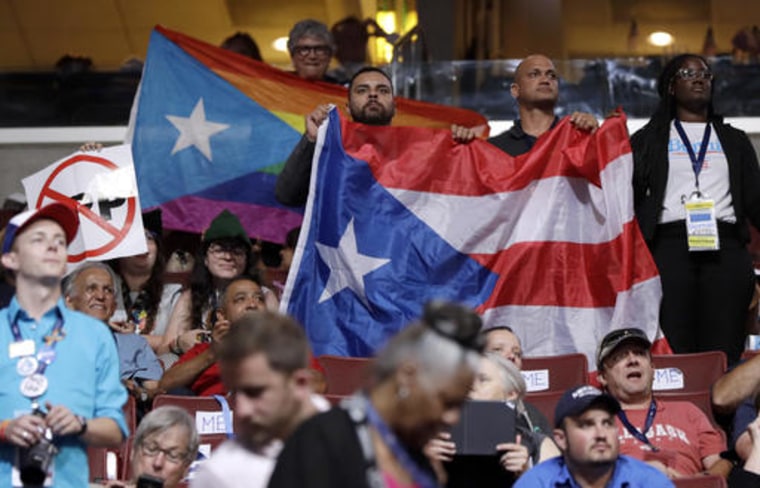 Emilio Martínez was born and raised on the island, and spent nearly 30 years living and working in New York City before returning to the island several years ago as a retiree.
"When I lived in the states, I voted for president and other elected offices, I had representation and a voice. When I moved back (to the island), all of that went away. We have to accept whatever laws the U.S. dictates but we have no say in the matter. We are treated like second-class citizens," Martínez said.
"A Dominican who becomes a U.S. citizen in the states can go back to the Dominican Republic and vote in the U.S. elections as an "overseas" voter. We can't do that in Puerto Rico. We are treated as second-class citizens. We can go to war but not the voting booth. We are a colony here. We are not treated equally as other American citizens."
Under the current commonwealth arrangement, Puerto Ricans living in the mainland U.S. can vote in U.S. elections, but those in the island cannot vote in U.S. presidential or congressional elections.
Rep. Luis Gutiérrez (D-Ill.), born in Chicago to Puerto Rican parents and raised on the island, does not favor statehood and has introduced his own version of a plebiscite bill, one that leaves out the statehood option in favor of either an enhanced commonwealth or a move toward independence.
"Statehood and full assimilation – where Puerto Rico gives up its nationhood, its culture, its Olympic team, its language and its ability to determine its own future without a master is not the only option and I would argue not the best option for Puerto Ricans," said Gutiérrez in a recent statement.
Since 1967, Puerto Rico has held four non-binding status referendums, with voters largely evenly split between statehood and its current U.S. commonwealth status. But in 1998 slightly over half (51 percent) voted for "none of the above." The most recent plebiscite in 2012 included a two-part question, the first had 54 percent saying they wanted a change in status. While 61 percent on the second question said they favored statehood, so many voters had left that option blank that officials didn't consider the results to be sufficiently valid to say there was a mandate for statehood.
The reality is that regardless of Puerto Ricans' preferences on the status issue, it's the U.S. government that will have the final say on any changes to the U.S.-Puerto Rico relationship, especially a move toward statehood.