Brazilian authorities have detained an estimated 1,500 people in connection with the attack of government buildings Sunday by supporters of former President Jair Bolsonaro.
The 1,500 people include those formally arrested in the vandalism and those detained for questioning, Brazil Minister of Justice Flávio Dino said Monday. Police stopped 40 buses as part of the response and broke down an encampment of pro-Bolsonaro supporters outside a military building.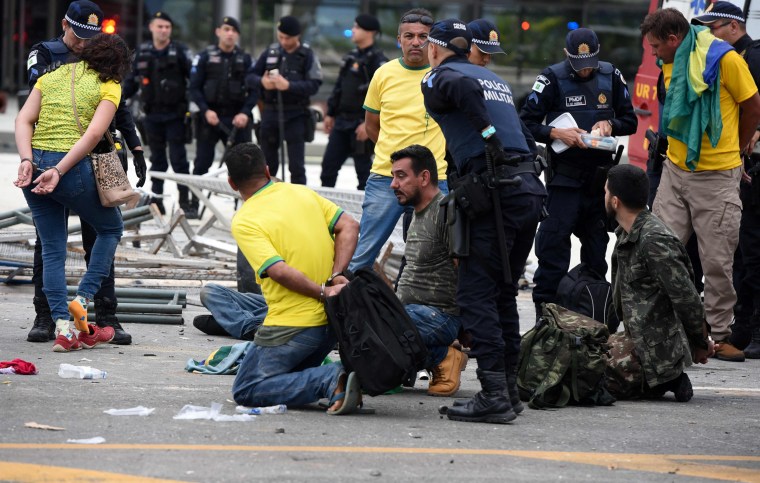 Chaos erupted Sunday as mobs protesting the country's presidential election vandalized congressional buildings as well as the high cout and presidential palace. It appeared they breached buildings by climbing rooftops and breaking windows.
The Ministry of Foreign Affairs called the event "coup-mongering violence."
Leftist President Luiz Inácio Lula da Silva, who was sworn in Jan. 1, responded by authorizing federal intervention in the Federal District until the end of the month. 
Lula described the rioters as "fascists," according to translations of his tweets.
"Whoever did this will be found and punished. Democracy guarantees the right to free expression, but it also requires people to respect institutions," Lula tweeted. "There is no precedent in the history of the country what they did today. For that they must be punished." 
He also placed blame directly on Bolsonaro, tweeting Sunday, "this is also his responsibility and the parties that supported him."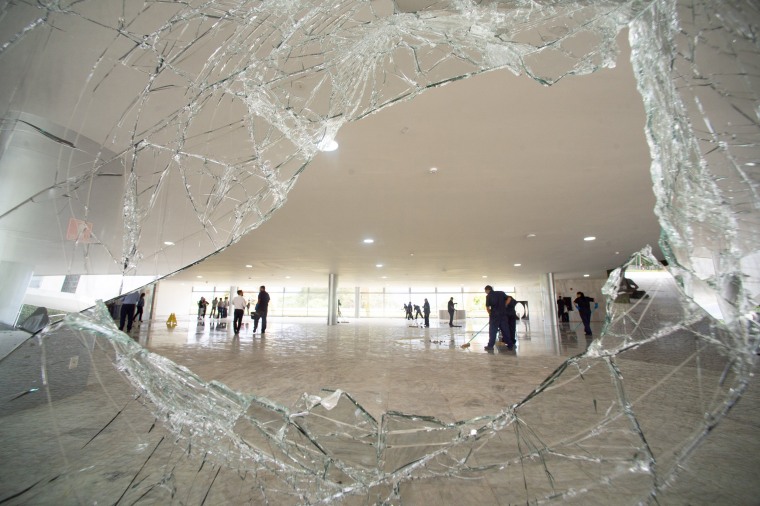 Bolsonaro, who has been seen in Florida recently, denied the accusations.
Bolsonaro's wife, Michelle, said Monday that he was in the hospital, although she did not say where. In an Instagram story, she said Bolsonaro was under observation regarding "abdominal discomfort" from a 2018 stabbing incident.
He later tweeted a message and photo, saying that he had been hospitalized in Orlando.
Throughout his re-election campaign last year, Bolsonaro sowed seeds of doubt about election security through misinformation. He repeatedly asserted that Brazil's electronic voting machines were prone to fraud, with no evidence to support his unfounded claims.
When Lula won a narrow majority in a run-off, Bolsonaro did not immediately concede. He and his party contested the results in a legal filing that was rejected by the Superior Electoral Court. The justice who made the ruling, Alexandre de Moraes, described the legal filing as bad faith litigation.
"Democracy is not an easy, exact or predictable path, but it is the only path and the Judiciary does not tolerate criminal and anti-democratic manifestations that attack the electoral process," de Moraes wrote in his ruling.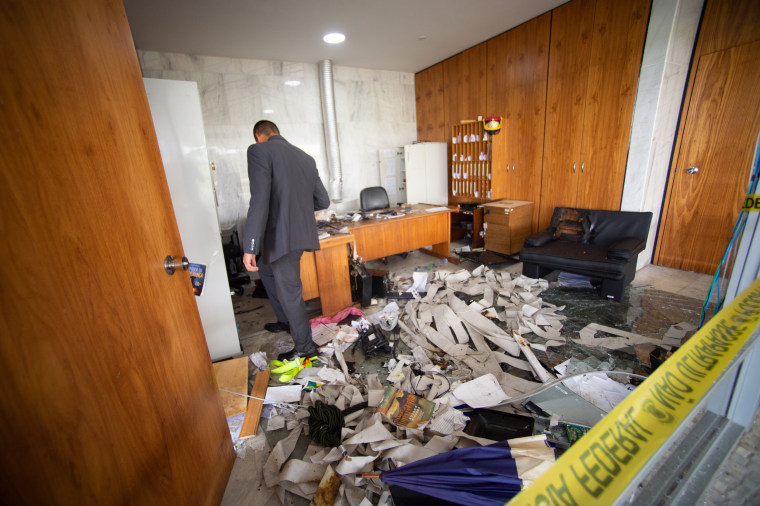 Bolsonaro's party was fined about $4 million.
The former president's supporters have been protesting Lula's win since Oct. 30, blocking roads, setting vehicles on fire and gathering outside military buildings asking armed forces to intervene in the transfer of power.
Lula has received support from other world leaders, including Presidents Joe Biden and Andrés Manuel López Obrador of Mexico.
"I condemn the assault on democracy and on the peaceful transfer of power in Brazil," Biden tweeted. "Brazil's democratic institutions have our full support and the will of the Brazilian people must not be undermined."
Biden and Lula issued a joint statement Monday, which said that Biden invited Lula to Washington next month.
"The two leaders pledged to work closely together on the issues confronting the United States and Brazil, including climate change, economic development, and peace and security," the statement said.