Films about legendary Mexican artist Frida Kahlo and the 1968 East Los Angeles high school walkouts as well as the highest grossing Spanish-language film to open in North America are among 27 Latino-themed movies nominated this year to the National Film Registry at the Library of Congress.
The nominations are part of a larger effort started two years ago by Rep. Joaquin Castro, D-Texas, alongside members of the Congressional Hispanic Caucus to fight Latino underrepresentation in Hollywood and across the nation's biggest cultural institutions.
In a letter to Librarian of Congress Dr. Carla Hayden, first obtained by NBC News on Monday, Castro said the latest nominations stem from hundreds of suggestions from the public.
"The continued exclusion of Latinos in the film industry affects Latinos seeking opportunities in the industry and shapes how Latinos are perceived, stereotyped and misunderstood in American life," Castro wrote in the letter dated Aug. 15. "The media and entertainment industry is the narrative-creating and image-defining institution in America."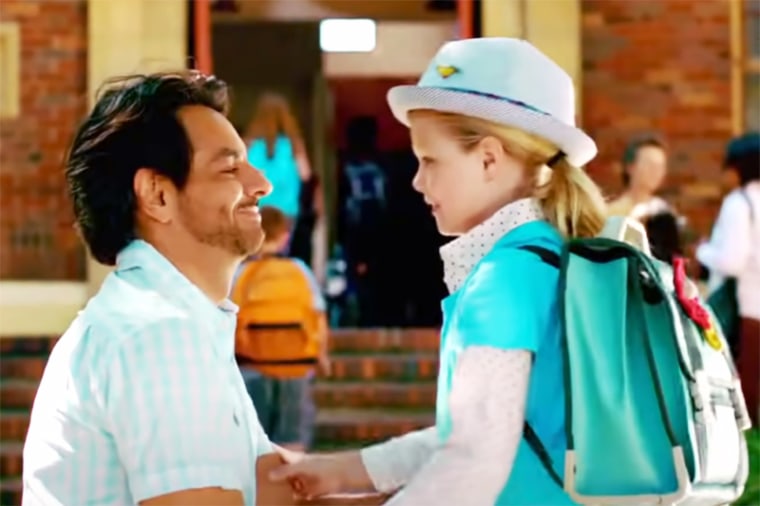 Among this year's nominated films are Julie Taymor's 2002 biographic film "Frida," starring Salma Hayek as Frida Kahlo, and Edward James Olmos' 2006 film "Walkout," based on the true story of the 1968 East Los Angeles high school walkouts, starring Michael Peña and Alexa Vega.
Other movies nominated this year focus on family and culture, such as María Ripoll's 2001 film "Tortilla Soup," starring Hector Elizondo as a retired chef who insists that his three adult daughters gather every Sunday for family dinner, and Eugenio Derbez's "Instructions Not Included," which made history when it debuted in 2013 as the highest grossing Spanish-language film to open in North America.
Every year, the Library of Congress inducts 25 movies considered to have cultural, historic or aesthetic significance into the National Film Registry. This year's final choices will be announced in December.
Castro's efforts have helped induct movies that center on Latinos, such as "Selena," the 1997 biographical film starring Jennifer Lopez about the late Tejano music star Selena Quintanilla-Pérez, and "The Ballad of Gregorio Cortez," a 1982 film based on a folkloric figure from a popular Mexican corrido, or ballad, starring Edward James Olmos.
Less than 3% of the 850 movies preserved at the registry are about Latino experiences, according to the Library of Congress, despite Latinos making up close to 20% of the nation's population.
Full list of nominated films:
"My Family" (1995) by Gregory Nava. A generational epic following a Mexican American family throughout the 20th century.
"Like Water for Chocolate" (1992) by Alfonso Arau. A romantic drama based on the iconic novel of the same name by Laura Esquviel.
"... and the Earth Did Not Swallow Him" (1994) by Severo Pérez. An indie film inspired by the work of Chicano writer Tomás Rivera.
"Blood in Blood Out" (1993) by Taylor Hackford. A story about three Chicano cousins involved in a tragic gang conflict in East Los Angeles.
"Raising Victor Vargas" (2002) by Peter Sollett. The story of a Dominican American teenager living in New York.
"Frida" (2002) by Julie Taymor. A biopic following the life of the Mexican artist Frida Kahlo.
"I Like it Like That" (1994) by Darnell Martin. A dramatic comedy following a young Puerto Rican couple living in the Bronx.
"Walkout" (2006) by Edward James Olmos. Based on the true story of the 1968 East Los Angeles high school walkouts.
"Mosquita y Mari" (2012) by Aurora Guerrero. A coming-of-age indie film about two Chicana teens struggling to break their families' cycles of poverty while discovering their attraction for each other.
"The Milagro Beanfield War" (1988) by Robert Redford. The story of a small New Mexico town's confrontation with powerful business interests.
"Under the Same Moon" (2007) by Patricia Riggen. A Mexican boy's journey across the border to reunite with his mother in Los Angeles.
"American Me" (1992) by Edward James Olmos. The story of a Mexican American man's experience with prison and discrimination.
"Tortilla Soup" (2001) by María Ripoll. The story of three adult sisters and their father, a retired chef, who insists that they all gather every Sunday for dinner.
"Mi Vida Loca" (1993) by Allison Anders. The story of two young Chicanas living in Echo Park, Los Angeles.
"Instructions Not Included" (2013) by Eugenio Derbez. A dramatic comedy about a former playboy stepping up to care for a child he didn't know he had.  
"Maria Full of Grace" (2004) by Joshua Marston. The story of a pregnant woman from Colombia who lands in New York City and becomes an undocumented immigrant.
"Girlfight" (2000) by Karyn Kusama. A troubled Latina high schooler turns to boxing as she comes of age.
"La Mission" (2010) by Peter Bratt. The story of a chauvinist ex-convict who learns that his son is gay.
"Sleep Dealer" (2008) by Alex Rivera. A sci-fi tale that explores a troubling immigration cyber-nightmare.
"Alambrista!" (1977) by Robert M. Young. A young Mexican man crosses the border to become a farmworker and provide for his family back home.
"Our Latin Thing" (1972) by Leon Gast. A documentary capturing the 1970s salsa scene in New York City's Spanish Harlem.
"Up in Smoke" (1978) by Lou Adler. The first feature film starring counterculture comedy team Tommy Chong and Mexican-American Cheech Martin.
"A Better Life" (2011) by Christopher Weitz. A chronicle of the life of an undocumented Mexican worker in Los Angeles searching for his stolen truck alongside his son.
"Gun Hill Road" (2011) by Rashaad Ernesto Green. A father recently released from jail is coming to terms with his trans daughter's identity.
"In the Time of the Butterflies" (2001) by Mariano Barroso. A drama inspired by the true story of the three Mirabal sisters who rebelled against dictatorship in the Dominican Republic.
"Roberto Clemente" (2008) by Bernardo Ruiz. An in-depth look at the life of baseball's first Latino superstar.
"The Longoria Affair" (2010) by John J. Valadez. A documentary about a Mexican American fallen soldier who was denied service at the only funeral home in Texas.