The 2015 Red Bull Cliff Diving World Series returns this year with top men and women athletes from around the world fighting for the chance to be called champions.
Since 2009, the series has brought together athletes from all over the world to perform complex dives in a matter of seconds for audiences to see. Divers jump from 90 feet high and many of them reach speeds of 50 miles per hour.
This year divers will start their journey in Cartagena, Colombia, on April 25 and end on September 26 in Bilbao, Spain. Competitors will make a pit stop in Possum Kingdom Lake, Texas, on May 30. Rachelle Simpson a diver in the 2015 series will return to her home state of Texas after becoming the winner of the first-ever Women's World Series in 2014.
Four promising Latino divers are also in the competition this year. Some of them are veterans to the Red Bull Series while others are starting to leave their mark. But, they all have a great passion for the sport and have been training in hopes to be crowned the male and female divers in 2015.
Orlando Duque - Colombia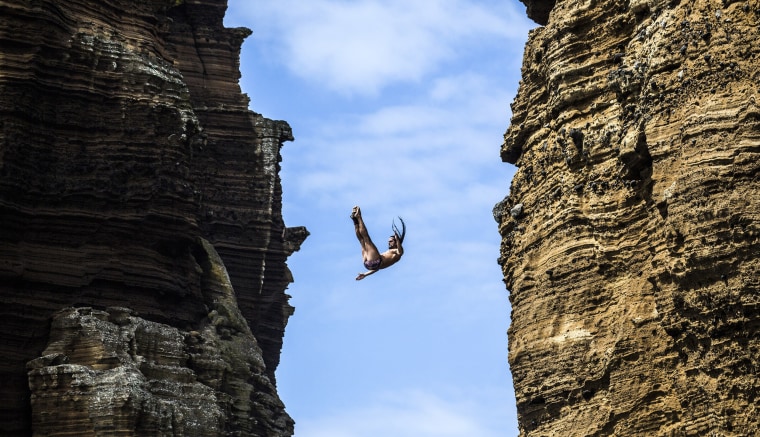 The veteran diver has 12 championship titles and two Guinness world records to his name. Duque started diving at the age of 9 and has a long career in Olympic diving as well as cliff diving. He started his career over 15 years ago and in 2013 became the winner of the first-ever FINA High Diving World Championship. The 40-year-old diver said aside from doing cardio and strength training to prepare for the 2015 series he also is doing breathing exercise in his free time.
NBC: What would winning this series mean to you?
We get to go to beautiful places but you also get to compete against each other and see who is going to be the best. It's a lot of fun. As different as it may be and dangerous as it is, it is also a lot of fun to compete against each other and get the best score.
NBC: How do you feel about representing Latinos around the world, especially Colombia?
It's great! This is a sport where Colombia may not be a powerhouse. We play soccer and we have cyclists, but we don't have a lot of high diving. It is nice to have a different kind of sport in front of us and to be able to bring this sport, not only to Colombia, but also other Latin American countries.
NBC: What attracted you to this sport specifically?
I love the feeling of being in the air. Before I started diving professionally, I would go to the pool with my mom and jump in the water. I loved that feeling of falling and of flipping, twisting and being in the air. I feel that same thing right now even if I'm jumping from a lot higher distances.
Jonathan Paredes - Mexico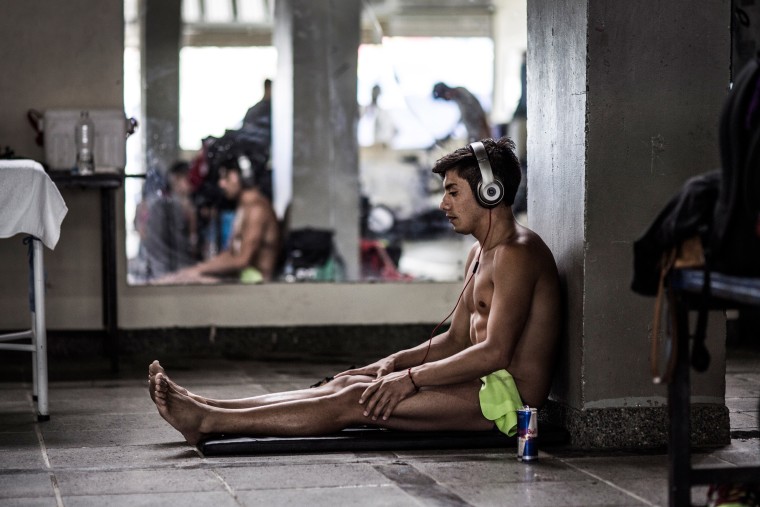 Young and upcoming talent, Jonathan Paredes, began his career with Red Bull in 2011. After winning second place in 2014 in Cuba, Paredes said this is his moment to win. The 25-year-old began diving at the age of 6 when his mom pushed him to start the sport as a way to channel his hyper active energy. Now, his main focus is being healthy and training hard, as he hopes to come out as a victor this time around.
NBC: What would winning this series mean to you?
Being in the series is like my dream come true. When I was doing diving shows in Mexico, I used to see Orlando Duque doing the competitions around the world. It's my moment now. I'm traveling around doing what I love and it's pretty cool. I feel great with my life this very moment. I want to do this for at least another 20 years.
NBC: How do you feel about representing Latinos around the world, especially Mexico?
It's a cool feeling. Mexico is a big school for diving. We have big results in the Olympics and World Championships. To be part of the Latinos doing this means a lot to me. Not many have the opportunity to fly to cool places and to be in the best competitions around the world. I have a chance to do it.
NBC: What attracted you to this sport?
I think to be on the 27-meter platform is really exciting. The places where we go are the most exciting thing in my sport. In a few places we have like 70,000 people or in others we have 1,000 but it's the same great feeling in both. I'm super exited to go back to Texas in this series. I have many friends there that are going to see me.
Adriana Jimenez - Mexico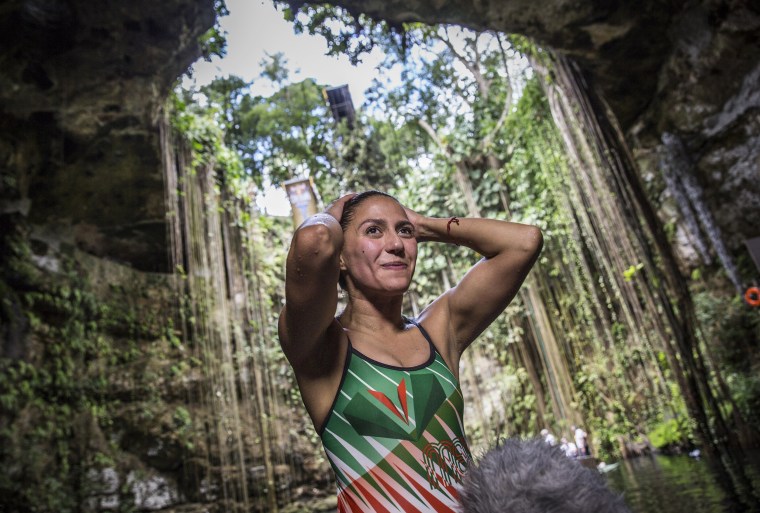 Thirty-year-old Adriana Jimenez won second place in the 2014 final round, which secured her permanent spot for the 2015 series. The Mexico native has been diving since the age of 9. She competed in national championships, world cups and world championships until she was 19. She decided to stop her career for 10 years to attend college and pursue cheerleading. Her first high diving experience was in Belgium and she fell in love with it. Jimenez sent Red Bull her diving videos and eventually they gave her a chance to compete. She now trains 4½ hours a day in the gym and pool.
NBC: What would winning these series mean for you?
The Red Bull Competition has changed my life completely. It means everything to me right now. It's my health, my mind, and my everything. It's a job, but I love it.
NBC: How do you feel about representing Latinos around the world, especially Mexico?
Good! I think I'm the first Mexican female doing this. Latinos are great and warm people and I'm proud we can do this. We are a good team. Mexico is looking for new talent. They have Jonathan Paredes and now I'm here.
NBC: What attracted you to this sport?
What is most attractive about this sport are the people. The divers are from all over the world and are so friendly. We are all siblings and support and take care of each other.
Jucelino Junior - Brazil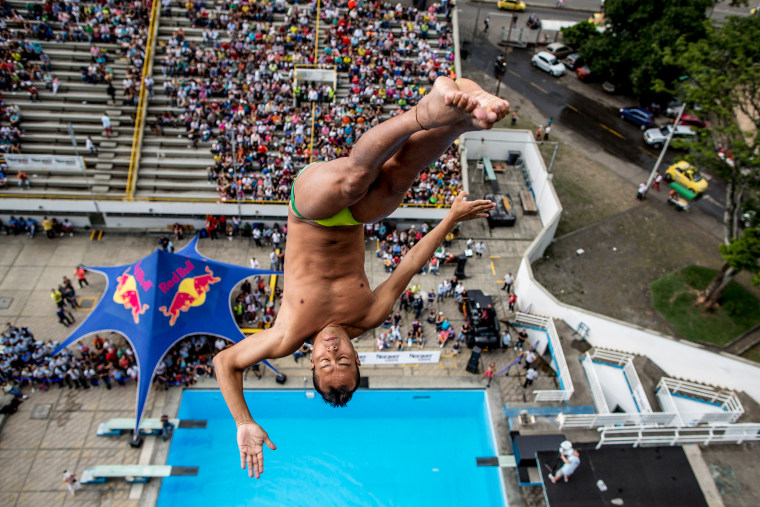 Jucelino Junior is the first male athlete to represent Brazil in the World Series. He has been diving since he was 15 years old and started cliff diving at the age of 20. In 2009, he was invited by Red Bull to compete in the World Series in Hamburg, Germany, where he held 12th place. In February 2015, he completed a long-held dream of qualifying for the World Series. Junior said he is doing a lot of strength training in order to withstand the impact when hitting the water.
NBC: What would winning this series mean to you?
Everything. It means everything in my life.
NBC: How do you feel representing Latinos around the world, especially since you are the first Brazilian male in the history of the series?
I really would like to show Brazil this new sport. This sport is coming to the Olympics in 2020. I want to show Brazil that we have people that do this kind of sport and that we do it well. I want to make Brazil proud.
What attracted you to this sport?
The three seconds when you free fall makes me excited. Passion and desire are two things that make me love this sport, and make me do it every day. My most memorable jump was in France. I got an injury that day, and that is when I realized how dangerous the sport is, but I hope I do this forever.