We spoke to a few of our favorite bloggers, TV hosts, and cookbook authors to find out their favorite ways to "Latinize" a Thanksgiving or holiday meal. Whether it's re-imagining a classic dish or adding something to the usual line-up, you'll be thankful you tried something different. And the best thing? You'll want to make these delicious dishes anytime, not just for turkey day.
Cuban Mojo Turkey by Ericka Sanchez of Nibbles and Feasts
Born in Mexico and raised in Texas, Sanchez looks for Latin twists on her favorite foods on her popular blog Nibbles and Feasts. For her Thanksgiving turkey, she uses a garlic and citrus rub that evokes a tangy Cuban mojo.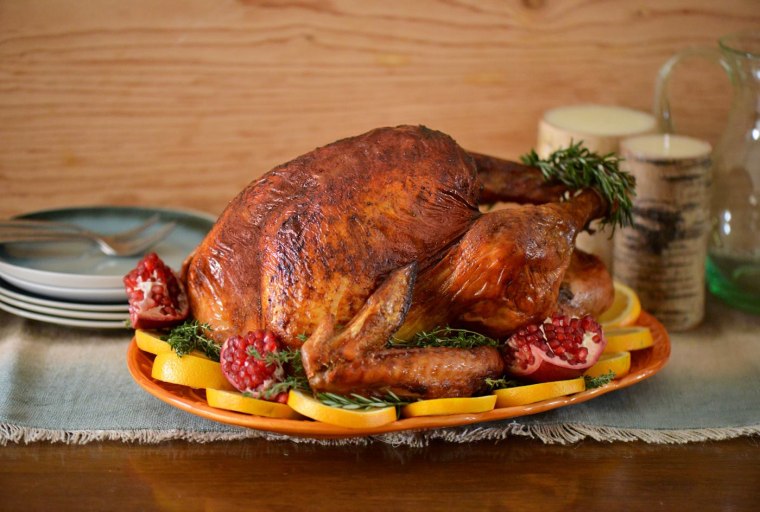 Amp up your Thanksgiving turkey with this tasty marinade, but keep it handy year-round because it can also be used to marinate steak, fish and chicken. This should make 12 to 15 servings.
Ingredients:
30 cloves garlic
3 tablespoons Maggi bouillon chicken flavor
2 tablespoons ground black pepper
1/3 cup olive oil
4 Tangerine DREYER'S or EDY'S OUTSHINE Fruit Bars, melted and sticks removed
1/3 cup white wine vinegar
2 tablespoons crushed dried oregano
1 15-pound turkey, neck and giblets removed
1 large orange, cut into quarters
1 large lime, cut into quarters
1 medium onion, cut into squares
Directions:
Place garlic, bouillon and pepper in a food processor. Pulse until a paste forms. Transfer to a medium bowl; stir in olive oil, melted Outshine bars, vinegar and oregano.
Place turkey in a roasting pan.
Separate turkey skin from the meat carefully with two fingers. Add rub between skin and meat. Any leftover rub can be poured over turkey, making sure it covers turkey evenly. Cover with foil; refrigerate overnight to marinate. Remove turkey from refrigerator 1 hour prior to roasting. Preheat oven to 400° F. Roast turkey covered, breast side down for the first 35 minutes. Carefully turn the turkey so breast side is up. Place orange, lime and onion in cavity.
Decrease oven temperature to 350° F and cook for 3 ½ hours or until an instant-read thermometer inserted into the thickest part of thigh registers 165° to 170° F.
Remove from oven and let turkey rest for 30 minutes prior to carving.
Tip: If tangerine flavor Outshine Bars are not available, try this marinade with lemon, lime or pineapple flavored Outshine Bars.
Congrí Oriental by Ana Sofía Peláez of Hungry Sofia
While congrí - rice and beans cooked together in a pork sofrito - is a Cuban staple on Nochebuena, or Christimas Eve, there's no reason to wait that long. I prepare the congrí recipe found in my book The Cuban Table, then use it to stuff the turkey. As an alternative, try a classic Puerto Rican mofongo stuffing.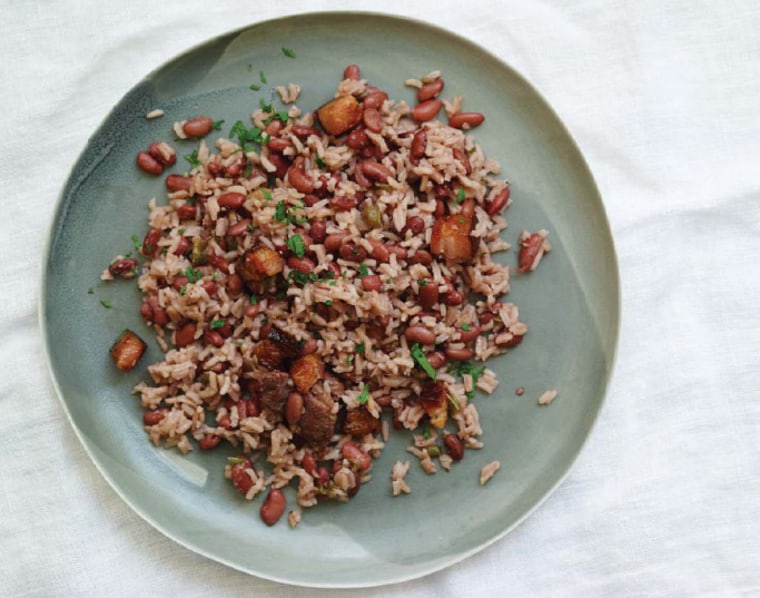 Ingredients for the beans:
3⁄ 4 pound small red beans, well-rinsed
Ingredients for the sofrito:
1⁄4 pound tocino or slab bacon, cut into 1-inch pieces
1⁄2 pound boneless pork shoulder, cut into 1-inch chunks
1 to 2 tablespoons extra-virgin olive oil
1 large yellow onion, diced
1 large green bell pepper, stemmed, cored, seeded, and diced
4 large garlic cloves, peeled
1 tablespoon kosher salt 1⁄2 teaspoon freshly ground black pepper
1⁄2 teaspoon dried oregano 1⁄4 teaspoon ground cumin 1⁄4 cup dry white wine 1 dried bay leaf 2 cups long-grain or converted white rice
Directions:
Soak the beans overnight in a 6-quart heavy pot with 8 cups of water. Bring to a boil in the same soaking water. Lower the heat to medium and simmer the beans until just tender, checking regularly and skimming the foam that forms on the top, 45 to 60 minutes. Drain and reserve 3 cups of the cooking water.
While the beans simmer, prepare the sofrito. Brown the tocino in a 10-inch skillet over medium-high heat until it has rendered its fat. Remove the tocino and set aside. Add the pork chunks to the rendered fat, turning them until they are browned on all sides, 3 to 5 minutes. Replenish with additional olive oil as needed.
Add the onion and green pepper and sauté over medium heat until the onion is soft and translucent, 6 to 8 minutes. Using a mortar and pestle, mash the garlic, salt, black pepper, oregano, and cumin to form a smooth paste. Add the garlic paste to the skillet and sauté an additional 5 minutes.
Return the beans, cooking water, and prepared sofrito to the pot. Stir in the wine and bay leaf and bring to a simmer over medium heat. Adjust the seasonings to taste. Stir in the rice and return to a fast simmer. Turn down the heat to the lowest possible setting and cook, covered, until the liquid is absorbed and the rice is tender, 20 to 30 minutes. Garnish with reserved tocino and serve.
Chipotle & Malta Candied Sweet Potatoes by Alejandra Ramos of Always Order Dessert
Alejandra Ramos, a blogger and frequent contributor on the TODAY Show, goes pan-Latin on her Thanksgiving sides. Candied sweet potatoes are a staple but Ramos punches them up with smoky chipotle and Malta-based soda reduction. This should comfortably serve eight.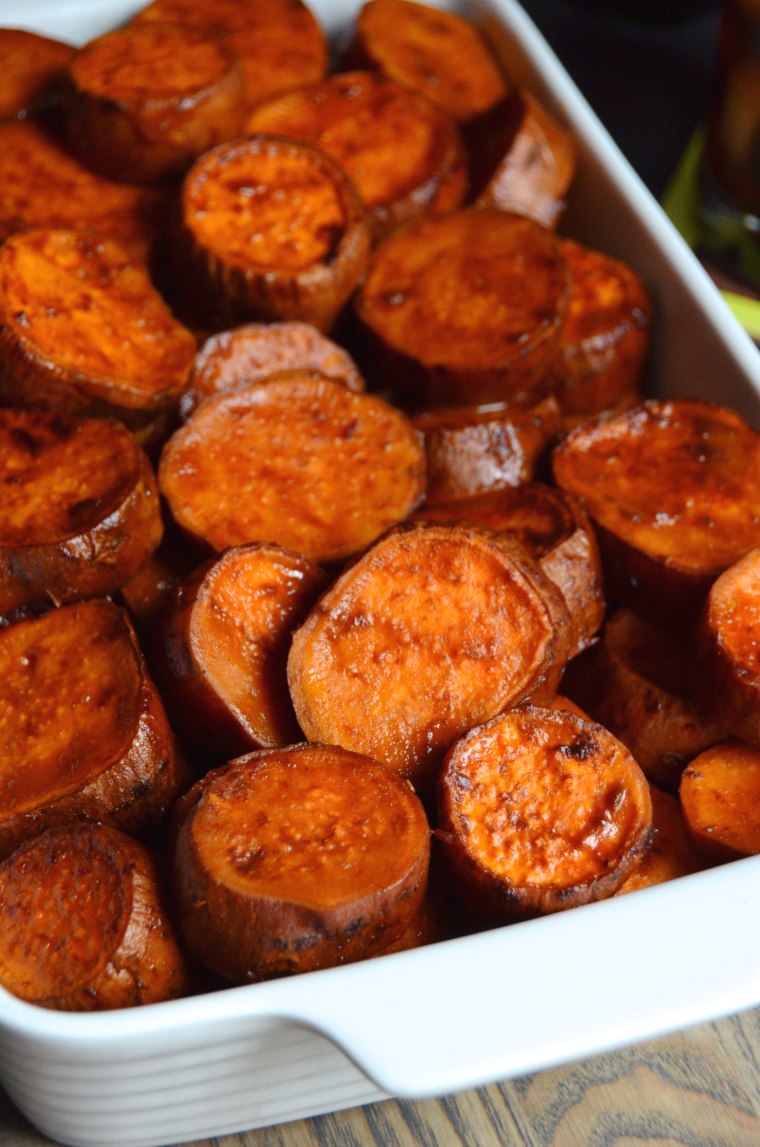 Ingredients:
6 large sweet potatoes
12 oz Malta (can be purchased in the Latin aisle in most major grocery stores). Use cola or cream soda as a substitute. Look for brands made with real sugar as they cook down better).
1 cup chicken or vegetable broth
2 chipotle peppers in adobo sauce, chopped coarsely
3 tablespoons adobo sauce (from chipotles)
4 tablespoons butter
2 tablespoons brown sugar
kosher salt
black pepper
Directions:
Preheat the oven to 350 degrees
Scrub sweet potatoes well, then dry and slice into thick 1" rounds. Layer into a baking dish.
In a large bowl, whisk together the soda, broth, chipotle peppers, and adobo sauce. Pour over the sweet potatoes in the baking dish. Dot with pats of butter then sprinkle with brown sugar, salt, and pepper.
Wrap the baking dish tightly with foil and bake for 20 minutes, remove from the oven and flip the sweet potatoes then return to the oven to bake, uncovered, for another 15 minutes. Check for seasoning and serve.
Thanksgiving Turkey Pibil Slider with Avocado Crema by Pati Jinich of Pati's Mexican Table
Everyone is always looking for new ways to use leftovers. In her latest cookbook, Mexican Today, TV host Jinich prepares the turkey pibil-style rubbed with a blend of achiote paste, citrus juices, and spices. The next day, Jinich turns turns the shredded turkey into sliders topped with avocado cream.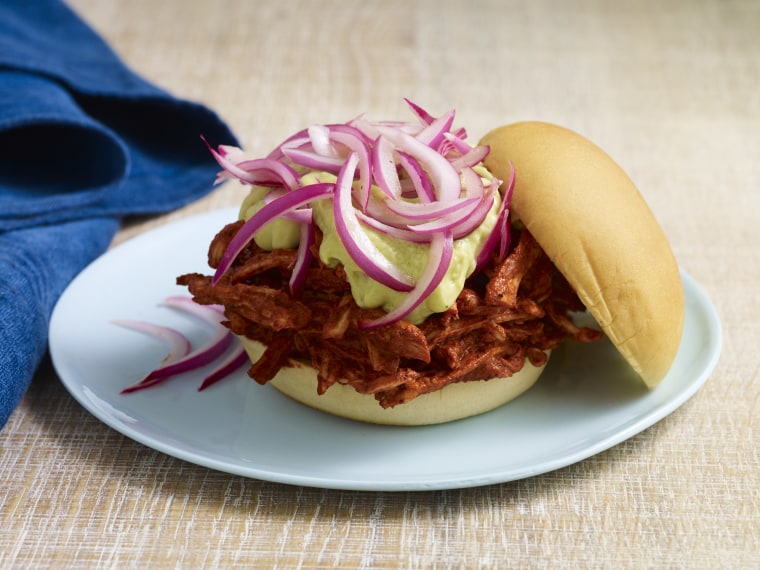 The word "pibil" will make any Mexican's mouth water, because we immediately know that it implies the inimitable taste of achiote paste and citrus. This is one of the defining flavors of the cuisine of the Yucatán Peninsula, one of Mexico's most unique cuisines, known for its pungent, assertive flavors.
Pibil traditionally involves a centuries-old way of cooking meats in smoldering underground pits (known as Pib in the Mayan language, hence the name pibil). The meats are rubbed with achiote paste, wrapped in banana leaves, and cooked slowly for hours and hours. The result is a multilayered flavor experience: citrusy, pungent, tropical, perplexing and addicting at the same time.
People have shied away from making pibil at home because it is such a long-cooking, complex affair, and until recently achiote paste was not easy to come by outside of the Yucatan. However, as times have changed and achiote paste has become available in the U.S., in markets and online, Yucatan dishes like pibil no longer seem out of reach.
As far as cooking technique, here is a fabulous way to make a fast track pibil style chicken or turkey that maintains the soul and essence of the traditional dish and sacrifices none of the distinct Yucatecan flavors. If anything, at home we like it even more as the sauce turns out thicker and more concentrated and the chicken more moist. Just show up hungry at the table with a napkin, ready to ask for more.
As with many of the dishes in this chapter, you can accompany the pibil with rice and/or beans and warm corn tortillas. I highly recommend you serve it with avocado crema recipe that follows; it can be made ahead of time, waiting for you in the refrigerator.
Ingredients for the pibil:
6 cups cooked shredded chicken from Caldo de Pollo, rotisserie chicken or turkey
½ pound ripe tomatoes
¼ red onion, outer layer removed
3 garlic cloves, unpeeled
½ teaspoon kosher or coarse salt, or to taste
2 cups chicken broth, homemade or commercial
¼ cup freshly squeezed grapefruit juice
¼ cup freshly squeezed orange juice
¼ cup freshly squeezed lime juce
¼ cup white distilled vinegar
½ teaspoon dried oregano
¼ teaspoon ground allspice
1/8 teaspoon ground cumin
Freshly ground black pepper to taste
2 tablespoons achiote paste , chopped
2 tablespoons safflower or canola oil
Directions for the pibil:
Preheat the broiler. Line a baking sheet or roasting pan with foil. Place the whole tomatoes, onion and unpeeled garlic cloves on the foil and set under the broiler, 3 to 4 inches from the heat. Broil for 4 to 5 minutes, until charred on one side. Flip over and broil for another 4 to 5 minutes, until the skin is blistered and completely charred . The tomatoes should be very soft with the juices beginning to emerge. Remove from the heat.
Once cool enough to handle, quarter the tomatoes and place in a blender jar along with any juices in the pan. Peel the garlic cloves and add to the blender along with the onion, salt and 1 cup of the chicken broth. Puree until completely smooth.
Heat the oil over medium heat in a casserole or soup pot until hot but not smoking. Pour in the puree and cover partially, as the sauce will sizzle and jump. Cook, stirring occasionally, for 7 to 8 minutes, or until the sauce thickens and darkens considerably.
Meanwhile, combine the grapefruit juice, orange juice, lime juice, vinegar, oregano, cumin, allspice, black pepper, chopped achiote paste and remaining cup of chicken broth in the blender and puree until completely smooth. Stir into the tomato sauce and bring back to a simmer. Simmer 5 minutes and add the shredded chicken. Stir together well and continue to cook, uncovered, until the chicken has absorbed most of the sauce, about 5 minutes. The finished dish should be very moist but not wet or soupy.
Serve with rice and/or black beans, on top of tostadas, or as a filling for sandwiches, quesadillas, tacos or tortas.
Avocado Crema
Makes about 2 cups
Crema de Aguacate
Ingredients for the crema:
2 ripe avocados halved, pitted and meat scooped out
1/2 cup Mexican crema
1 clove garlic
1/4 cup freshly squeezed lime juice
1/2 teaspoon kosher or coarse sea salt or to taste
Directions:
Combine the avocado, crema, garlic, lime juice and salt in a blender or food processor and puree until smooth.
Text excerpted from Mexican Today, © 2016 by Pati Jinich. Reproduced by permission of Rux Martin Books/HoughtonMifflin Harcourt. All rights reserved.
Impossible Chocolate Flan by Fany Gerson's My Sweet Mexico
While Thanksgiving typically means pie and lots of it, there's no reason to skip out on your favorite flan. Fany Gerson's flan combines rich chocolate cake and flan dripping with cajeta. The two batters are combined in a prepared pan which separate in the oven to form two perfect layers - a fascinating process that at the very least will give you something to talk about other than politics. This should serve eight to 10 people, depending on how ready you all are for dessert!'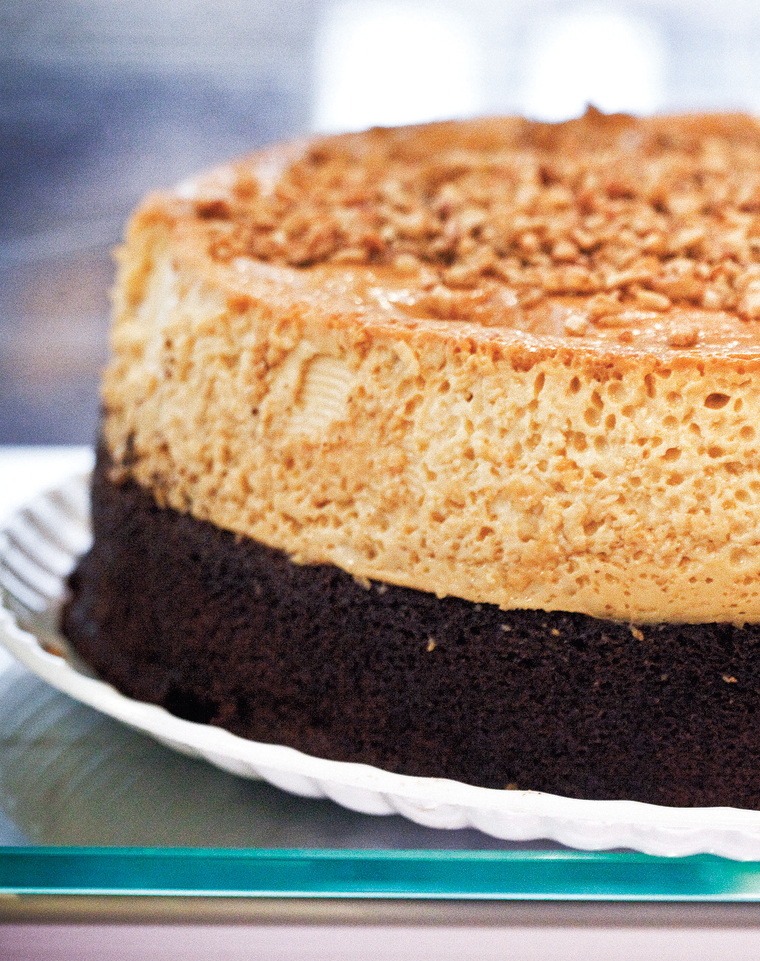 Ingredients for the cake:
¾ cup sugar
¾ cup all-purpose flour
1/3 cup unsweetened cocoa powder, preferably Dutch processed
½ teaspoon baking soda
¼ teaspoon baking powder
Pinch of salt
½ cup buttermilk
3 tablespoons vegetable oil
1 egg, at room temperature
½ teaspoon pure vanilla extract
Ingredients for the flan:
1 (12-ounce) can evaporated milk
1 (14-ounce) can condensed milk
4 eggs
½ teaspoon pure vanilla extract
½ teaspoon salt
¾ cup coarsely chopped, toasted pecans or walnuts, for garnish
1 cup cajeta, store-bought
Directions:
Preheat the oven to 375°F. Lightly grease the bottom and sides of an 8-inch cake pan.
Pour the cajeta over the bottom and sides of the cake pan using a brush or the back of a spoon (you can heat the cajeta very slightly in the microwave so that it is easier to spread).
To make the cake, combine the sugar, flour, cocoa powder, baking soda, baking powder, and salt in a large bowl and whisk until well blended. In a separate bowl, whisk together the buttermilk, vegetable oil, egg, and vanilla. Add to the flour mixture, whisking until thoroughly combined. Pour the cake batter into the pan and set aside.
To make the flan, combine the evaporated milk, condensed milk, eggs, vanilla, and salt in a blender and blend until there are no visible lumps. Pour gently over the cake batter.
Cover loosely with foil, place in a large baking dish, and fill the baking dish with hot water so that it comes halfway up the sides. Bake until a toothpick inserted into the center comes out clean, about 50 minutes.
Remove the cake pan from the baking dish and allow to cool for at least 4 hours or refrigerate overnight. To unmold, lightly pass a warm knife around the edge, place a plate or dish on top, and carefully but rapidly flip over. Sprinkle with ¾ cup of coarsely chopped toasted pecans or walnuts for garnish. Serve cold or at room temperature.
Reprinted with permission from 'My Sweet Mexico: Recipes for Authentic Pastries, Breads, Candies, Beverages, and Frozen Treats' by Fany Gerson, copyright © 2010. Published by Ten Speed Press, a division of Random House, Inc.