As the end of the year quickly approaches, parents have a unique opportunity to develop their children's cultural identity by sharing family holiday traditions with them. Some of Latin America's most recognized - and most beautiful- traditions are associated with this time of year. And exposing children to these moments is a way to boost not only your child's appreciation of their heritage, but self-confidence, as well.
Participate in a posada
Many cities across the country, and especially in the Southwest, hold posadas starting on the 16th of December. Las Posadas is a nine-day celebration re-enacting Mary and Joseph's search for lodging. Each night, participants gather at a different home or building and divide up into two groups. One group represents the peregrinos (the travelers, Joseph and Mary) and may carry small statues of the couple. Sometimes children dress up as the Madonna and her husband, and lead the small procession from one point to another. Another group represents the innkeeper who tries to turn away the peregrinos. The two groups sing back and forth until the "innkeepers" finally recognize Joseph and Mary and let them inside amid joyful singing from both parties. What follows is a grand feast with the traditional Mexican dishes of tamales, buñuelos, ponche, champurrado, and more. Las Posadas is a tradition most commonly practiced in Mexico, Guatemala, and now the American Southwest. You might find a posada by checking out events at your local cultural centers, churches, libraries, or community centers.
Sing villancicos or aguinaldos
Think of them as Christmas carols in Spanish. Villancicos and aguinaldos are poetic songs that originated in Spain back in the 15th century. Today, they are beloved by Latino families throughout the Americas. Some of the more popular songs include Noche de paz,(Silent Night), Los peces en el río,(The Fish In The River), Campana Sobre Campana, (Bell Over Bell) and Mi Burrito Sabanero, (loosely translates to The Donkey Of Bethlehem), which you can see and hear below in this new, animated video by Mundo Lanugo.
Aguinaldos are very similar to villancicos, though they are typically sung by parranderos in Puerto Rico and Venezuela. Parrandas are sort of a Latino version of Christmas caroling, but the singers gather together much later at night in the hopes of "surprising" their sleeping friends by singing and playing musical instruments outside their home. Upon awaking, their friends invite the parranderos inside for quick refreshments and partying before they all head out to surprise another friend.
Host a tamalada
Move over, eggnog. It's time for tamales! Making tamales, while not especially difficult, is certainly a time-consuming activity. But all the time and effort is absolutely worth it once you take a bite. Tamales come in many different flavors and are made in a variety of ways depending on where you are in Latin America.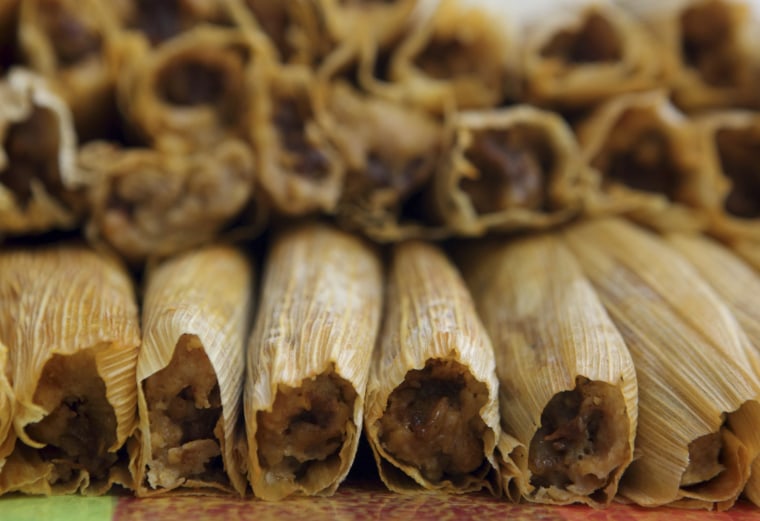 In Puerto Rico, for instance, their version made with plantain and yucca is called a pastel, and families wrap them inside banana leaves and steam them. But the best-known version of tamales is from Mexico - various fillings are put inside masa (a type of cornmeal dough) and wrapped in corn husks. After steaming, the tamales are gingerly removed from the corn husks and eaten...con gusto!
Some restaurants host tamaladas (or a tamal-making party) where they teach you how to make tamales, and then you get to take the ones you made home with you. But if you can't find any restaurants hosting one, you can ask around and see if any of your friends or community/cultural centers are putting one on. To help you, here are a few places across the country hosting their own tamaladas:
San Francisco, CA: Sunday, December 7th, 11 a.m. to 6:30 p.m. La Cocina, Do415, & Noise Pop are having their La Tamalada Cooking Class at El Mercado in Ghirardelli Square
Austin, TX: Saturday, December 6th, 10 a.m. to 12 p.m. Mi Madre's Restaurant - How to make Christmas Tamales
San Antonio, TX: Saturday, December 13th, 11 a.m. to 6:30 p.m. The Guadalupe Theater presents the free community event, La Gran Tamalada.

Read about Latino holiday traditions
If you don't have an opportunity to experience a posada, parranda, or tamalada, you can always snuggle up with your child on the couch and read all about them! A few children's books that highlight Latino holidays you might want to check out are listed here: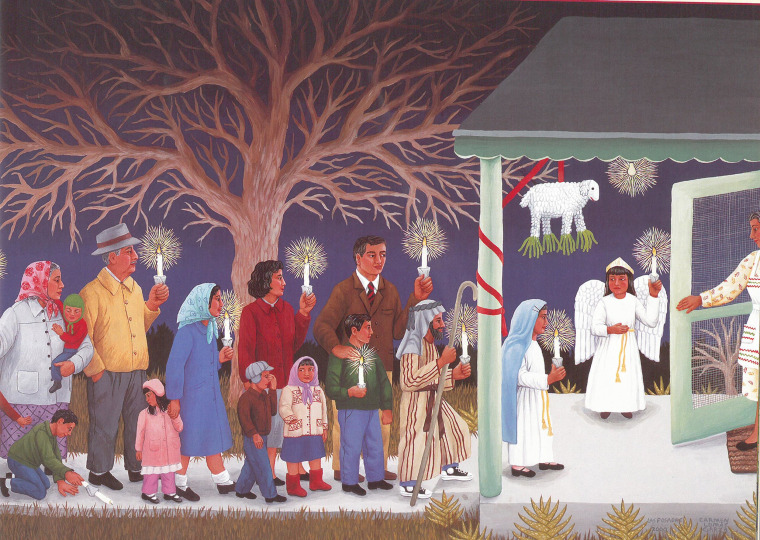 Get ready for Los Tres Reyes Magos (Three Kings)
El Día de los Reyes Magos probably ranks right up there with Navidad, or Christmas, in many Latino homes. The arrival of the Magi on January 6th creates just as much excitement as Christmas for those children who have left empty shoes by their beds or boxes of hay or grass on the front porch. They drift off to sleep on the night of the 5th hoping to awaken to a new toy or treat that the Three Kings have left for them.
Follow NBC News Latino on Facebook and Twitter!
You can get your child excited to celebrate el Día de los Reyes by having them write a letter to the Three Wise Men listing the toys or items they want most. In some places, children leave their shoes at the foot of their bed for the kings to fill with toys and treats. In other places, children leave a box of hay or grass for the kings' camels to eat. As a thank you, the kings leave gifts inside. In the days prior to the 6th, you might have your child decorate the outside of a box, perhaps with images of the kings' journey or the nativity.
For a family activity, you can gather together your little chefs and make your own rosca de reyes with this delicious recipe from Nibbles & Feasts. The rosca is a round sweet bread typically served on Día de los Reyes. Most families hide a tiny figurine of the baby Jesus inside the cake, and each person eagerly - but carefully! - eats their slice hoping to find it. Traditionally, the lucky person who finds the baby Jesus hosts a party at their home the next month on February 2nd, the feast day of La Candelaria.
Teaching your child to celebrate holiday traditions like these is a sure way to create a treasured memory for your entire family and keep some wonderful customs for generations to come.