Argentine native Juan Pablo Di Pace will take on one of the most revered roles an actor can play, that of Jesus Christ on NBC's drama series "A.D. The Bible Continues," Sunday, April 5th night at 9pET.
Di Pace began acting on screen in the movie "Survival Island," then later worked alongside Meryl Streep, Pierce Brosnan and Colin Firth as Petros in the 2008 romantic comedy "Mamma Mia!".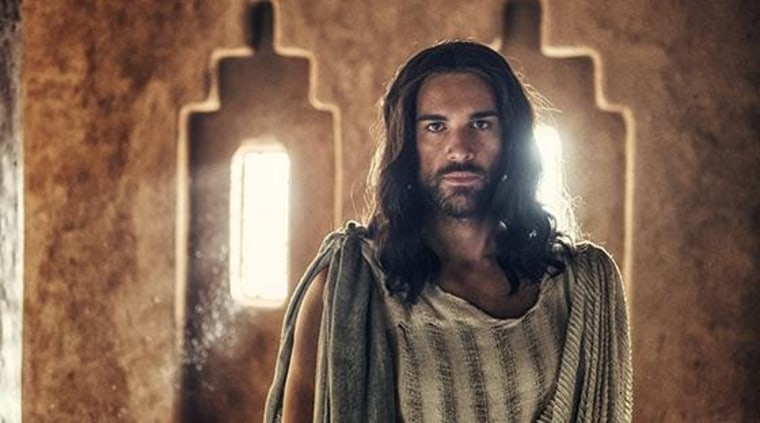 But television has been his bread and butter. Best known for his role on the TNT series "Dallas," where he played a powerful self-made billionaire businessman Nicolas Treviño, Di Pace has a bountiful body of work in English and Spanish. He has appeared on the BBC in "The Catherine Tate Show," "Aftersun," "New Tricks" and "River City,." In Spanish, he won critical acclaim in the adapted production of "Saturday Night Fever," and held recurring roles on the Spanish television series "Supercharly" and "Física o Química."
We had a chance to talk to talk to Di Pace about his role playing Jesus, that state of religion in America, and his home country of Argentina, which gave us our Pope Francis and now "Jesus". Here's our condensed interview.
NBC: How intimidating is it for you to play the role of Jesus Christ?
It's very intimidating. You want to do a good job, but you don't want to be influenced by anyone. It's so personal to so many people. I have a lot of respect for the part. I have to go into a place where I can feel a very personal connection to the role. I have to start with a blank canvas, almost like starting from scratch as if I never heard of him before, as if I was meeting him for the first time. I really needed to see how I felt about him, to see how those words that he says touched me. I needed to feel vulnerable, human and be affected by the material. No one knows how he felt, how he was, what he did and what he said. So to actually look at all of that in a personal was very touching.
NBC: Why do you think the topic of religion is making a comeback?
After 2012 there's been a shift in humanity, society and economics. We're witnessing a transition, everything is changing really fast - with that comes a wanting to see and believe, and faith and spirituality come into play. I think the world is now more spiritual than it ever was because people are searching for answers. Producers are realizing that people need this because there is definitely an asking for it. Also, the type of religious content being done today is different from what we've seen in the past. A.D does this beautifully. They are very gutsy and passionate. It doesn't shy away from the violence of the time and at the same time it has the epic factor and the heart. I think a lot of the times, biblical series have been quite family safe and in this case I think it's different because it's so gutsy.
NBC: You are from Argentina and your last two TV jobs have been working in English - NBC's "Camp" and TNT's "Dallas" remake. Do you miss working in Spanish?
That's a good question. The beginning of my acting career was in London, England. I spent ten years in London, I trained there. But because I started in English, it kind of feels the most natural to me, to act in English, which is a strange thing. My language is Spanish, I grew up in Argentina, I speak to my family in Spanish, but if you were to ask me what language I connect with, it'd be English in some weird way. Also, when I worked in Spain, I worked for four years in Spain in television and theater, they wanted me to be a Spaniard (laughs) so I wasn't able to use my accent which is Argentinian. Any accent that is different than your own you have to work for it, so speaking in Spanish for me professionally was speaking in Spanish with a Spaniard accent. So in a way, speaking in English is pretty comfortable.
NBC: As an Argentine playing Jesus in an epic biblical series, what does it mean for you that Pope Francis is also from Argentina?
There is such a huge pride for all of us that he's the Pope, but not only that he's the Pope, but that he's actually a cool Pope. I'll give you a fun fact, my name Juan Pablo comes from Pope John Paul II, so there's a weird thing going on here (laughs). It's really humbling and amazing. I don't know what it says about Argentina in terms of Christianity, but I feel a lot of pride.
NBC: What would you tell Hispanics about "A.D: The Bible Continues"?
I think Hispanics are so connected with this material already. They will take away a new point of view, a very 21st century look - it's a very fresh look at how the Church was built. It doesn't take a stand, and in that way, it's quite unique. It's a really well-written drama. Latin Americans will love it because we love passionate storylines, you can see that on television (laughs). Network television hasn't really done this before in this way; I think Latin Americans will definitely enjoy that because it is so close to our hearts.