"The end of era" isn't just a slogan belonging to AMC's Mad Men final season. It applies more appropriately to Univision's Saturday night variety show, Sábado Gigante, which is saying goodbye after 53 years of being on-air, 30 of them on Univison. Back in 1962, the year it started its five decade run, Marilyn Monroe passed away, the New York Yankees were the World Series champs, the United States announced an embargo against Cuba and the audio cassettes were invented. But for most Hispanics over the age of 30, Sábado Gigante represented not just a weekend show, it was a member of our family. To many, it felt as if a group of friends would arrive at your house every Saturday night with indelible merriment, a diversion that allowed many of us to forget the hardships of daily life. That type of bond is very hard to let go.
But since we must, here are five things we will miss the most from Sábado Gigante:
1. Don Francisco: Although the legendary host is not retiring from television and will continue to contribute to the network on a variety of projects, along with hosting entertainment specials, and searching for and developing new on-air talent for the company, his hosting abilities are world class and in a league of their own. Spanish-language talent agents and television programmers for decades have been looking indefatigably for another Don Francisco and have all struck out. The unique magic Don Francisco, who is 75, is based on a particular type of humor where he sets you up for the joke and allows you to organically create the punchline all on your own, something most other hosts know of, but can't quite replicate with the same charm or personality. His interviewing skills and improvisational adroitness are world class, but perhaps, like Frank Sinatra, he has had the gift of longevity, an ability to adapt to the times and become, in the end, an international institution. He's one of a kind, one that they just don't make anymore.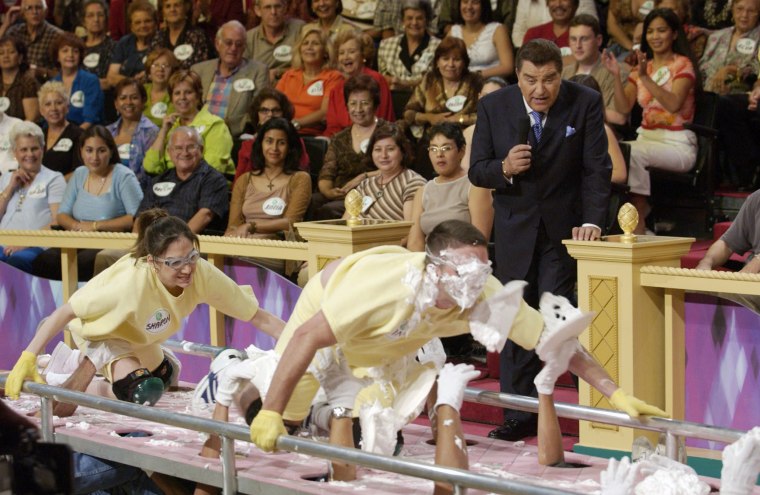 2. El Chacal de la Trompeta: This was arguably the hallmark segment of the show. Six participants willing to sing in front of national TV, were judged on their singing by none other than by "El Chacal," a masked costumed character who would use his trumpet to eliminate contestants when they would sing off-key and such. The funnier moments were when the participants barely opened their mouth and were immediately disqualified. The winners would win based on who would obtain the most applause and ultimately win a modest prize or cash. English-language TV had nothing on it. The bit, though, didn't last as long as the show.
3. Los Niños de Sábado Gigante: This particular segment became one of the more anticipated parts of the show due to the shocking, mature insights of eight or nine recurring children. They would all gather around Don Francisco and he would begin asking them questions about their personal wishes, their lifestyles and their weekend plans. Some of the answers would be uproarious while other answers were at times full of poignancy, emotion and drama. Nevertheless, it was transfixing to listen to the minds of young children talk about the world around them.
4. Las Modelos: Lily Estefan, Rachel Diaz, Sissi Fleitas, Claudia Molina are just some of the famous names that got their career start on the stage of Sábado Gigante as models, similar to Vanna White from The Wheel of Fortune. Being a model for the show was such a coveted title, that it bared comparisons to what the James Bond film franchise did with its iconic Bond Girls. Many of the aforementioned names went from being models to hosting their own shows, being on the cover of magazines and a print staple of gossip magazines. Their beauty, presence and aura pierced through the screen signaling that a star was awaiting.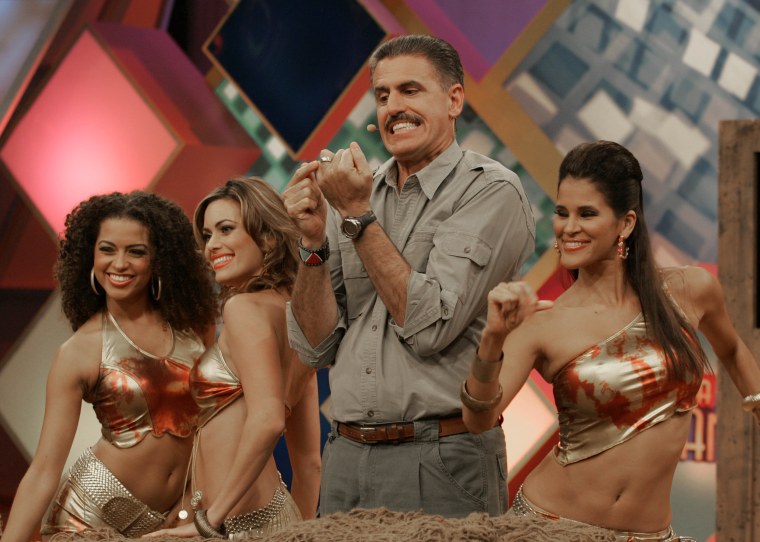 5. El Detector de Mentiras:
This is one of the more intriguing and enthralling sections of the show. A lie detector, along with an American polygraphist by the name of Joe Harper were introduced to the show to ascertain which people were telling truths or lies on infidelities. Some of the humor would arise when Don Francisco would ask Harper to ask the participant polygraph questions in Spanish. He would try his best and at times would mispronounce certain words giving way to accidental sexual innuendos that would send the audience into laughter. Don Francisco would feed off of these situations making these portions pure gold.
As we close in on September 19 of this year, the official day the lights go out at Sábado Gigante, we not only say goodbye to the longest-running television variety series in history, we begin to fade to black on the aforementioned memorable moments it provided us, the exuberant laughs we will never forget and the cast of characters that we today call friends.
But perhaps the main reason to mark its departure is because television will never be the same again. This type of show belongs to a time gone by, a golden age in which today's generation no longer embraces the format as is. It is a part of our collective memories and history, one that a legion of people will always remember fondly. Here's to you Sábado Gigante, you made our youths a fun one and we will treasure you always.