It's been five decades since thousands of Mexican-American and Filipino farm workers walked out on California table and wine grape growers in what became known as the Delano grape strike.
They were demanding better wages and working conditions. The strike lasted more than five years and prompted an international boycott of grapes. The efforts were a complete success and led to the creation of the nation's first farm workers union—the United Farm Workers of America (UFW).
On Saturday, a special event is being held to commemorate the 50th anniversary of the Delano grape strike. The event will be held in Delano, Calif., at the Forty Acres complex, which played a critical role in the early days of farm worker movement and is now a National Historic Landmark.
Delano grape strike and boycott veterans will be among those attending Saturday's event.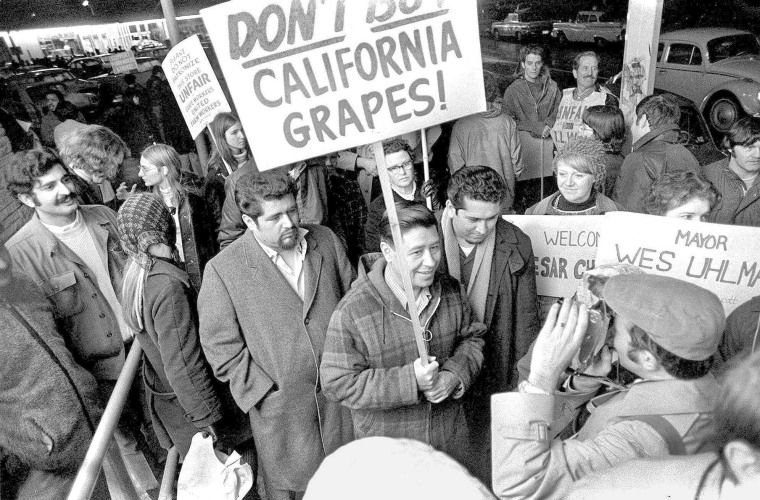 "Fifty years ago this month Filipino and Latino grape workers did what many thought was impossible," UFW President Arturo Rodriguez said. "They took on the mightiest industry in California—an industry that viewed itself as invincible."
The strike started Sept. 8, 1965 when Filipino grape workers walked out on grape growers in Delano, Calif., to protest years of poor pay and working conditions. A week later, labor leader Cesar Chavez joined the strike and so did Latino farm workers.
In addition to the strike, a boycott of table grapes was initiated, which spread throughout the United States and other countries. There were also peaceful marches, including a 300-mile march from Delano to Sacramento, and protests that sometimes turned violent. There were instances where strikers were abused, shot at or threatened by growers and sheriffs.
In an effort to draw attention to the violence being used against the striking farm workers and to reaffirm his belief for nonviolence, Chavez began a water-only fast on Feb. 11, 1968. After 25 days, Chavez ended the fast during a ceremony held at the Forty Acres complex that drew thousands of people, including Sen. Robert F. Kennedy.
The strike and grape boycott continued for two more years until July 29, 1970, when California table grape growers signed union contracts and agreed to grant workers better pay, benefits and protections. The contracts were signed inside a union hall at the Forty Acres complex.
"What the grape strikers achieved went far beyond themselves," Rodriguez said. "They inspired succeeding generations of Americans to social and political activism. And they created a revolution in empowerment and self-determination among Latinos that is felt in every corner of America today."