A strong earthquake centered near the resort of Huatulco shook parts of southern and central Mexico on Tuesday, killing at least six people, seriously injuring others and sending thousands into the street.
The U.S. Geological Survey said the 7.4-magnitude quake, which hit at 10:29 a.m. local time, was centered along the Pacific coast of Oaxaca state. It was felt throughout south and central Mexico and Guatemala.
Oaxaca Gov. Alejandro Murat told Telemundo News in a live interview that some buildings collapsed in the coastal resort town of La Crucecita—the earthquake' epicenter— killing a young woman and injuring another person.
About 200 houses in the area were damaged, including 30 that were badly impacted, according to a local official.
President Andrés Manuel López Obrador said in a video posted on social media shortly after the earthquake, "unfortunately, someone lost their life after a building collapsed."
Murat said later that a 70-year-old man was killed when a house apparently collapsed in the tiny mountainous village of San Juan Ozolotepec. At least two other people from the same area suffered open fractures after some buildings collapsed, Murat said in a radio interview.
Pemex, the state-owned petroleum company, tweeted that one of its oil refineries burst into flames. The fire was put out, but a man was injured and taken to a hospital, Pemex said. Mexico's civil protection agency later reported that the man had died.
Another man died in San Agustín Amatengo after a fence fell on him, according to the civil protection agency.
Murat said at least one hospital in his state dedicated to caring for COVID-19 patients suffered enough structural damage that it will likely have to be evacuated.
In Mexico City, people ran into the streets after buildings shook strongly an early warning seismic alarm sounded.
Mexico City Mayor Claudia Sheinbaum said at a news conference that more than 30 buildings in the capital suffered damage, including several government buildings.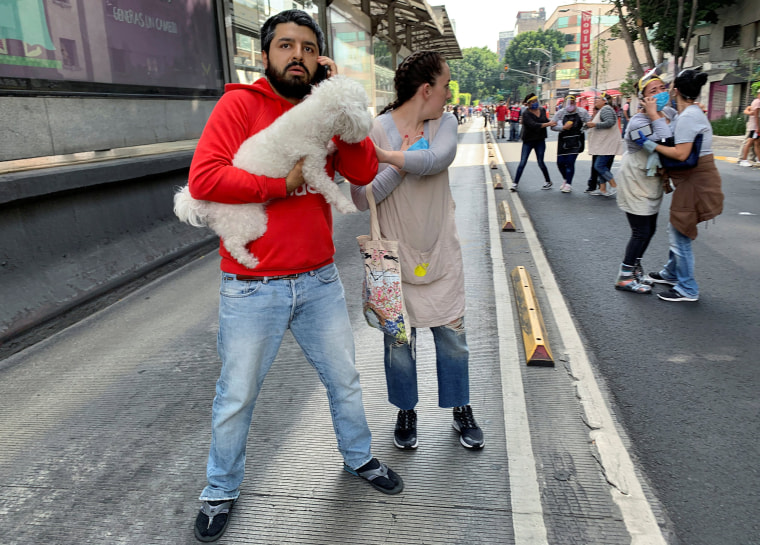 A man from Iztapalapa was taken to a hospital after "a high voltage cable fell on him," Sheinbaum said, adding that a child was also taken to a children's hospital.
Download the NBC News app for breaking news and alerts
"We will continue to call on people to act with precaution due to possible aftershocks. Let's take care of ourselves without anguish or despair," López Obrador said in Spanish.
As of late Tuesday afternoon, over 447 aftershocks had been reported, according to the civil protection agency.
"Two minutes of torture"
In Juchitan, Eunice Pineda, 26, told Reuters she feared her house would collapse. The teacher said the earthquake"was two minutes of torture."
In Oaxaca, Carlos Moreno, the owner of Koch El Mezcal, was working alongside one of his employees in an agave artisanal processing plant when the quake struck. The worker was digging up a 50-foot well to ferment the liquor at the time.
"What a scare!" Moreno told NBC News. "The man was 15 meters below ground, with an earthquake shaking everything, in almost darkness and in a small space. ... We managed to get him out fast, but what a scare."
Seismic alarms sounded at midmorning with enough warning for residents to exit buildings, and power was knocked out to some areas.
The U.S. Geological Survey estimated that 2 million people felt strong or moderate shaking and that 49 million more felt weak or light shaking.
Santiago Taboada, mayor of Benito Juárez in Mexico City, told Telemundo News that his town suffered minor damage and that phones lines went down temporarily.
Follow NBC Latino on Facebook, Twitter and Instagram.