Elisa Flores, a Latina senior at Waukegan High School in Illinois, is among the millions of high school students scavenging the internet for potential scholarships as she plans for college.
The hardest part of searching for scholarships is "not having enough help or not having the right help," Glores told NBC News.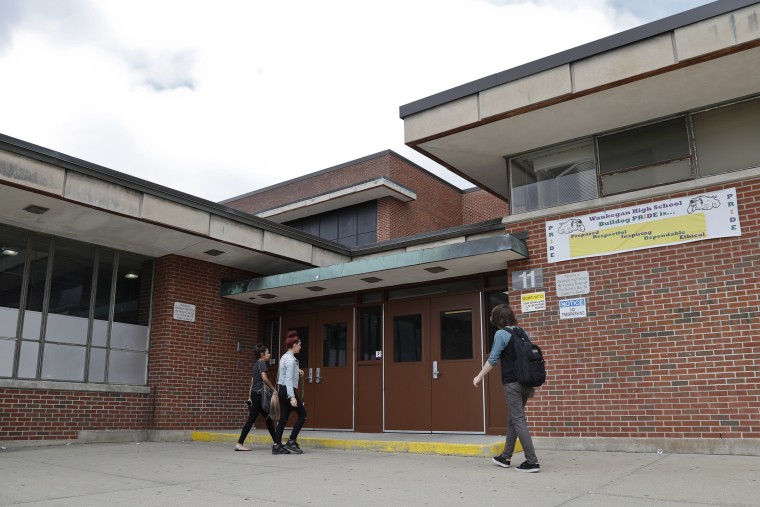 She also received advice from her older sister, who is already attending college.
"My sister just told me to look up anything on the internet, anything around the lines of scholarships for Hispanics, or scholarships for women or scholarships for people that play an instrument, stuff like that" the first-generation college student explained. "Specific or broad things that I do that I could potentially get a scholarship for."
When Flores was in the second semester of her junior year, however, she joined Waukegan to College, giving her access to resources unavailable to many other students. The education program prepares students — some as early in their educational careers as fifth grade — for college by providing academic counseling, SAT practices and tutoring, and information to ease the arduous process of applying and being able to afford higher education.
"I started really late, and the people that were already in the program [Waukegan to College], they knew a little bit more about how to apply to scholarships and college in general," Flores shared. "It was difficult for me because I never really had the help I needed until I was in this program."
Families and students should search for these kinds of programs in their local high school or community. But it these are not available, academic counselors and scholarship database companies do have recommendations for students who do not have access to programs like these in their high schools or communities.
Gaby Castrejon, Flores' academic counselor at Waukegan to College, advises students and families to be timely about applying to scholarships.
"I would encourage them to apply early because scholarship deadlines sometime vary," Castrejon told NBC News. "Sometimes they close off because they have a certain limit of how many applications they can accept. So getting them done early and doing the research would be very helpful."
Castrejon also pointed out specific websites where students can go to do their own digging.
"There are scholarship finders that usually their school can help them use," Castrejon continued. "For example, Sallie Mae has a scholarship finder and you can plug in all of your information, like if you're a Latino student. And it lists all of the scholarships available to you because of these qualifications that you filled out in the form."
The Hispanic Scholarship Fund provides resources to families and an online application for scholarships.
Richard Sorensen is president of a Wells Fargo sponsored scholarship search database called Tuition Funding Sources. The website provides access to more than 7 million scholarships and $41 billion in awards.
Sorensen said high school students have to keep in mind that it's best to start with an extensive list of possible scholarship sources, instead of just applying to a couple of the more well-known, national scholarships like the Coca-Cola Scholar Foundation or the Gates Millennium Scholars Program.
"Obviously the big national scholarships are going to be the ones that most people apply for," Sorensen told NBC News. "And so they're going to be the hardest ones to get. The best shot they have is to get a scholarship at the school they're going to go to."
Sorensen believes Latino students should use a university's desire to diversify its study body to their advantage.
"And that's one of the advantages we have in our scholarship database, is we have a lot of school sponsored scholarships," Sorensen said. "And there are a lot of colleges now that are reaching out to Latino students because they want to diversify their enrollment population. So they have scholarships that are available at the school level."
There are monetary awards for first-generation, undocumented and international students, as well as Deferred Action Childhood Arrivals recipients.
These recommendations come amid worries about provisions in the House and Senate tax bills that seek to impose a tax on the net income of universities with bigger endowments.
"I'm concerned that anything that causes schools to divert money somewhere else," says Sorensen, "could curtail money to provide scholarships."
In the meantime, Sorensen says there are scholarships available.
"The awards are there," Sorensen added. "You just have to go get them."