Latina-owned businesses are the fastest-growing segment of the business community in the United States, and the growth is continuing unabated. According to the National Women's Business Council, there are nearly 800,000 Latina-owned firms nationwide, a 46% increase since 2002, and a staggering jump of 133% since 1997. In fact, ten percent of ALL women-owned firms in the country currently are owned by Latinas, and that is expected only to increase.
The future looks bright for Latina entrepreneurs, but many still face one dim prospect, and that is what some call "a capital challenge" – the ability to secure and maintain enough funds to not only keep the business going but help it grow. The NWBC reports that more than 40 percent of Latina entrepreneurs borrow funds from family and friends (compared to 20 percent of non-Hispanic white women) because they don't have relationships with established capital markets and access to networks that can financially greenlight their business, and since they are borrowing through these informal channels of relatives and acquaintances, these Latina entrepreneurs tend not to borrow the larger sums some of them actually need.
That's where ACCESSLATINA steps in. The brainchild of two Latinas with expertise in the financial industry, ACCESSLATINA is a non-profit organization based in San Juan, Puerto Rico that looks to bring together Latina entrepreneurs with the capital resources they need, including access to networks and mentoring.
"Investing in women's economic development is a significant economic driver," says co-founder Lucienne Gigante.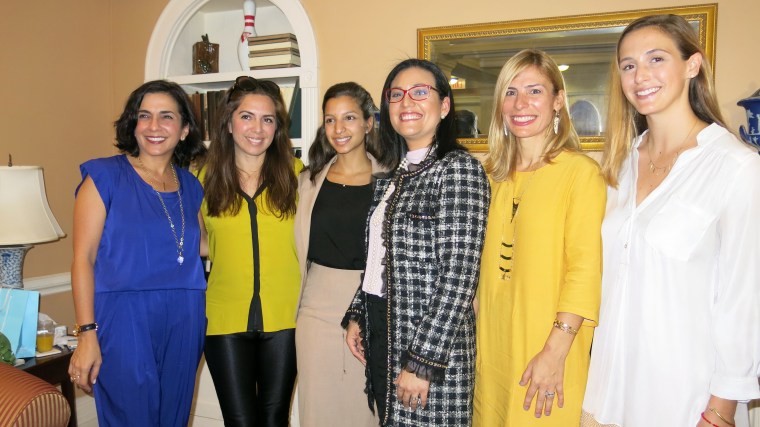 "Latina business owners have a startup rate of six times the national average and they hold amazing possibilities to create employment, exports and continue to significantly impact the economy," adds co-founder Marta Michelle Colón.
To tap into those possibilities, ACCESSLATINA is launching a multi-market "accelerator" program, the first of its kind aimed solely at Latina-owned firms.
In business parlance, while "angel" investing is defined as funds to start up a business, an "accelerator" is monies injected into a business to keep it going and help it grow.
"You know when you start your business everyone wants to help you, but when you reach that second to third year in your business, there's a stagnation period. You probably have the potential to grow but there really isn't that much support. So we want to support those entrepreneurs who have that potential to grow," says Gigante.
The ACCESSLATINA accelerator program is actually a competition, where Latina-owned firms headquartered in Florida, New York, Puerto Rico, and Washington, D.C., compete for a chance at $25,000 and access to a network of business professionals, investors, and entrepreneurs, along with training programs and other services.
"We decided instead of wishing that there would be more Latinas who had access to capital and were included in the decisions of who gets access, we would the ones providing that access to get more Latinas an opportunity," said Colón. "ACCESSLATINA goes from the intention to the action. Our mission is for Latinas to reach their economic potential."
Both Colón and Gigante have experience with accelerator programs on the island, and they decided to expand to the mainland United States.
While the competition is currently open to firms in just two states, the District of Columbia, and Puerto Rico, the co-founders envision expanding it in the future to include Latina-owned firms in other states, such as California, Illinois, and Texas, and Latin America.
The five firms that are selected in this year's competition will also benefit from mentoring, training, advertising, and crowdfunding for their businesses. Companies should be in business for 2-3 years, with annual sales of no less than $100,000 and no more than one million dollars. Firms must be focused in the high-growth areas of STEAM (Science, Technology, Engineering, the Arts, Mathematics), social innovation or agriculture. The co-founders said they included agriculture because contrary to popular opinion, there is tremendous growth in that sector of the economy. "The next generation of jobs is going to be in agriculture and land sciences. The agricultural sector is beyond farming." The same is true for social innovation, they add. "Social innovation is another amazing trend. People are creating either services or products to help the community, to solve a problem in very creative ways," Colón told NBC News. "And there's nothing wrong with creating a product, or solving a problem, and making some money (in the process). We wanted to include a sector that helped the community and that's what social innovation is about."
Competition judges include entrepreneurs, college professors, economic development advisors, and senior-level members of the business community. The deadline to submit applications is November 28, ten finalists will be selected next January 4th, and the five winners will be announced on March 28, 2016.
"We want to inspire and drive Latinas," Gigante told NBC News. "Opening those doors and connecting can be a catalyst for growth."