NEW YORK, NY -- Times Square is often referred to as the "crossroads of the world," attracting over 300,000 pedestrians each day. On Sunday, March 20, activists from Mexico and the United States will come together in the heart of Manhattan to support a father running the NYC Half Marathon to demand answers and the return of his son and 42 other missing students.
"I wish I didn't have to call attention to myself in the half marathon," said Antonio Tizapa, father of Jorge Antonio Tizapa Legideño—one of 43 students whose forced disappearance 18 months ago sparked international outrage and protests. "I am not an activist, I wish I were completely anonymous. But for my son I will do everything that has to be done."
RELATED: Father Of One of Mexico's '43' Running In NYC Marathon For His Son
Tizapa's son and 42 other teachers' college classmates disappeared after local Mexican police arrested them on September 26, 2014. The Mexican government concluded that a gang - at the behest of the mayor and his wife - took the students, and then killed and later incinerated them in a bonfire that burned for 60 hours. But an international team of forensic experts rejected the Mexican attorney general's claim about the killings and incineration last month after no physical evidence was found.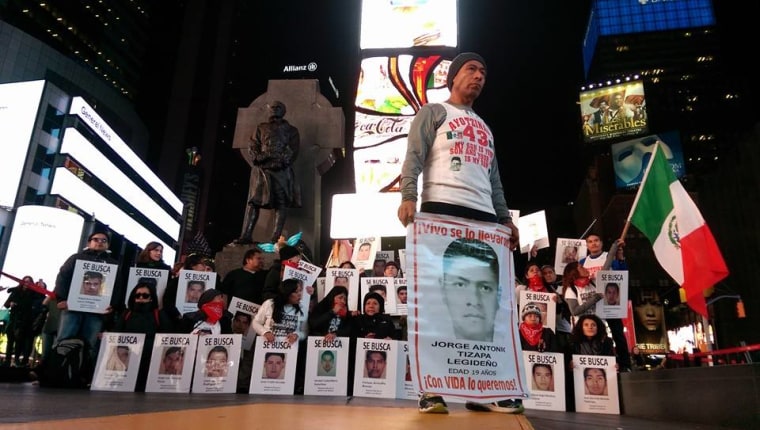 RELATED: Father Of One of Mexico's '43' Running In NYC Marathon For His Son
Now, the parents of the students are calling on the government to safely return their children and investigate whether the Mexican army and the federal police were involved or knew about the forced disappearance.
Tizapa, who has been working tirelessly with activists in Mexico and the United States over the past 18 months on the case, explained that running has become the most effective way for him to deliver his message to other people.
RELATED: 'Semillas' Uses Dance, Art to Grow Ayotzinapa Awareness
In a recent video rallying supporters for the half marathon, Tizapa said that running is a sport that has no words, "just simple gestures." For the Mexican father, these gestures have the power to transform runners into symbols for important causes. And Tizapa hopes that New York, and the half marathon, will become important stages on Sunday to shine the spotlight on the 43 students.
"Time Square is a strategic point for people all over the world to find out what is happening in Mexico," said the Mexican father. "And I hope that after everything that has happened, other countries will join us in the fight and show the Mexican government that we the parents are not alone."
Similarly, activists supporting Tizapa's half marathon action in Times Square Sunday see New York as an important meeting place where people are coming together to work on global issues like human rights and climate change.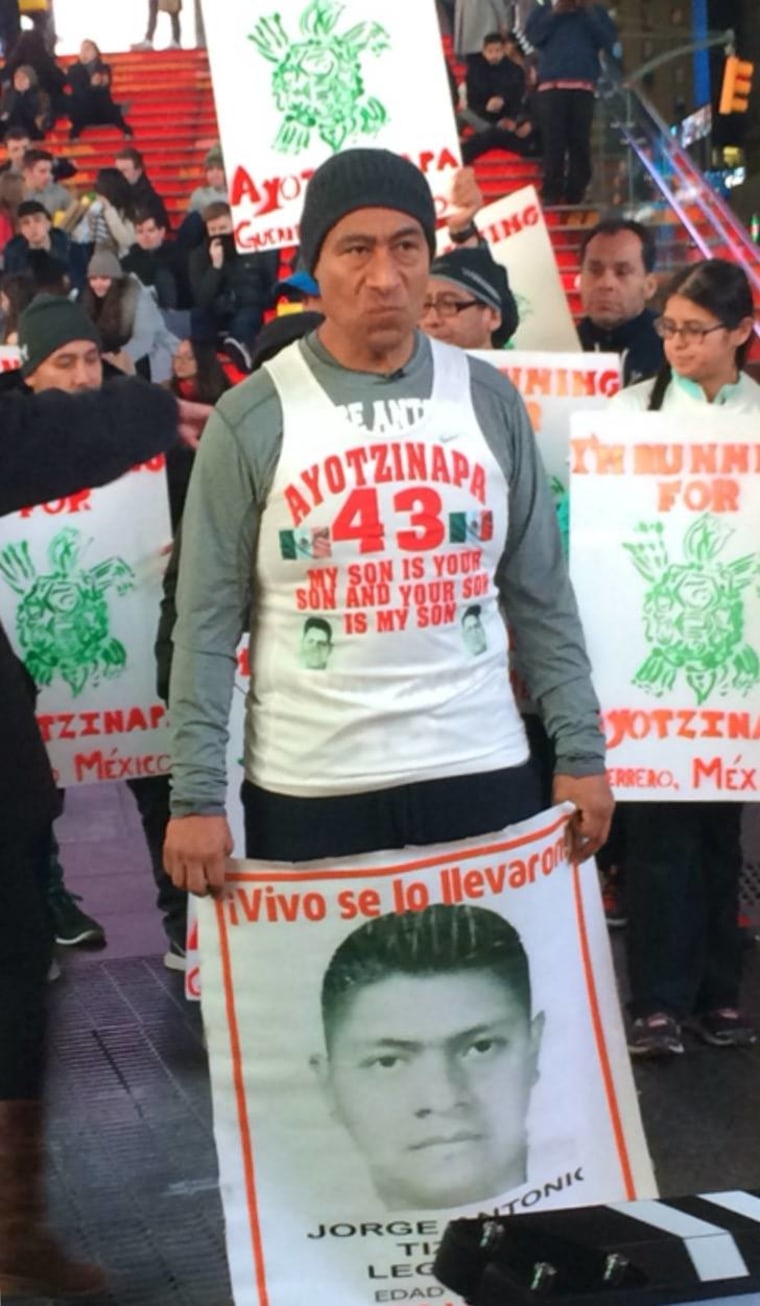 RELATED: Moms of Missing Ayotzinapa, Mexico Students Make Pilgrimage to See Pope
"New York City is significant in America and all over the world because it attracts people from everywhere," said Daisy Bugarin, a Mexican human rights activist in a phone interview with NBC Latino. "And it is significant for activists because this diversity allows people to relate to different causes."
Tizapa and activists will seize the half marathon on Sunday as an opportunity to connect with different people along the route and in Times Square—tourists, shoppers, theater patrons, runners, marathon fans and everyday New Yorkers—to hopefully plant the seeds for future alliances highlighting human rights issues in New York and Mexico.
"I want everyone to know that it is not only Ayotzinapa," said Tizapa, referring to the Mexican town where his son's teachers college is located. "Behind Ayotzinapa are many other impunities. And we need to speak out to change the system."