Before Puerto Rican actor Luis Guzmán made it on the big screen in movies such as "Boogie Nights," "Traffic" and "The Count of Monte Cristo," he worked as a social worker and he drew on that experience for his latest movie, "Hold On," which opens Friday.
"Hold On"tells the story of an aspiring singer, played by Micayla De Ette and based on her off-screen life, who is embarking on a singing career as she struggles to help her brother overcome addiction and keep her family together.
Inside this story about overcoming great adversity, Guzmán says, there is a bigger story about finding and keeping faith to survive.
"This movie is not so much about an underdog, but really about having faith and not giving up," he tells NBC News. "So many people these days do those battles and lose those battles because they give up. And this movie is about believing in yourself and standing up for yourself."
"I always say that I never forgot where I came from," Guzmán adds. "And this movie gives me an opportunity to amplify that through the use of faith, the use of love and the use of inspiration."
Guzmán, who has more than 110 film and 30 television credits to his name, in fact got his first acting opportunity while looking for a missing youth from his social worker program. A friend he met unexpectedly encouraged him to audition for a part in the 1980s hit TV show "Miami Vice." That break ultimately opened the door to other parts in big budget movies and recent TV successes such as Showtime's "Shameless" and Epix's new show "Godfather of Harlem."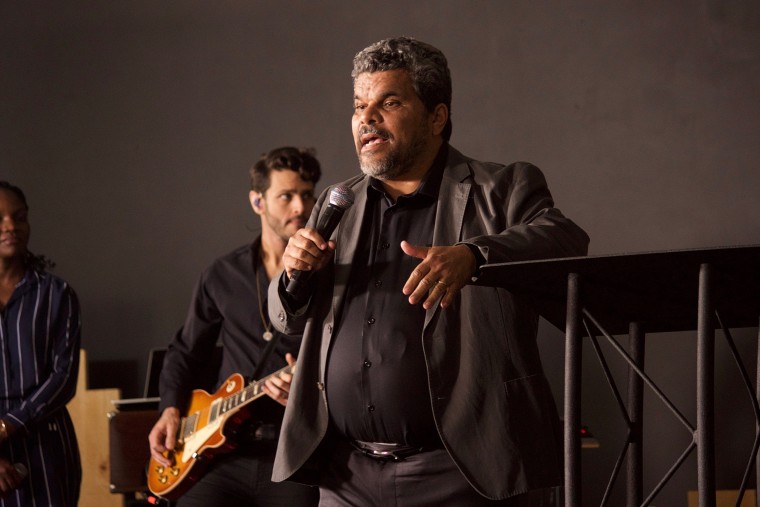 Guzmán plays a pastor in "Hold On," and he says he approached his role the way he approaches his social advocacy — try to lift up people in his community who may be going through depression, the loss of a job, the loss of a loved one, or facing hardships such as homelessness or addiction.
"A place of faith becomes a place for people to feel protected. And it's up to that pastor to lead that in his people and the community, to encourage people to lift themselves up," he says about his character.
"We're a whole lot bigger than a cameo"
The Puerto Rican actor has teamed up with his son Cemi Guzmán — who produced and acted in "Hold On" — and other Latinos to focus on telling the untold stories of real-life communities.
"We're a whole lot bigger than a cameo in a film. Our stories are part of the quilt, of the makeup of this country," Guzmán said. "We belong at the party, we belong at the table. We belong at the place to be making the decision."
Cemi Guzmán told NBC News that while the Latino community has a lot of economic power, it still needs to translate that power into a wider representation in film, TV and other media.
"We need to come together as a community so that we can lay down a path for other filmmakers coming up to tell stories that haven't been told," he said.
For both father and son, the solution is in having more control over the stories that are being told.
"The real truth is that we have to have the ability to control what's being put out there. Because what's being put out there is not representative of us," Luis Guzmán said. "We can create our own machine. We can create our own influences. We can create our own distribution," he says, reiterating the economic power of the growing Latino community.
When asked about the situation in his family's native Puerto Rico, Guzmán thinks that the administration in Washington, D.C., has "no clue" and that it's up to Puerto Ricans to "flush out" corruption and take charge, "doing for ourselves, developing that island to lift people up."
"It's the young people of Puerto Rico that need to step up. I think that in a place like Puerto Rico, they can be that whole role model of change, of making things right," he said.
Follow NBC Latino on Facebook, Twitter and Instagram.